Tracked shutters offer ultimate light control and privacy in windows or patio doors of any size
Whether you've got a period property or just want to add some traditional style to aIn larger rooms – or rooms with especially wide windows – the standard hinges that are used to mount shutters sometimes won't be strong enough or don't offer a practical opening solution.
This is where a track system comes in – neat and unobtrusive guides that support your plantation shutters to open smoothly and optimise space.
Track shutters can be fitted to your space in one of two ways. With the by-pass system, panels glide past each other on their own tracks, whilst with the bi-fold, they simply fold out of the way.
The bi-fold and by-pass shutters have a smooth movement along the top track that ensures they are easy to use and maintain.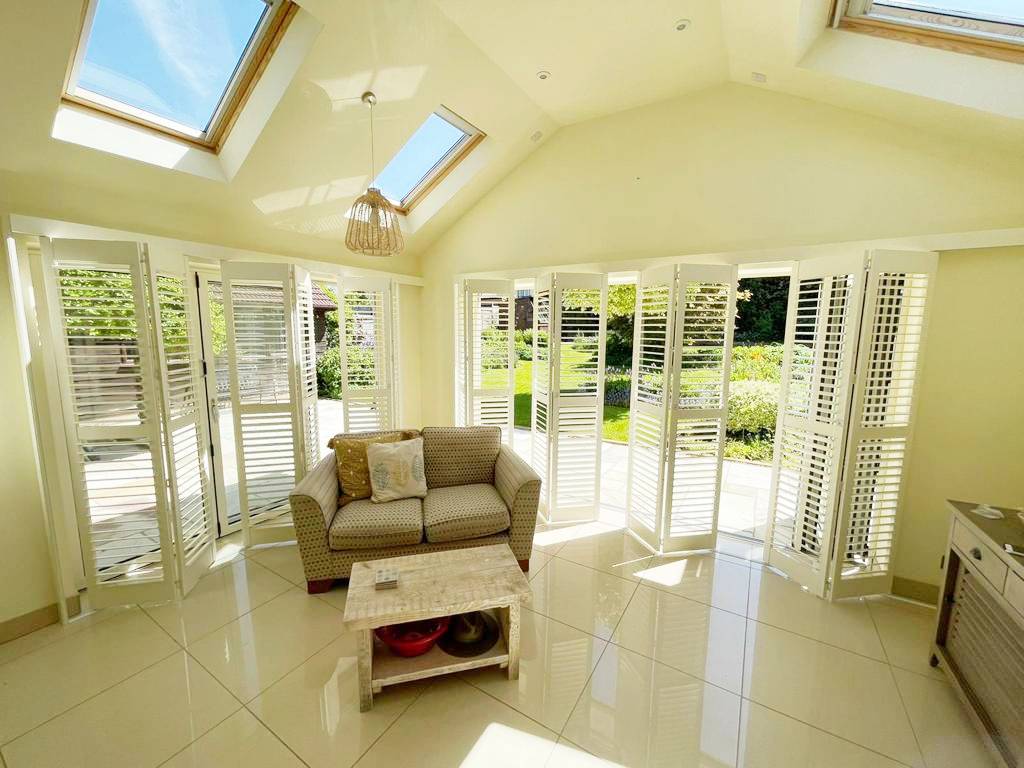 If you have a larger window or opening, then a track shutter is for you.

It enables more panels to be hinged together, transforming your space. These stylish track shutters have a smooth movement along a top track using either a Bi-Fold or By-pass system.
Bi-fold or by-pass systems
Glide smoothly on a track
Ideal for room dividers
Excellent for patio doors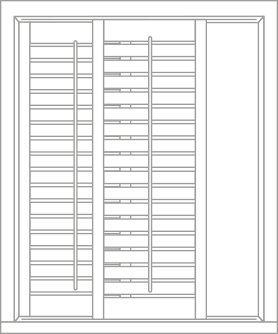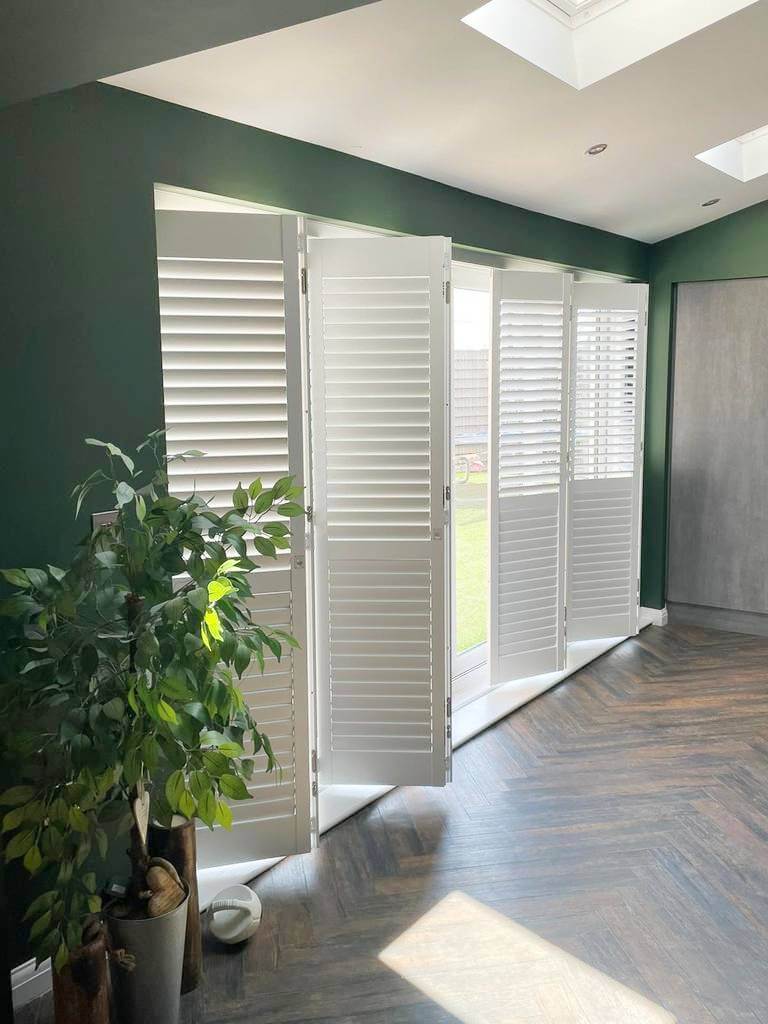 Track shutters are perfect for larger windows
When you trust Shuttercraft to install flawless shutters in your property, you don't have to worry about the finer points of installation – but it is useful to understand why track shutters might be the best option for you.
When shutters are especially wide, the weight of the real hardwood can put a lot of strain on the fixings and mechanisms that let your shutters open and close.
Over time, fittings may sag – becoming misaligned or difficult to open and close. In some cases, overly-heavy shutters can even cause damage to the area they're mounted in.
Track systems do away with this strain completely – suspending the weight of your shutters across the full width of the window.
Installing a track system makes it far more practical to have shutters spanning large spaces – such as French doors, patio windows, extra-wide windows, wardrobe doors or even large glass doors and glass dividing screens in an office environment.
Ultimate light control and privacy for large windows
Large windows are unbeatable when it comes to letting in natural light – but privacy can sometimes be an issue.
Choosing track shutters for your home means you won't have to compromise in any way though – as you can control the light while keeping your property private.
The easily adjusted louvres in your shutters will mean you can shut your room off from any eye-level attention without closing out the sunshine.
Of course, each shutter panel can be adjusted to let in just the right amount of light – so you can adjust your slats as the sun works across the sky.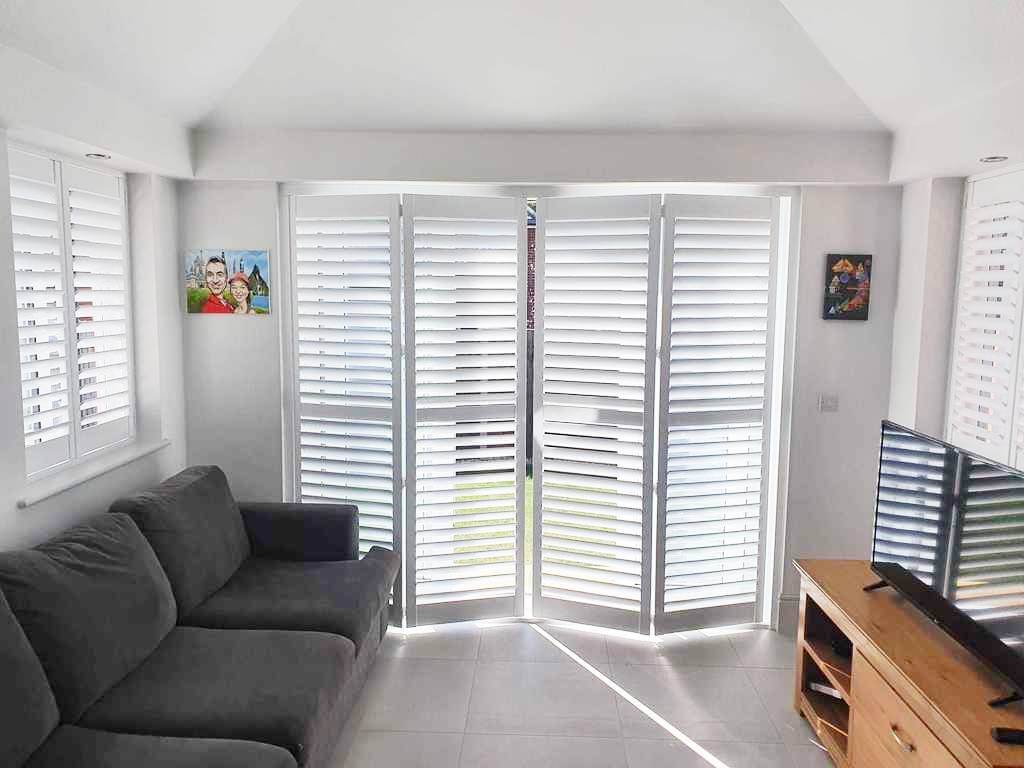 Trusted window shutter service
It's not just about our impressive range of shutter styles and materials. It's as much about how we take care of you, from the first contact to the finished result.
Customers trust us all over the UK to provide a friendly, dependable service.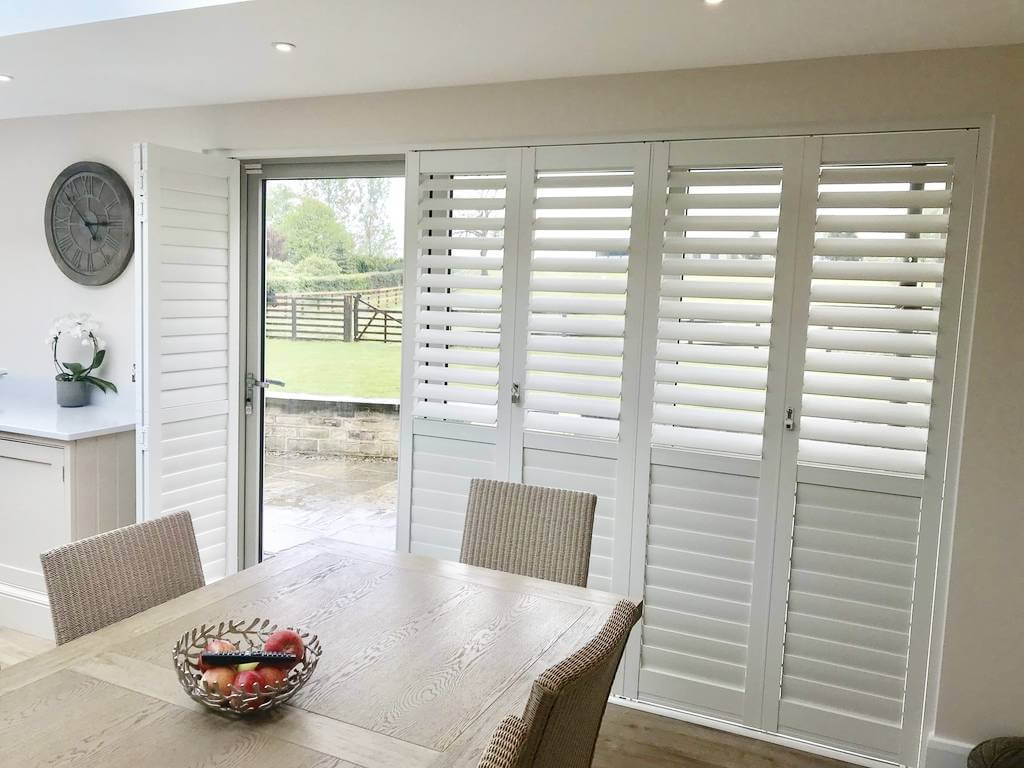 Smooth and effortless opening and closing
Track shutters are generally made up of multiple panels, giving the impression that opening, closing, or adjusting will require a lot of strength and effort.
This couldn't be further from the truth though – the way we install tracked shutters means that the top and bottom track carry all the weight and effort – making movement virtually effortless.
Like the rest of our range, by-pass and bifold shutters are covered by The Shuttercraft 10-Year Warranty – so in the rare instance that you run into any problems with your shutters or the track system they're mounted on, you can be absolutely confident we'll do everything we can to put them right.
Track shutters to divide your space
Today more than ever, our homes fulfil countless different roles. Large spaces might combine areas that are dedicated to eating, relaxing, working, cooking, studying – and so much more.
Track shutters give homeowners the opportunity to partition these areas – creating flexible contemporary living zones.
Dividing parts of your room using shutters means you can perfectly balance space and practicality.
What's more, both our bi-pass and bi-fold shutters can be made in virtually any colour you wish – so whether you want your dividers to blend in or stand out, we've got a custom paint option to suit.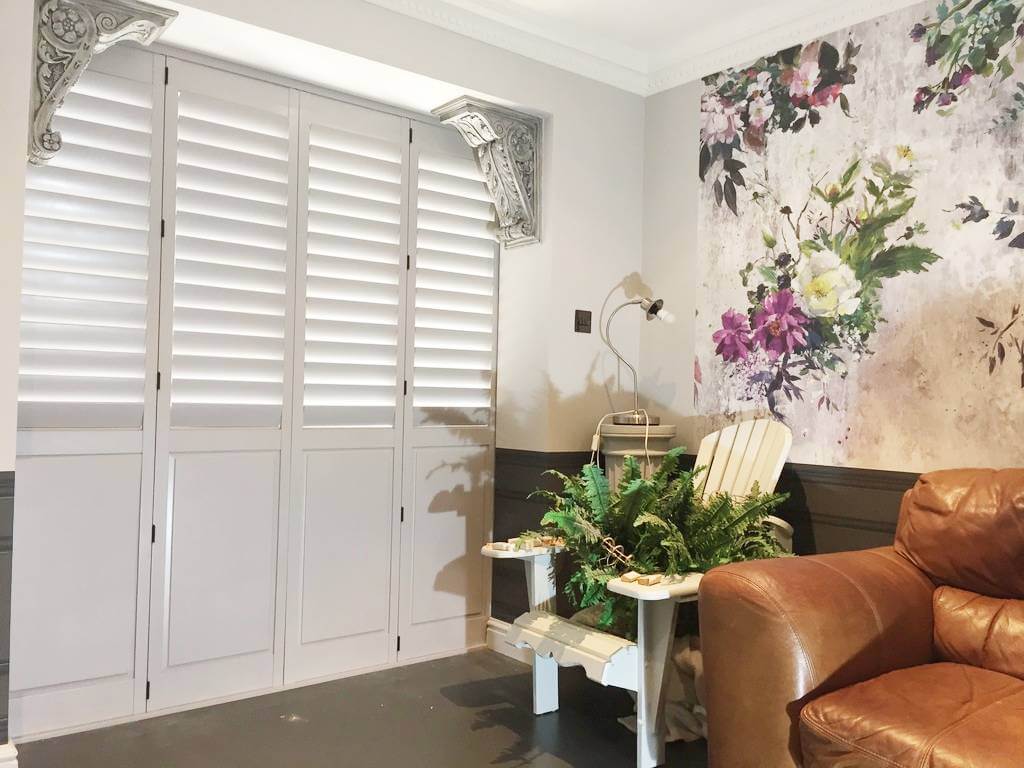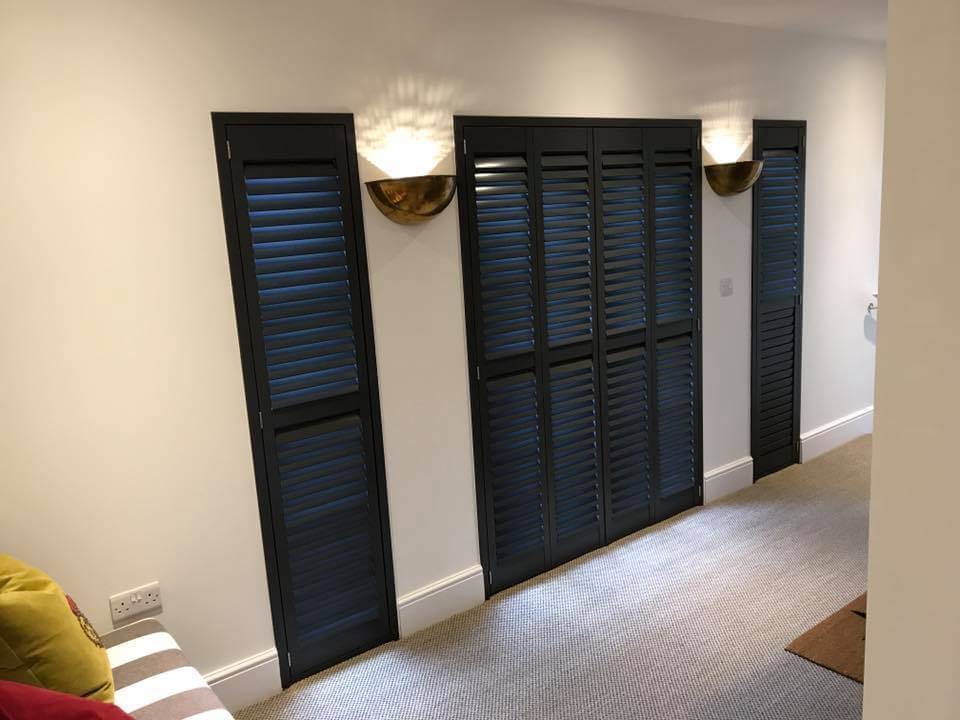 Tracked shutters for bathrooms, kitchens, and swimming pools
Although we recommend premium hardwood for most window coverings, natural wood doesn't always respond well to moisture and humidity.
With this in mind, we created our Java range – water-resistant ABS shutters that are virtually indistinguishable from our real hardwood shutter panels.
If you'd like the benefit of shutters in a kitchen, bathroom, or even a room housing a pool or hot tub, Java track shutters are a perfect choice.
As well as being water-resistant, our ABS shutter styles are also extremely easy to clean – just a wipe from a damp cloth will keep them looking pristine.
Bi-pass and bifold shutters made to measure for your property
At Shuttercraft, we don't do 'off-the-shelf' shutters.
Whether you're looking at by-pass panels or bi-folding doors, every single shutter panel we create is made-to-measure for your home.
This precise process starts in your home. Our shutter design and installation experts will carefully measure your home to make sure your new tracked shutters are an perfect fit.
We can work with any shape or size of the window – even creating special shapes and one-off custom colours.
We'll also be able to walk you through a range of options and designs too – so you can be confident we'll deliver the exact look you've got in mind.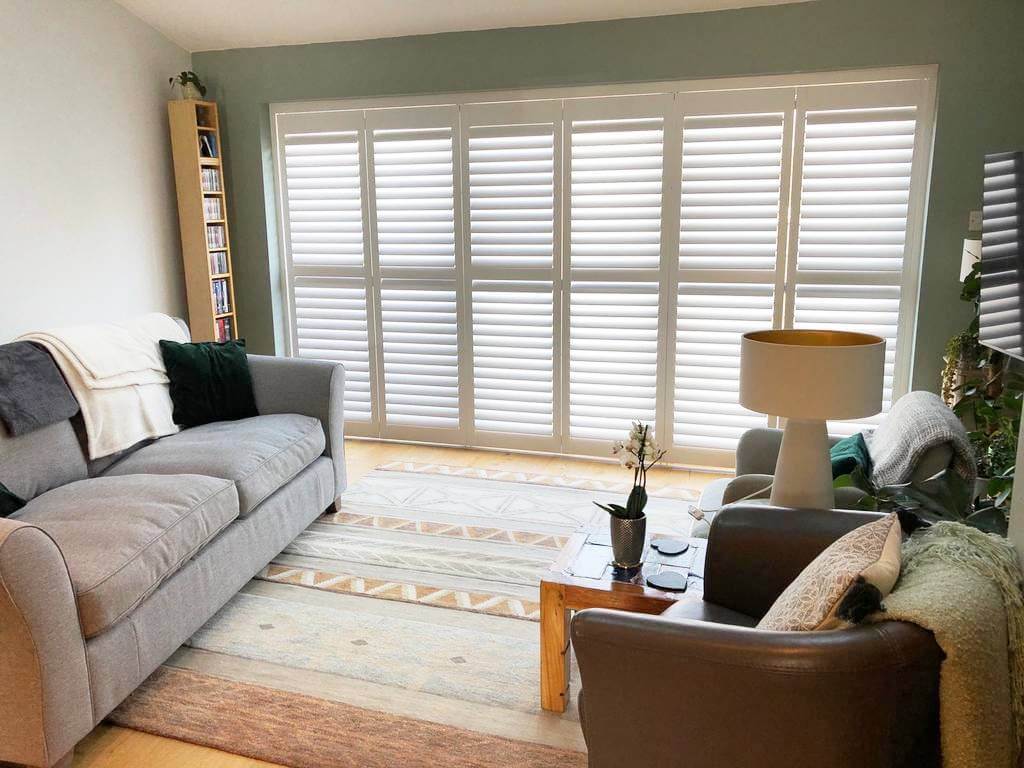 Would you like to hear more about track shutters?
Sometimes, there's no substitute for talking to a shutter expert about what's possible in your home.
The good news is – we're not salespeople here at Shuttercraft, so if you'd like to talk to one of the team, you can be confident your conversation will be free from any pressure or obligation.
We're here to explain how track shutters work, tell you more about the designs and styles we can offer, then talk you to about how measuring, ordering, and installation would happen.
We'll provide you with all the information – then you can decide whether tracked shutters are going to be the right choice for your room!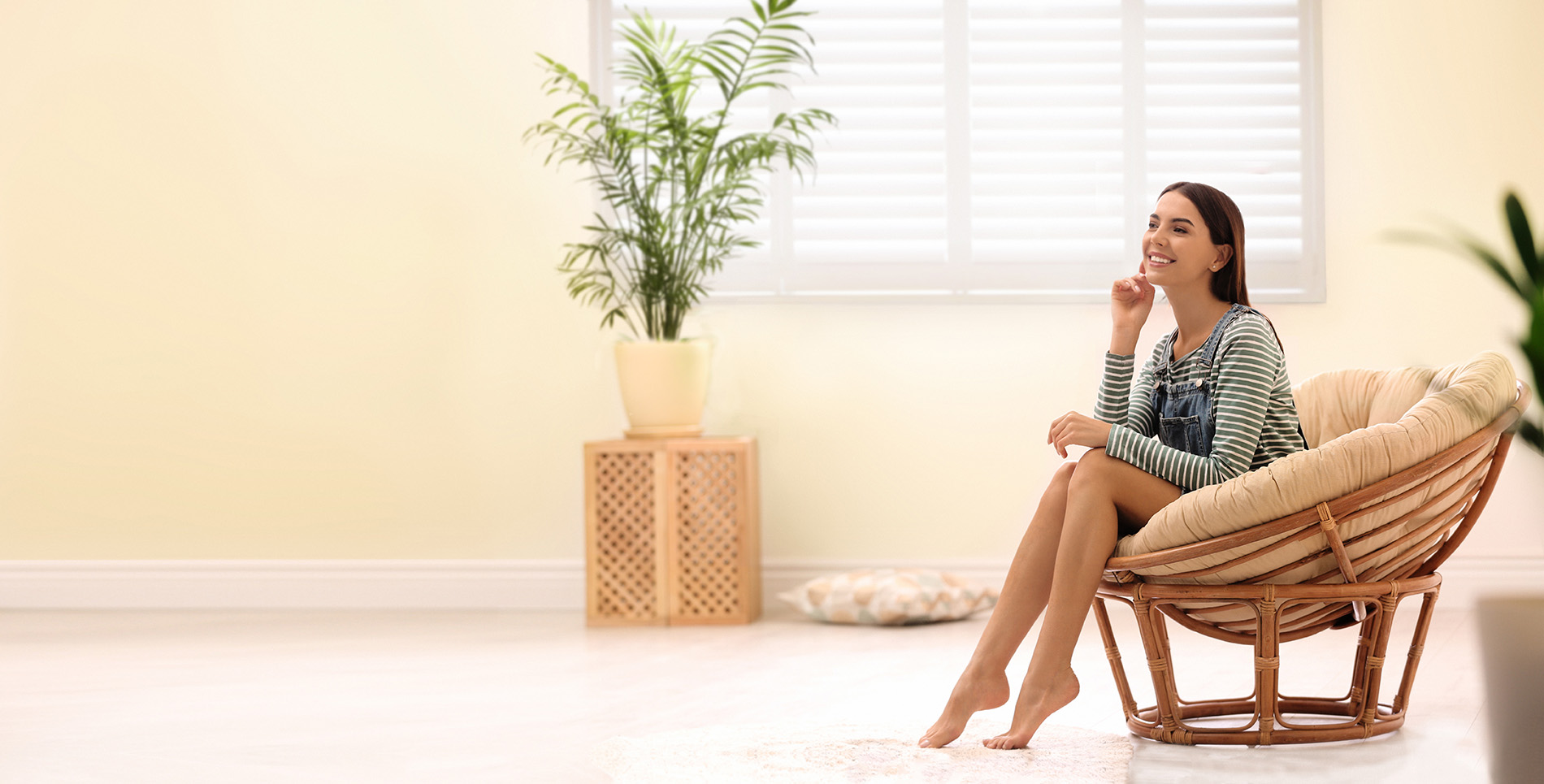 Get in touch today!
Why not contact your local Shuttercraft?