What are curved bay window shutters?
Curved bay window shutters are window dressing carefully designed and manufactured to fit the angles of a curved bay.
Here, we'll take a detailed look at curved bay windows, the definition and design of the curved bay, how a curved bay window differs from other bay window designs, and which kinds of shutters work incredibly well in these windows.
What are curved bay windows?
Strictly speaking, a 'curved window' and a 'bay window' are distinct designs.
We'll talk more about the differences in the next section – but the two terms get mixed or used interchangeably because most people consider any window that protrudes from a property to be a 'bay'.
Therefore, a 'curved bay window' is usually a series of windows angled to form a curve extending out from the wall of the installed property.
Sometimes the window frames are connected – but in older properties, curved windows sometimes had masonry slightly separating the windows and contributing to the curve.
Curved windows – often called 'bow windows' – are generally made up of four or five identical windows – usually fitted at a gentle angle to protrude from the wall of a property. This angle is traditionally 10 degrees but can vary a little, depending on the home's design.
Identical window panels of the same size tend to be used in curved windows for visual appeal – creating a pleasing symmetry to the eye.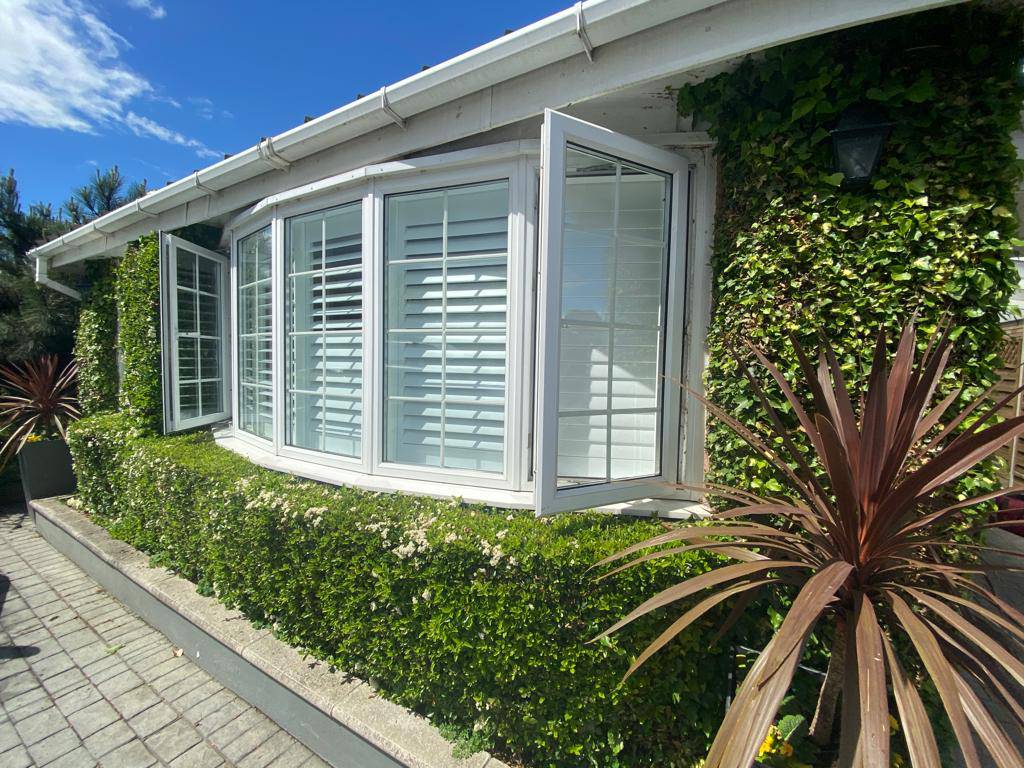 How do curved bay windows compare to other bay windows
A series of design differences make curved windows unique from other bay window designs.
Gentle angles
The angles of a curved bow window are less severe than those of a traditional bay window.
The angles between the adjoining windows that create a curved window tend to be around 10 degrees.
This is significantly less than the 20-45-degree angles that join the sections of a three-sided bay window.
As a result, the shape of a bow window is smoother – hence these windows are often referred to as 'curved' – with an arc profile if viewed on a plan. A bay window instead has a part-hexagonal profile.
More windows
To allow this type of window to protrude from a property with such gentle angles, a curved window usually uses more window sections.
Most curved bays have four or five sections, unlike a traditional bay window – which tends to have just three.
Width
With the gentle angles of the curved window requiring additional windows to create a protruding feature, curved windows tend to be wider than traditional three-sided bay windows.
Are plantation shutters right for curved bay windows?
Plantation shutters are a perfect solution if you're looking for an effective window treatment for a curved bay.
They combine aesthetic appeal, outstanding light control, and exceptional privacy and are very simple to operate and maintain. And keep clean.
The gentle curve of a bow window opens up a range of functional shutter design options.
You might decide that shutters fixed to the individual windows that make up the curve are right for you.
In this case, each shutter would operate independently – allowing you to open as many or as few as you wish so you can access your windows.
Alternatively, bi-fold track shutters can work beautifully in a curved bay.
When you fit shutters on a track, they can be retracted completely to either side of the bay – folding back on themselves and taking up just a small amount of space.
This allows you to open your windows and let the light flood your space.
What are some benefits of bay window shutters?
Let's take a more detailed look at the benefits of bay window shutters.
Quick and easy to maintain
Unlike curtains and other fabric window coverings, shutters are easy to maintain and keep clean.
While curtains tend to trap dust and allergens, wooden shutters don't have this problem. This makes shutters perfect for bay windows in homes where people may have allergies or sensitivities to dust or pet hair.
When bay window shutters don't need to be cleaned, it's a job that needs no more than 5 minutes with a feather duster and a damp cloth.
Superb light control
Shutters offer the unique benefit of still allowing light through when they're partially closed – something that's very difficult to get right with curtains.
This means you can control the light through the day with slight adjustments of the louvres – maximising the benefit of wide bay windows.
If you'd like to darken the room to watch TV, you can do so easily – but if you decide to let the light flood in, you can open your louvres or swing the shutters fully open.
Enhanced privacy
Bay windows offer an impressive panorama when you look out – but this comes with the downside that kerbside properties also, therefore, have a room that's very easy to see into.
Bay window shutters do away with this problem completely.
If you'd like privacy without completely losing the light from outside, you can adjust the louvres, so passers-by cannot see in, but the sunshine still lights up your room.
Suitable for a period property
Bay windows have been around for a long time – often featuring on Grade II listed properties.
If your property is listed, you may find that local guidance means windows and window treatments need to be sympathetic to the original look of your home.
The traditional look of shutters makes this perfectly possible.
Our design team can even look at the shutters that you're replacing and work to replicate the look almost exactly.
Additional floor space
A bay window is designed partly to offer additional floor space.
The space created by a bay is often impractical for furniture thanks to curtains or full-length window dressings hanging down to ground level – but with shutters, all your floor space is kept open.
Shutters fit against or around the window frames of your bay – meaning every inch of floor space is available for use.
Improved kerb appeal
A bay window is a striking feature on a property – but the impact is often reduced when curtains or blinds are fitted.
Curtains, in particular, are designed to look good inside the home – not to people walking past.
On the other hand, shutters look good from every angle – significantly improving your home's kerb appeal.
Reducing heat loss
Fitting shutters in a bay window can often impact the temperature of your room – and, therefore, energy bills.
Adding a layer of hardwood to any window helps to reflect heat.
This makes it easier to keep a comfortable temperature inside your property – whether you want to stay warm in winter or keep cool in summer.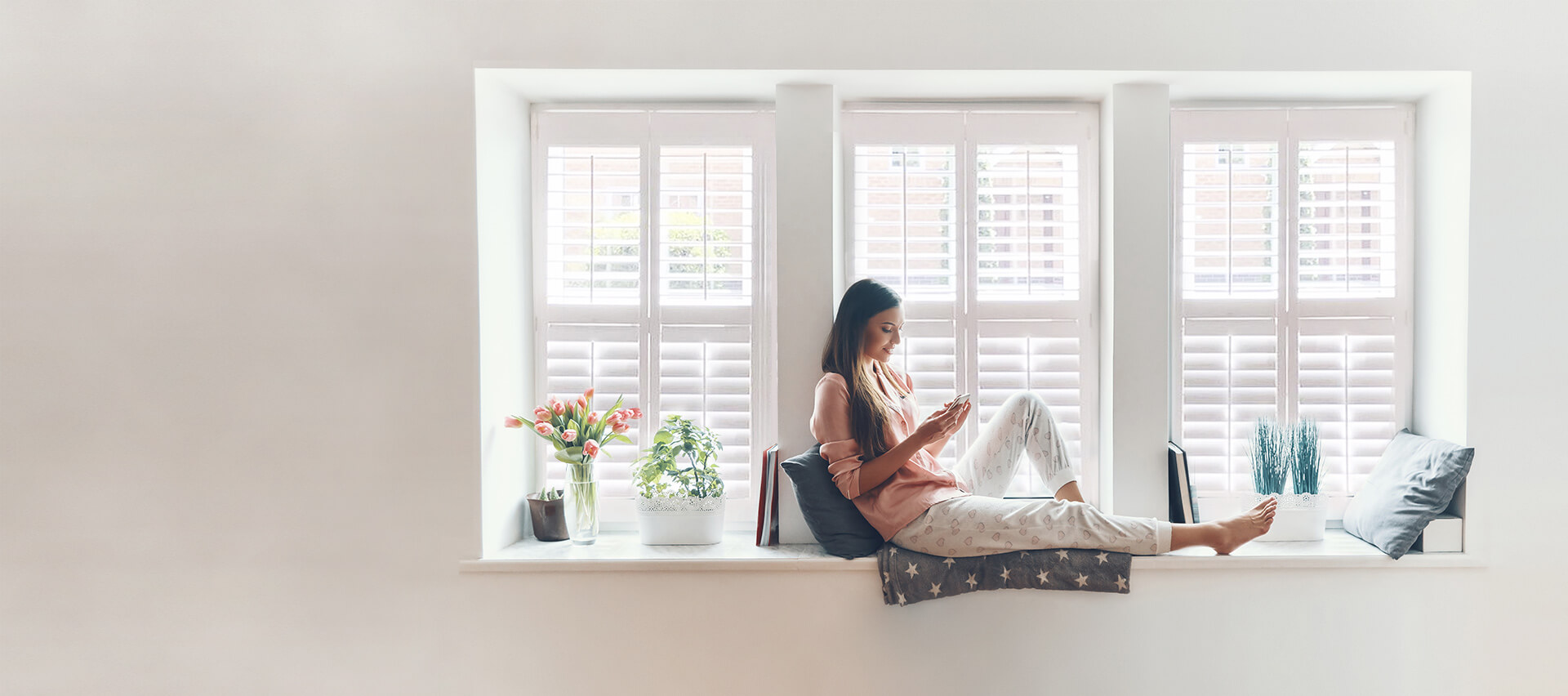 Discover our shutters
Why not contact your local Shuttercraft?
What style of shutters suits a curved bay window?
Since every home is a little different, no single shutter design will look right in every home.
Instead, think about the design of your curved bay, your interior decor, and the kind of light control you're hoping for – then consider how the following different design options might complement those factors:
Café style shutters
Café-style shutters are often the perfect balance of privacy, light control, and style.
Rather than covering your full window, café shutters are designed to fit just the lower half – and can be made to a custom height to sit under any horizontal bars your window might have.
The louvres in the shutters can be adjusted for privacy – and light can still flood through the upper panes.
Full-height shutters
Since a curved bay comprises four or more windows, having full-height shutters reflect this design can be especially striking.
In large curved windows, full-height shutters are sometimes track-mounted with a bi-fold design – allowing them to be fully retracted and folded back to either side of the window, maximising the window from the inside.
Tier-on-tier shutters
Tier-on-tier shutters work especially well in curved windows with either top or bottom opening sections.
As well as offering exceptional light control, independently opening top and bottom panels mean you can access the windows you'd like to open without compromising privacy in your full window.
How do you measure shutters for a curved bay window?
It can be very tricky to measure for new shutters in a curved bay window, so you should always consider getting professional help, even if you plan to fit DIY shutters.
Measuring the window panes is usually fairly straightforward – but it's essential that you accurately measure the curves of the windows and the angles that the windows connect.
Incorrect angles wouldn't just stop your shutters from fitting flush to the frames – they could also prevent your new bay window shutters from opening and operating correctly.
A professional measuring and installation service is included with all Shuttercraft window shutters – peace of mind, you'll get plantation shutters that work perfectly and look fantastic.
Would you like to hear more about shutters for your curved bay window?
If you're interested in hearing more about bay window shutters for a curved window, why not get in touch with our friendly expert team?
When you do, we'll walk you through every style and design option that will work well in a curved bay and send our expert installation team to measure your window and give you an exact quote.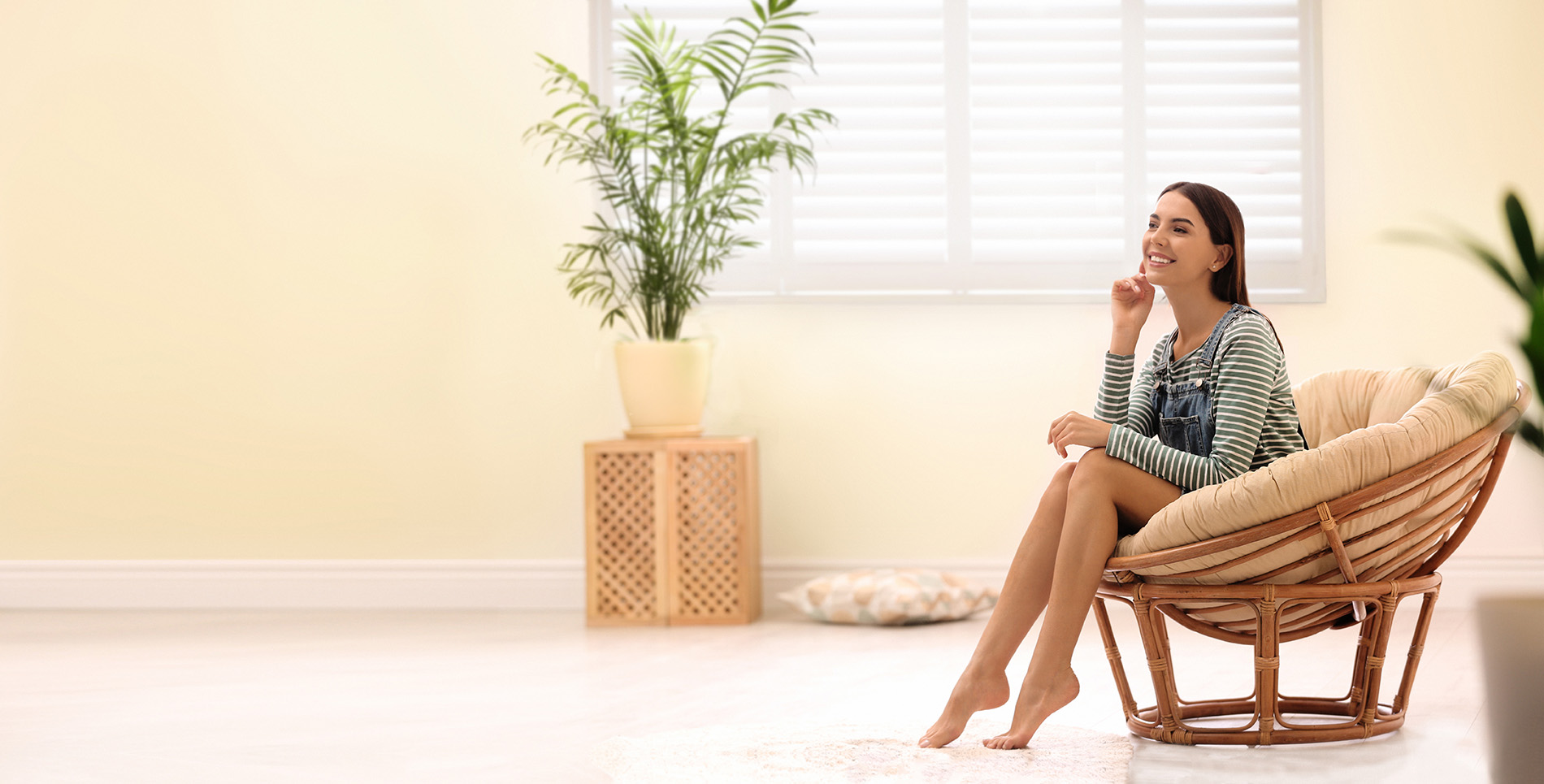 Get in touch today!
Why not contact your local Shuttercraft?