Our unique 'shutter and shade' range combines the beautiful plantation shutters with room darkening vertical blinds
Sometimes, 'dark' just isn't quite dark enough. Whether you're looking for a good night's sleep uninterrupted by the sunshine – or you just want to enjoy an evening in front of the TV without any glare, the Shuttercraft shutter and shade range will bring a new level of darkness to your room.
A shutter and shade combo is ideal for a bedroom, nursery, or home cinema room. A honeycomb blind slides down over your window, then attractive plantation shutters close over the top – a stylish solution perfect for shift workers, children, or anyone who needs to rest before the sun goes down.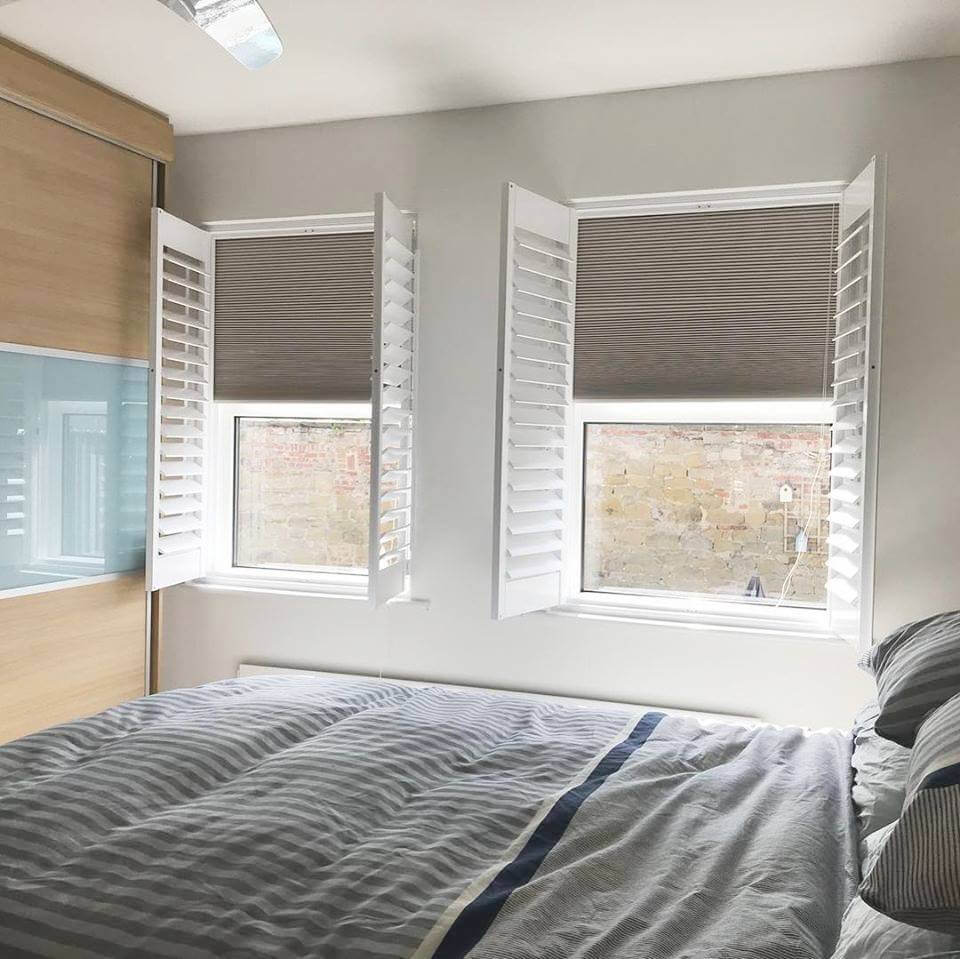 A shutter and shade combination is the ultimate light control option for your home.

A smooth, easy-to-use blind slides effortlessly down to close out most external light, then shutters close to add an extra touch of style to your space.
Ideal for shift workers
Great in-home cinemas
More effective than roller blinds
Perfect in nurseries or children's bedrooms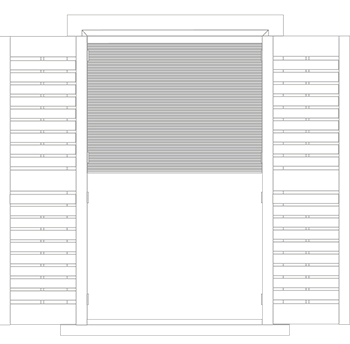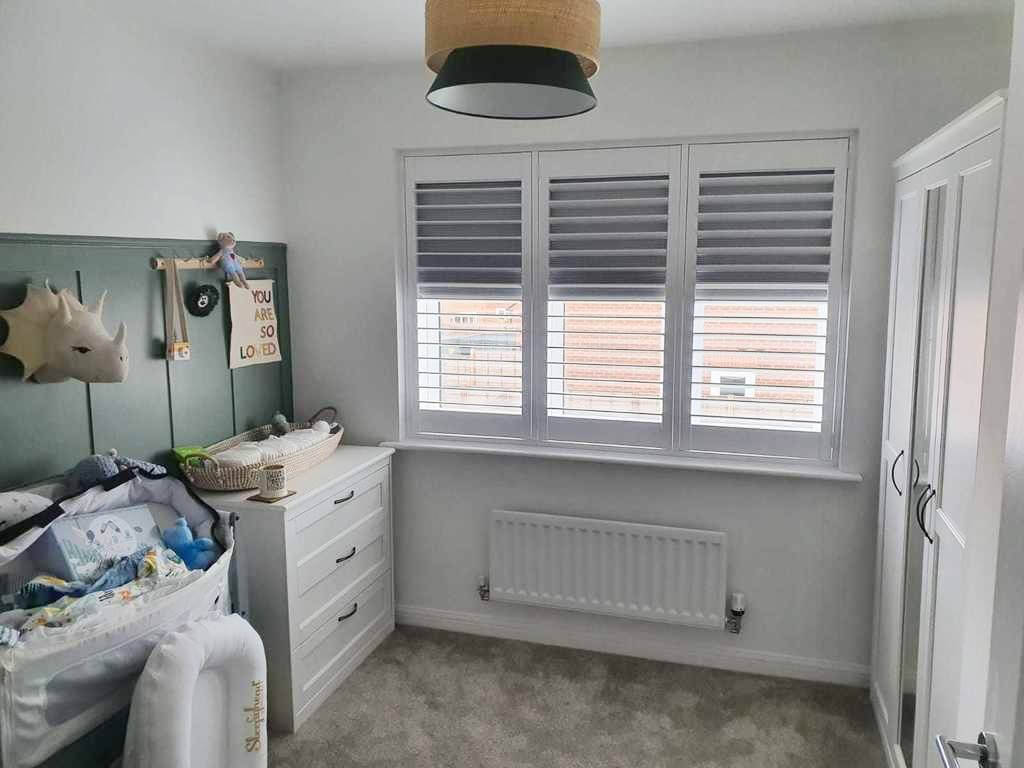 Shut out the external light with an integrated room darkening blind
Our shutter and shade range really is the 'best of both worlds' – the style of plantation shutters with the effectiveness of blinds.
Although it's not the part that will draw the admiration of visitors, the star of the shutter and shade show is the made-to-measure frame that fits directly to your window.
This slimline frame is carefully designed to house the runners that let your blinds slide smoothly up and down – as well as creating a sturdy mount for your stunning new plantation shutters.
The end result is the perfect blend of form and function – shutters that bring timeless style to any room and a honeycomb design blind that shuts out virtually all the light when required.
A made to measure room darkening shutter solution
We don't sell 'off-the-shelf' products here at Shuttercraft – instead, every beautifully designed shutter we create is made to the exact specifications of our customers' homes.
While this approach means always means a superior end result, it's even more important when we're providing shutters with an integrated room darkening blind.
Our expert fitters will come to your home and take the precise measurements of the windows or French doors we're working with; then we'll create plans for your unique shutters and honeycomb design blinds.
When this eye for detail is combined with our professional installation service, you can be 100% confident that you're getting a window dressing that gives you ultimate control over the external light.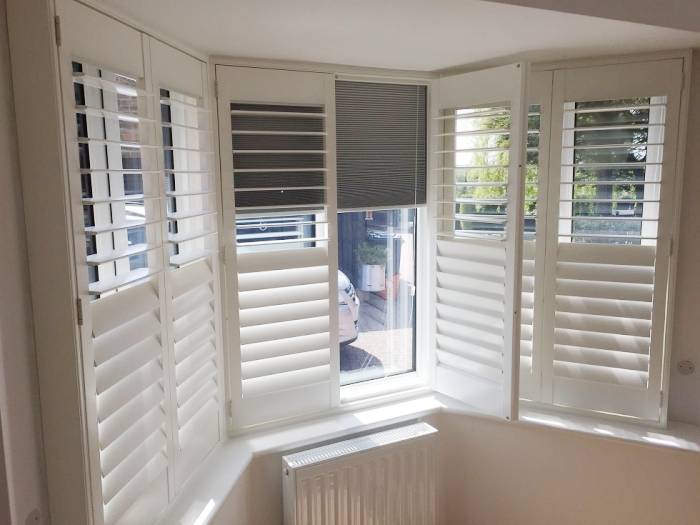 Trusted window shutter service
It's not just about our impressive range of shutter styles and materials. It's as much about how we take care of you, from the first contact to the finished result.
Customers trust us all over the UK to provide a friendly, dependable service.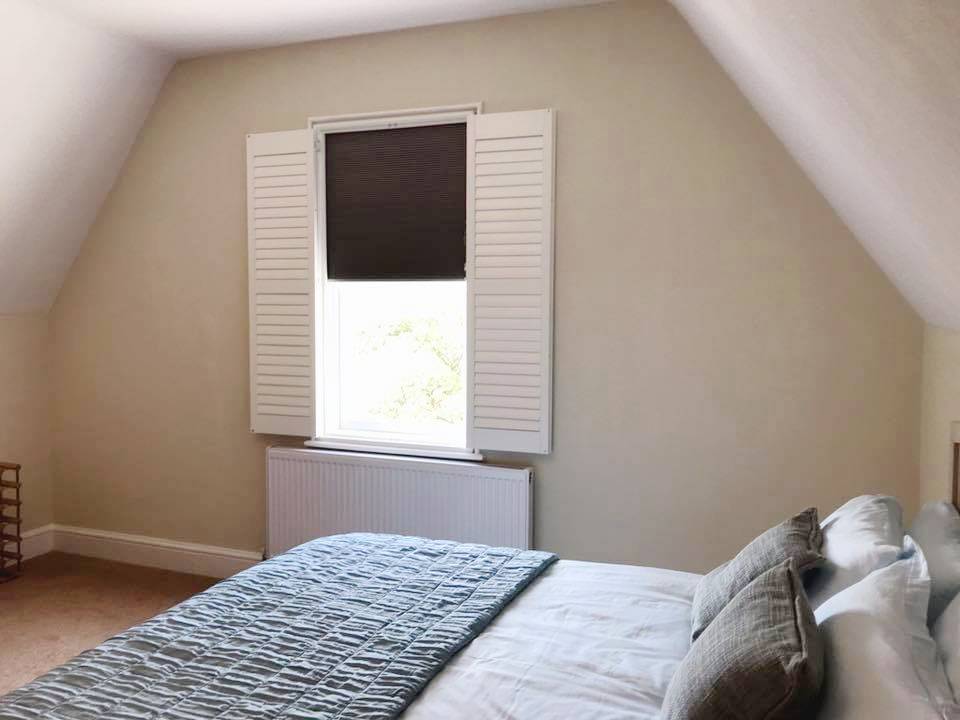 Sleep soundly with minimal light pollution
If a good night's sleep for you involves absolute darkness, you may have already found that traditional blackout blinds don't always deliver the kind of results you want.
Sometimes, 'light bleed' around the outside of the blackout blind lets rays of light into the room – disturbing your rest.
The Shuttercraft shutter & shade range is designed to fit your windows perfectly, minimising the light coming into your room. Beautiful blinds are the first line of defence – pulling down to shut out most of the external light.
Then, shutters finish the job – putting a thick layer of hardwood between you and the outside world.
When it is time to start your day, a quick adjustment of the shutter slats will begin to let the light in.
Then, when you're ready for the sun, your blinds slide up, letting the light flood in.
Authentic home cinema experiences
If your idea of a perfect evening in is a big bowl of popcorn and one of your favourite films, a shutter and shade solution will help bring a cinema environment to your house.
We've installed shutters with an integrated blind in thousands of home cinemas around the UK – the combination helps to shut out most external light and immerses you in the movie or boxset you're enjoying.
An integrated room darkening blind adds another level of insulation
Windows can make it difficult to regulate the temperature of your room.
The summer sunshine can be unforgiving – but chilly winter evenings will have you reaching for the thermostat.
Shutters add a layer of hardwood to your windows – helping to deflect the heat on either side, keeping your space cool in the summer and warm in the winter.
An integrated room darkening blind takes this effect even further – the honeycomb design is 'thermally dynamic' – meaning it's extremely effective at reflecting heat.
Energy prices and environmental issues are never far from the headlines – but a shutter and shade solution is an effective way of keeping your home and your energy bills comfortable.
An almost endless range of colour options
Every home is unique – so we make sure that our shutter and share products are made to suit your exact taste.
Our spectrum of colours starts with alabaster white and pale lined tones – but goes all the way through to rich mahogany stains, slate greys and striking blacks.
Of course, if there's a specific colour you'd like to match, we can do that too – our custom colour option means we can create shutters that are the perfect finish.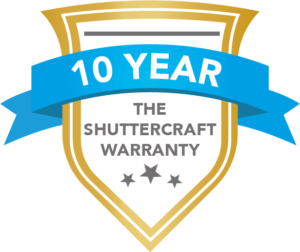 Peace of mind 10-year guarantee
Beautiful sustainable hardwood features in most of the products we manufacture and fit – but, very occasionally, natural products can develop slight imperfections over time.
Don't worry, though – this is exactly why we created the Shuttercraft 10-Year Guarantee. Should you run into any problems with materials, fitting, or operation, we'll do our utmost to put the issues right.
Our shutter and shade products are designed to look beautiful and deliver a fantastically dark environment – our 10-year guarantee adds peace of mind to that combination!
Would you like to hear more about our shutter and shade products?
Do you think that a shutter and shade combination would work well in your room? If so, why not give one of the Shuttercraft team a call?
When you do, we promise you won't be faced with any pressure – instead, you'll have a friendly discussion with a local shutter expert.
We're on hand to answer your questions, give you any technical information you need, and walk you through the next steps would be.
We'll give you all the information you need to decide whether a shutter and shade combination is right for your room.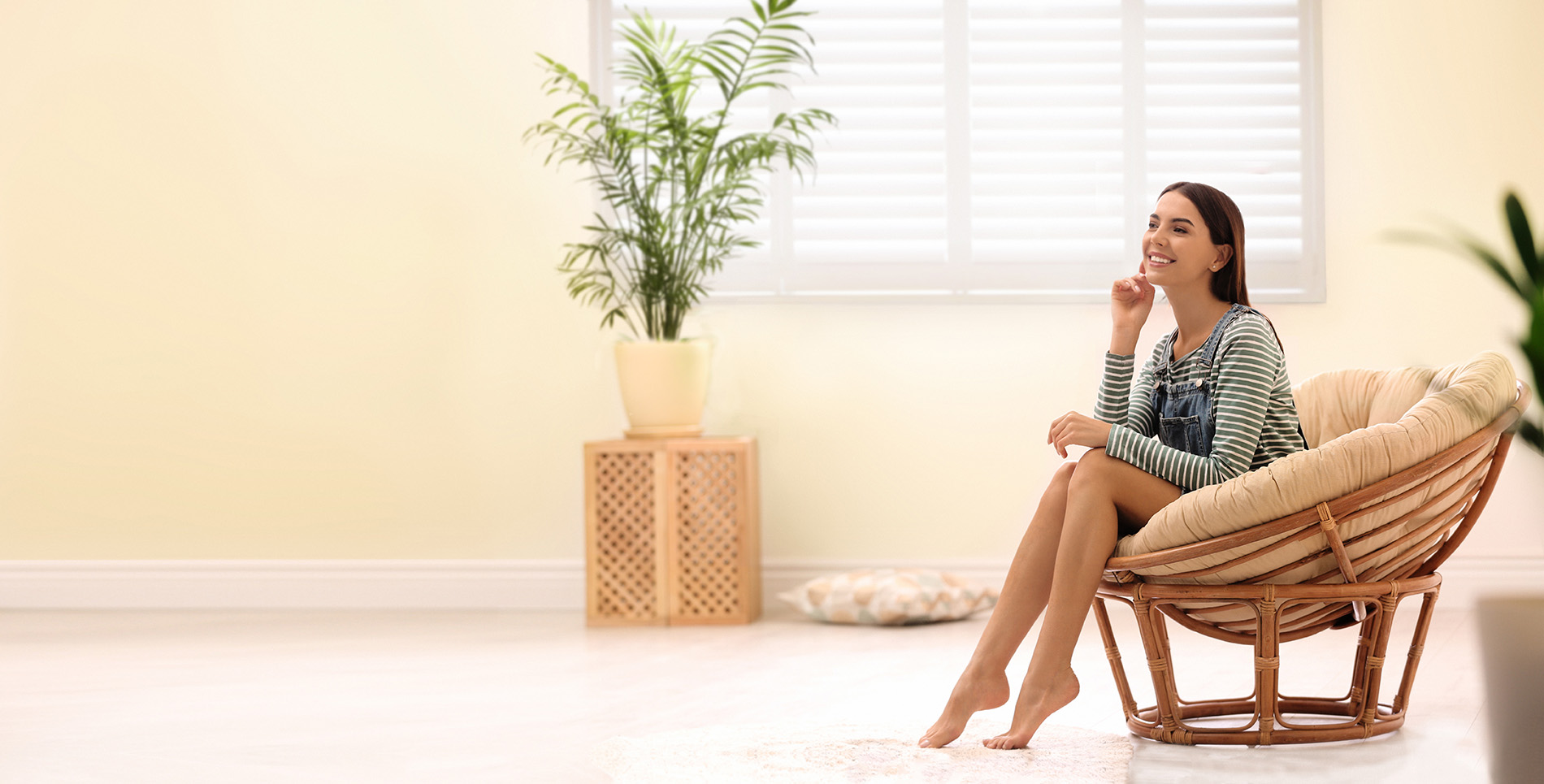 Get in touch today!
Why not contact your local Shuttercraft?