Plantation shutters can be made-to-measure to fit virtually any window shape
Odd-shaped windows can present a problem when it comes to window dressings. Light, privacy, and an attractive design are all vital parts of making your shaped window look fantastic – but there is a range of practicality issues to deal with too.
This is where shaped shutters are hard to beat. Not only do shutters offer outstanding light control, but they can also be designed to fit an almost endless range of window shapes.
Our design service allows for virtually any style or colour you could wish for – and we can even create water-resistant shaped shutters for bathrooms and kitchens too.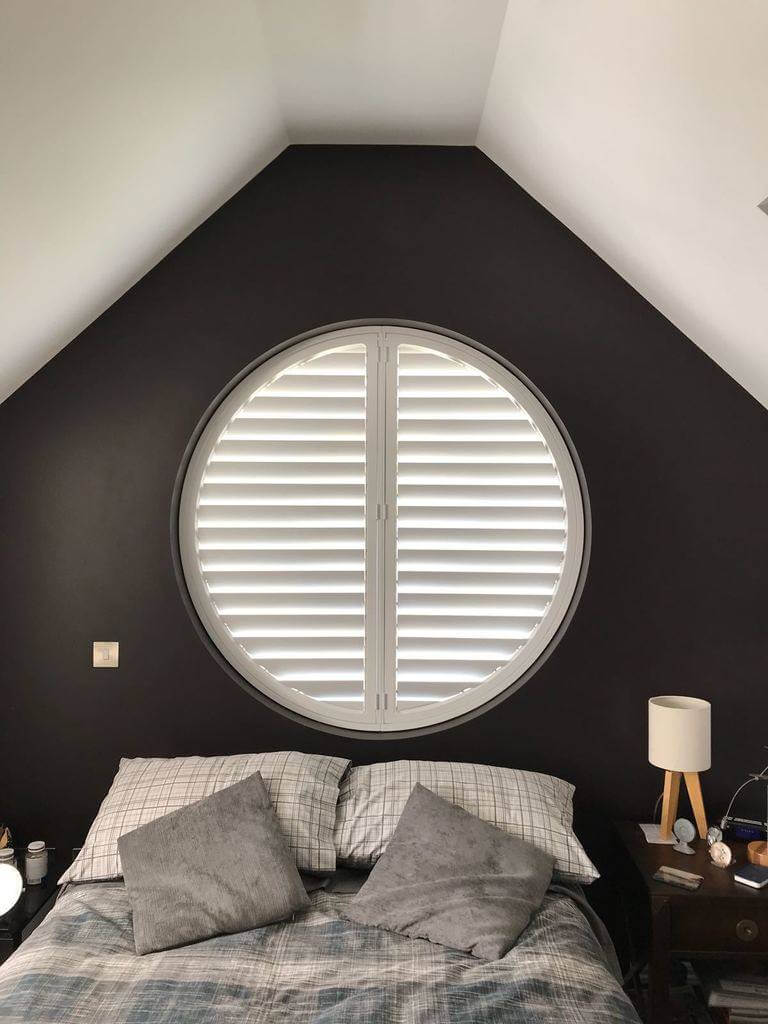 One of the most flexible shutter styles, they can come in almost any size or shape. Being made-to-measure, special shaped shutters can fit nearly all tricky shapes and really enhance your windows. If you are struggling to find a window covering for an angled, curved, or shape window, then shutters are the solution.
Perfect for curved or angled windows
Excellent for loft conversions
Custom made for your designs
Make the most of gable ends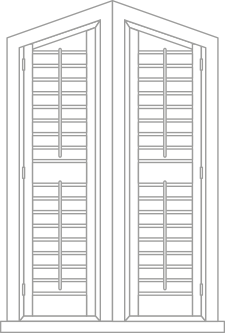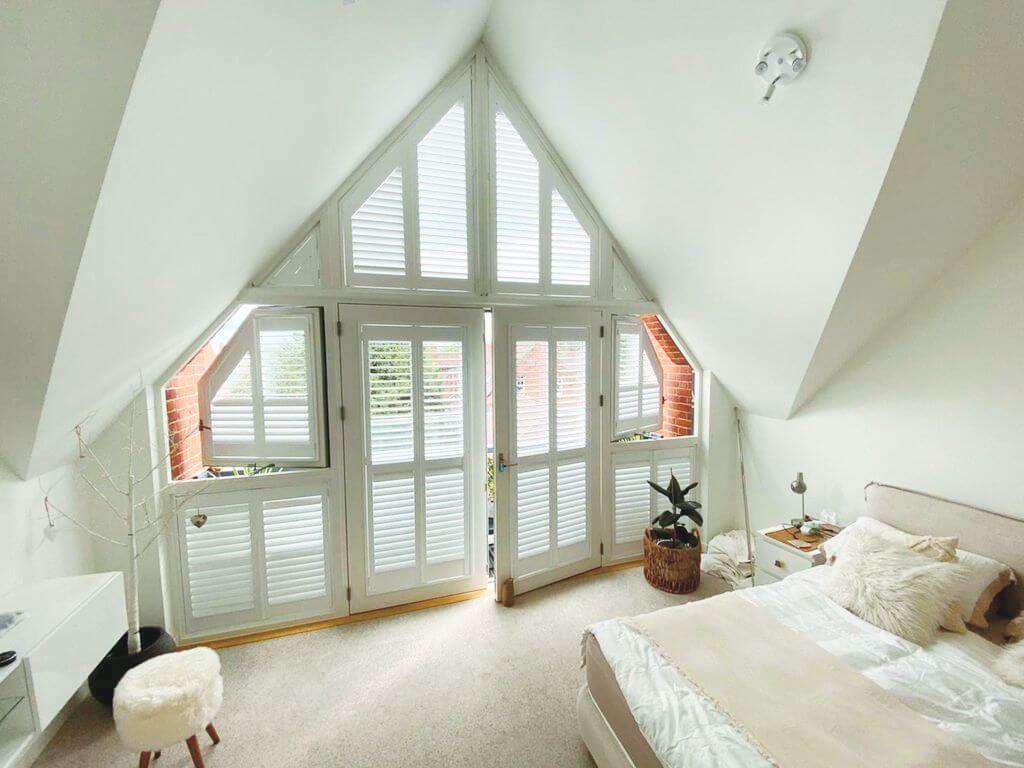 Shaped shutters are perfect for loft conversions and gable ends
Windows in loft conversions and the gable-end of barn conversions are some of the most striking we deal with – a design statement that truly makes properties stand out from the crowd.
The trouble is, a pointed or arched window is narrower at the top than the bottom – making curtains or blinds virtually impossible to fit.
This is where the versatility of window shutters comes into play.
Since shutters are precisely fitted into the window frame, the shape we're working with doesn't matter.
This means stylish floor-to-ceiling windows in a converted property become a real possibility – no matter what roof shape you're working with.
Interior plantation Shaped shutters for arched glass doors
Arched doors, doorways, and entrances have traditionally been a popular feature in UK homes – but they can make it difficult to control privacy and light in your house.
Shaped shutters are the perfect solution when dealing with an arch or non-standard shapes.
Not only can you adjust the louvres to make sure you only get the sun when it's wanted – but you can also make sure you still get some sunlight without opening your home up to passers-by.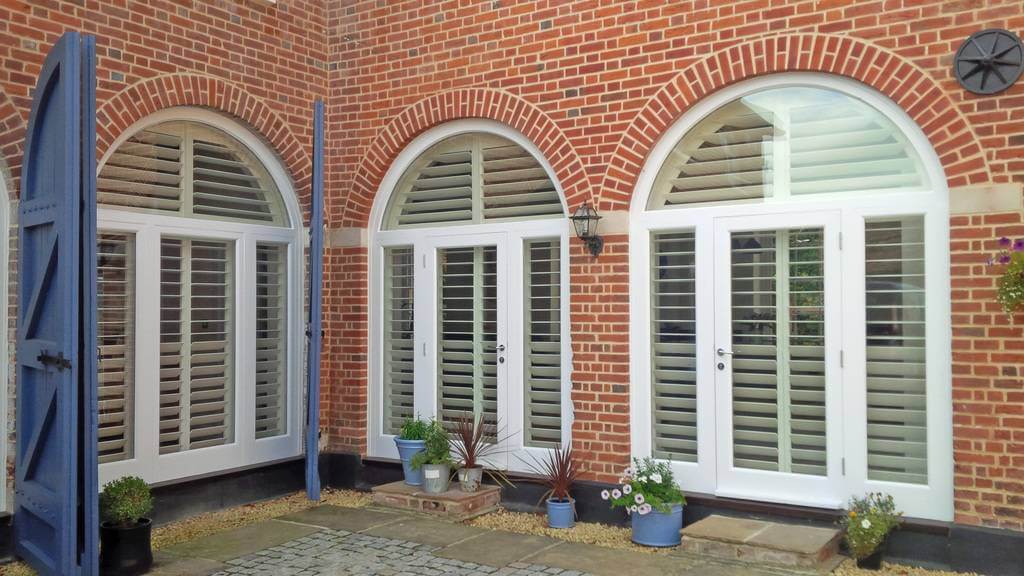 Trusted window shutter service
It's not just about our impressive range of shutter styles and materials. It's as much about how we take care of you, from the first contact to the finished result.
Customers trust us all over the UK to provide a friendly, dependable service.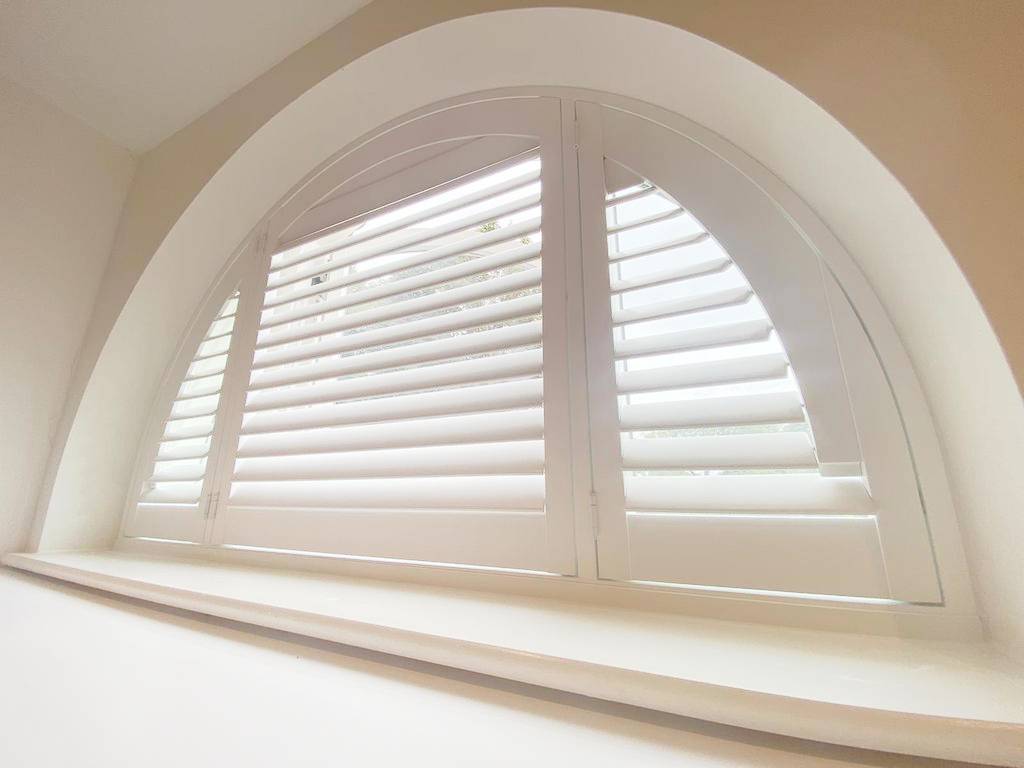 Window coverings that don't compromise on space
The space that shaped shutters create is another unique benefit.
While odd-shaped windows rarely allow for dressings to be mounted inside the window frame – which means space around the window is taken up.
Because of this, shutters are unmatched when it comes to creating the feeling of space.
Sitting neatly in the window frame, you've got the option of placing furniture right up to the shutter or the surrounding wall – opening up a range of interior design options you might otherwise miss out on.
Window shutters maximise light and privacy
Interesting-shaped windows are eye-catching – but that doesn't always work in your favour!
If your property faces the street or is overlooked by other homes, privacy is likely at the top of your wish list.
Unlike most curtains or blinds – with shaped shutters, privacy doesn't have to come at the expense of daylight.
Shutter slats can be angled to allow the sun to shine in – while still keeping your room private.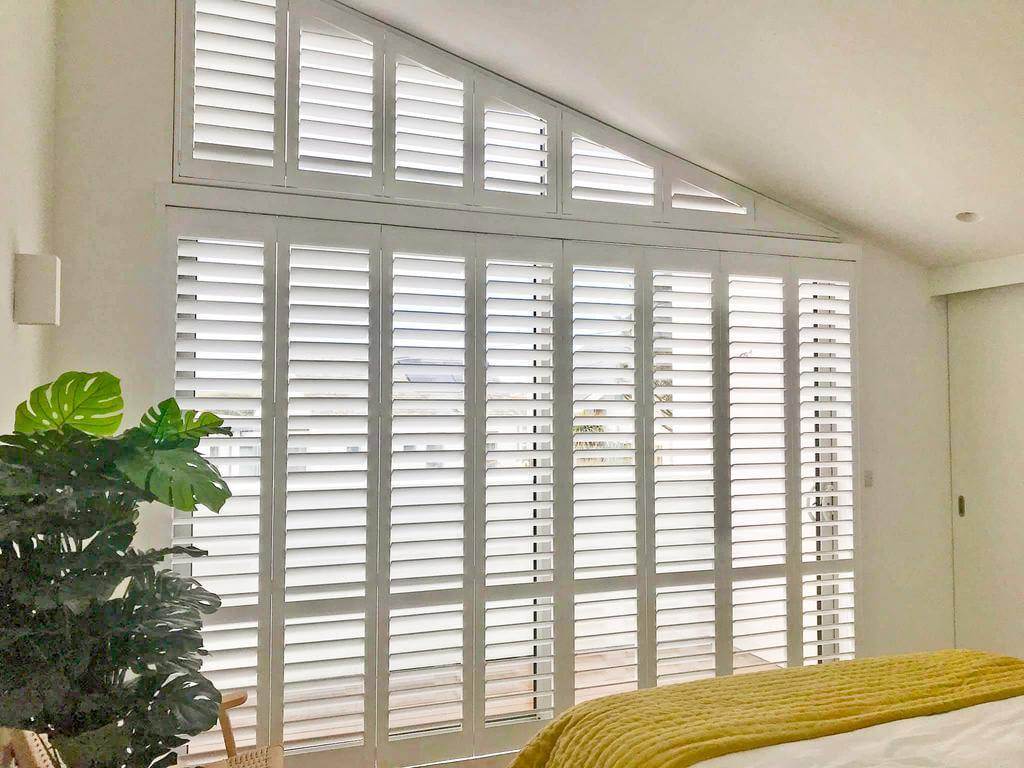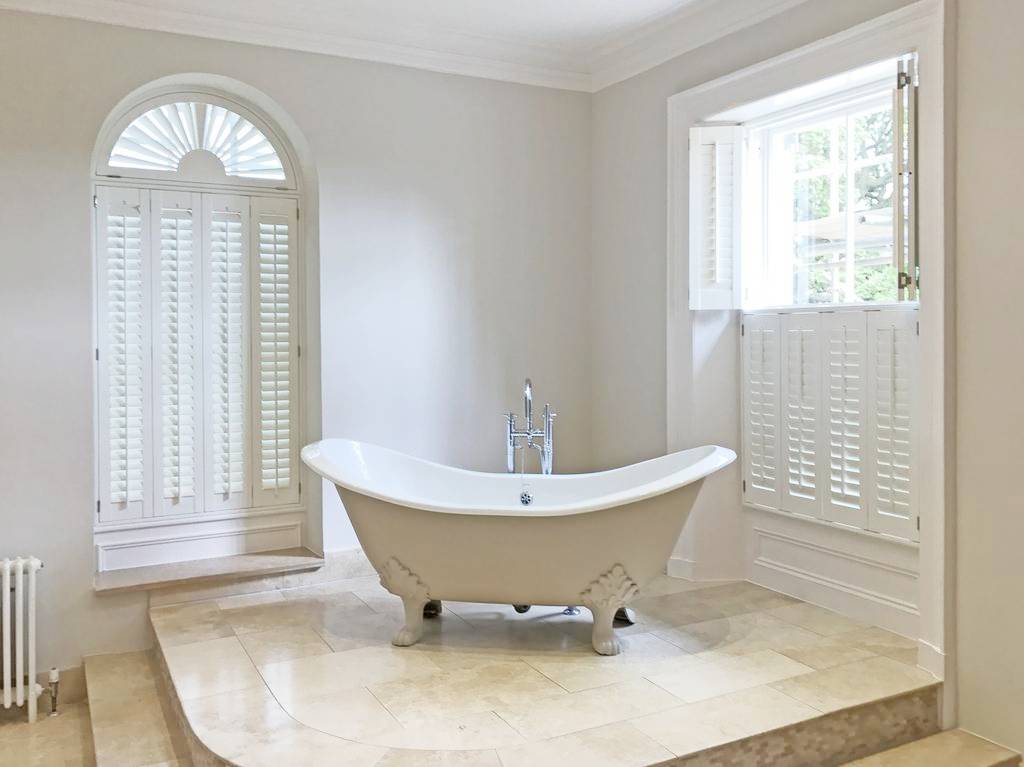 Water-resistant shaped shutters
Shaped shutter designs are definitely not limited to bedrooms, and living room spaces our Java range of shaped shutters are created with bathrooms and kitchens in mind.
In these high-moisture environments, wood and fabric can be problematic – so we've recreated the look of traditional hardwood with a modern, robust ABS finish.
ABS is water-resistant – so if you want shaped shutters that stand up to splashes and steam, we've got you covered.
Whether you've got a circular bathroom porthole or a traditional arched feature window, we'll create waterproof shutters that are perfect for your space.
Made-to-measure plantation shutters
Part of the reason we can cater for different window shapes so well is that we don't sell 'off-the-shelf' shutters.
Instead, every one of the stunning shutters we manufacture and fit is made-to-measure.
Sure, a curved or angular shape might be a little trickier to measure up for than a standard rectangular window – but our experienced fitters will make sure your shutters are an perfect fit.
From the frames to the louvres – every measurement is carefully checked before precise illustrations are drawn up.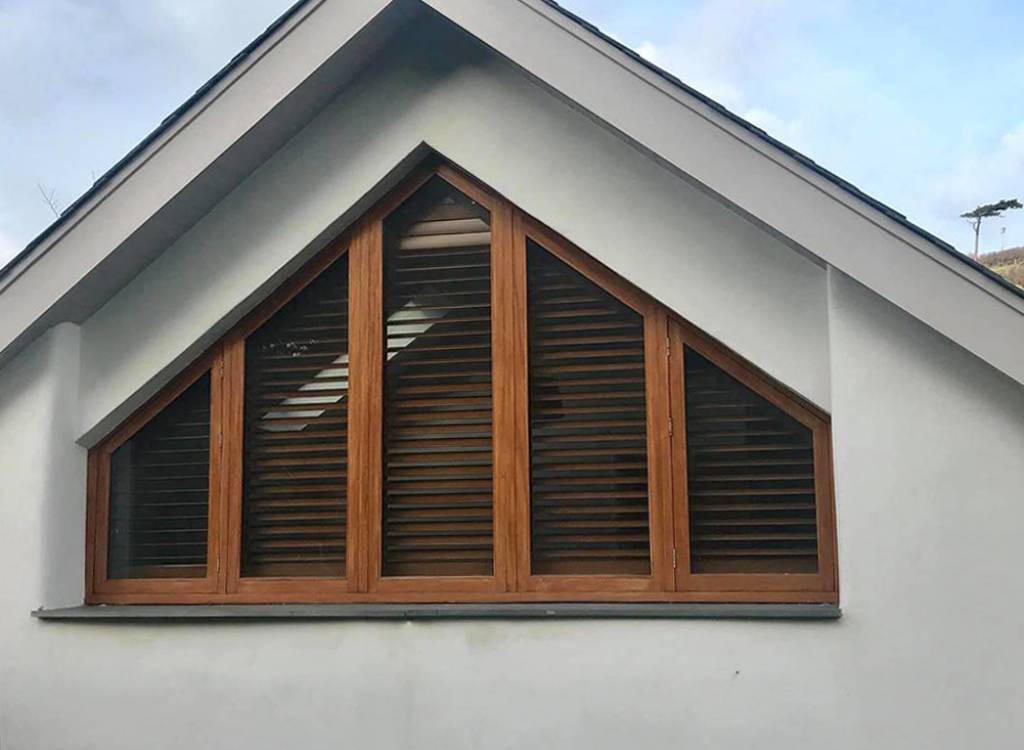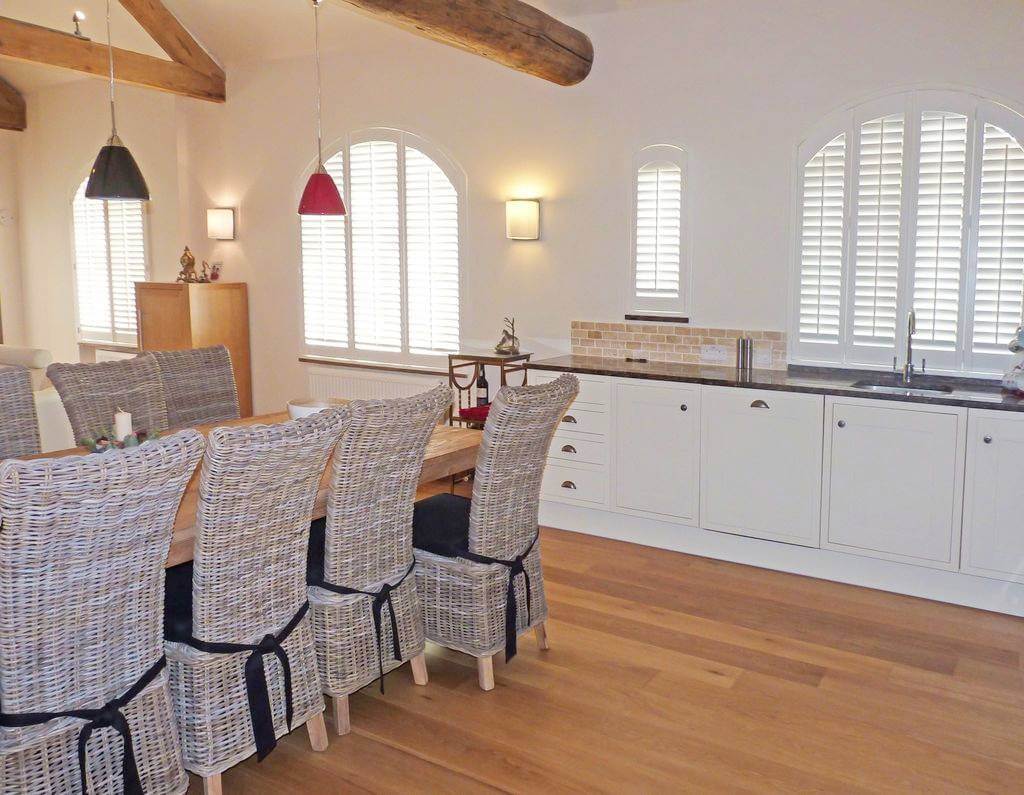 Shaped shutters with a peace of mind warranty
We want you to have absolute peace of mind every time you look at your shutters – no matter what kind of window they're fitted in.
This is why we created the Shuttercraft 10-Year Warranty.
When we make wooden shutters, we're proud to use the highest-quality natural materials – but as natural products, we acknowledge that they can sometimes develop very slight imperfections over time.
Don't worry, though – if you have any issues relating to build quality, fitting, or materials, we'll do everything we can to put those problems right.
Talk to us about shutters for odd-shaped windows
If you're thinking about shaped window shutters, talking to one of the expert Shuttercraft team is the best first step.
When you call or arrange a visit, you won't be confronted with a pushy salesperson. Instead, you'll get excellent service from a shutter design specialist with plenty of shaped shutter experience.
We'll talk you through what's possible and explain what happens during a technical survey.
What's more, with thousands of shaped shutters fitted, we might even be able to give you a few ideas you hadn't thought of!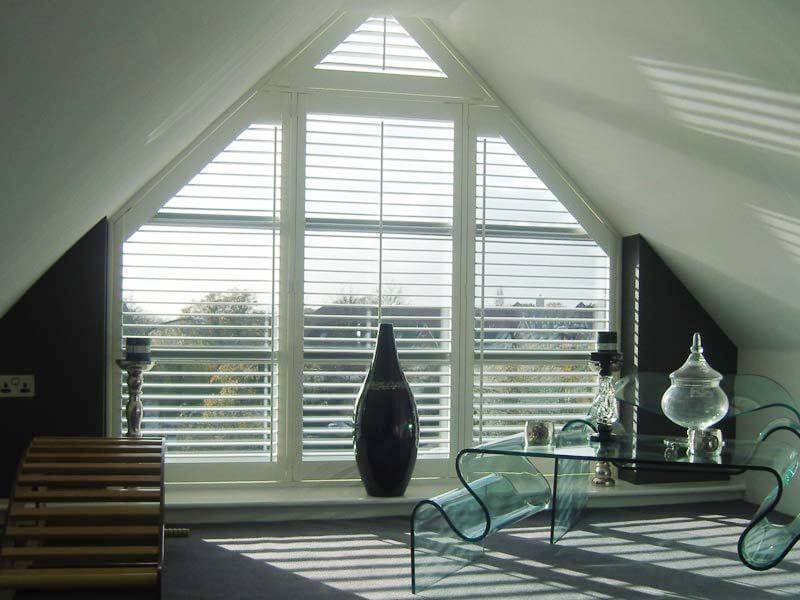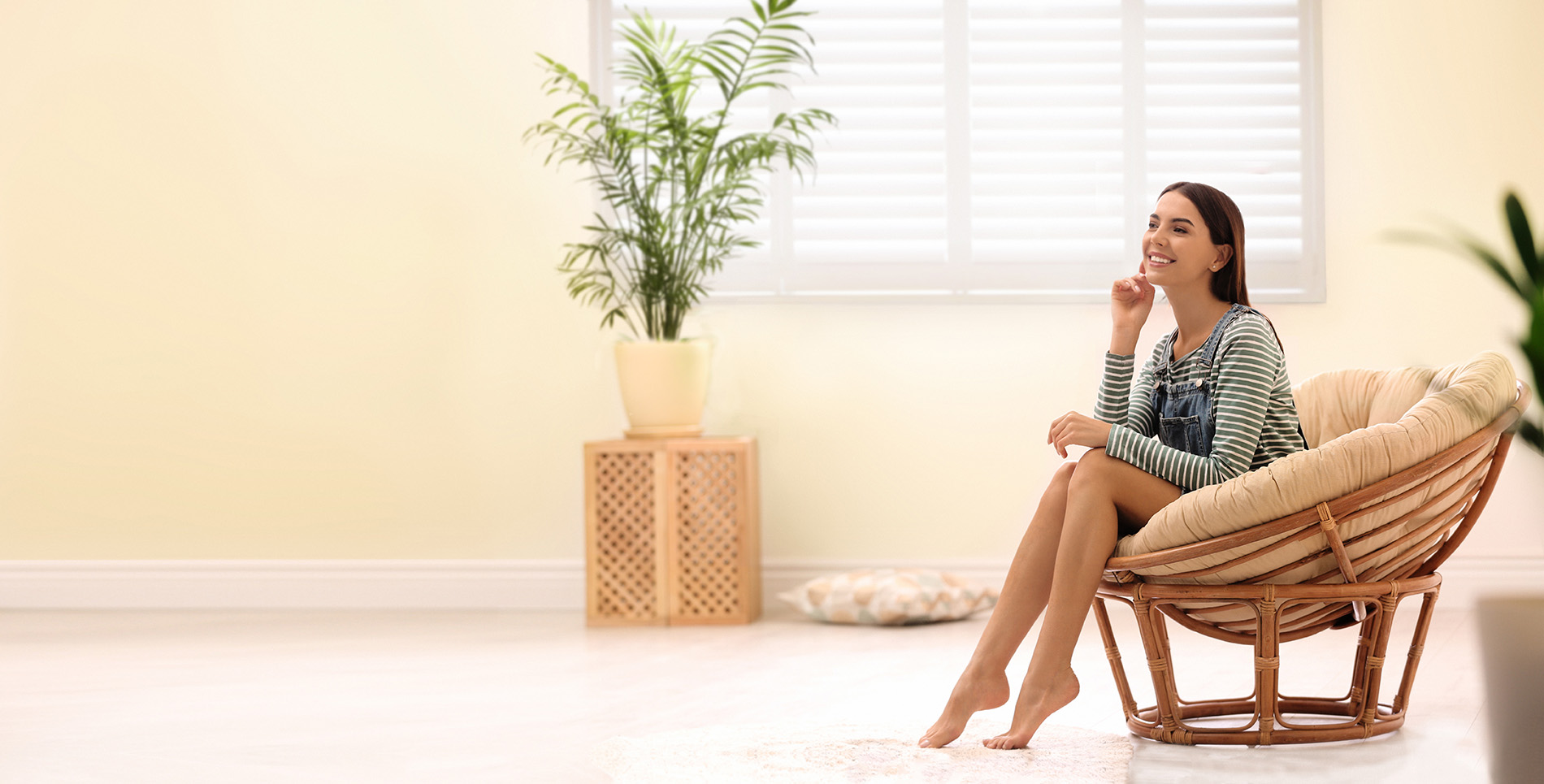 Get in touch today!
Why not contact your local Shuttercraft?