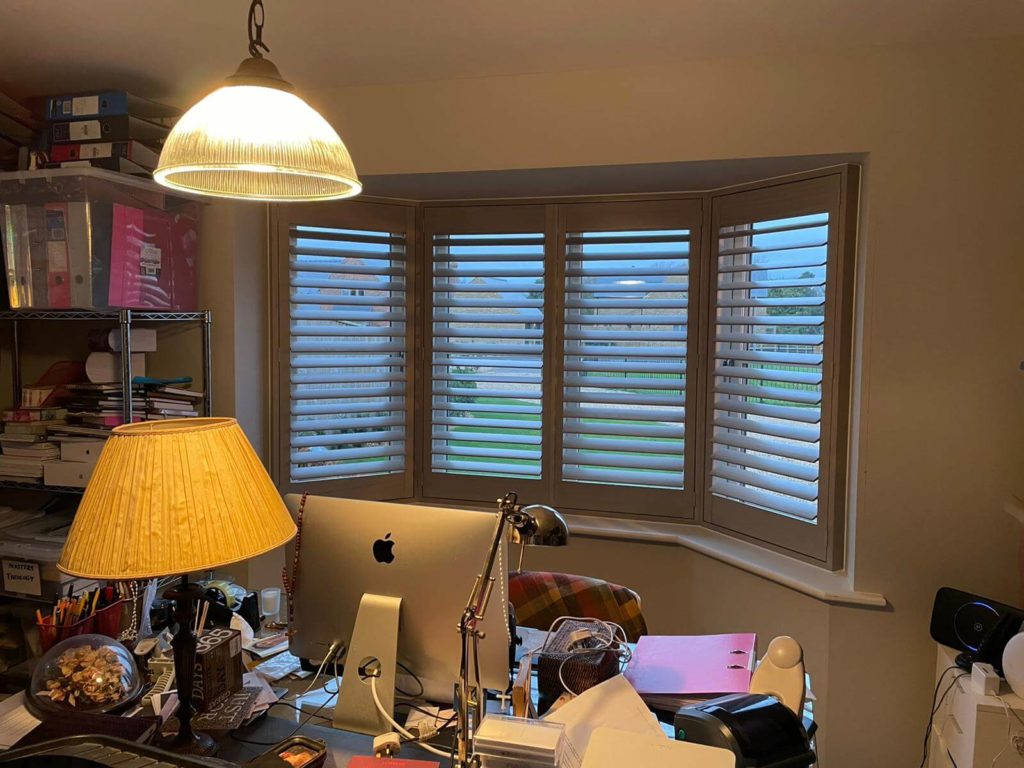 Shutters Londonthorpe
Looking for window shutters in Londonthorpe? The quality of service provided by Shuttercraft is growing in popularity across Lincolnshire, including right here in Londonthorpe.
We are passionate about providing excellent customer service, along with expert advice and value for money on our made-to-measure products. Whatever the shape or size of your window or interior space, you can find a window shutter that is right for you.
Trusted throughout the wider Grantham area, at Shuttercraft, we provide a superior range of both shutters and blinds that complement a variety of interior design choices. Get in touch with the team at Shuttercraft today to book a free home survey and discover options to help reinvigorate your space.
Shuttercraft offers a local service in and around the Londonthorpe area, including Welby, Barkston, Manthorpe, Ancaster and Old Somerby.
Shutter styles to suit every room
See plantation shutters and the wide range of window shutter styles available today from your local Shuttercraft, and we're sure you'll find something to fall in love with.
Whatever the shape or size of your windows and openings, you can rest assured there will be a range of shutters to suit your interior.
Trusted window shutter service
It's not just about our impressive range of shutter styles and materials… it's as much about how we take care of you, from the first contact to the finished result.
We're trusted by customers all over the UK to provide a friendly dependable service.
Discover stylish internal shutters in Londonthorpe
Our shutters are bespoke, so they can be designed to fit practically any window shape or size.  They will help deliver privacy, light control and insulation and will instantly give your home the 'wow' factor, both inside and outside.
Shutters help retain heat and give control over both privacy and light, whether crafted from wood, ABS or treated MDF. From the outside, shutters make your house look more expensive, enhancing kerb appeal. As a practical solution, they also require very little maintenance and are very durable.
Investing time and money into the kerb appeal of your home comes with all sorts of great benefits. Our shutters are designed so that each panel can be independently adjusted to get the light levels exactly as you want them. They help give you complete control over your home, so you don't risk fabrics fading or having to draw the whole curtain when the sun hits the wrong place on your windows.
We take real pride in every shutter installation that we carry out for our customers, which is why we work with you to establish what is right for your home or business. Book a free home survey with Shuttercraft Lincoln and discover a choice to complement your interiors.
About Londonthorpe
Nestled in the South Kesteven district of Lincolnshire, the quaint little village of Londonthorpe was originally created to house workers of the nearby Harrowby Estate. Harrowby Hall was the family home of the Ryder family, which included Nathaniel Ryder, a British politician who served as an MP for 20 years in the 18th century before being made a peer.
The church of St John the Baptist, Londonthorpe, is a Grade II listed building found on Church Lane in the village, which has a uniquely shaped tower dating from the 13th century, although much of the building has been renovated extensively since that time. Unlike many square towers from the time, which often featured crenellated or flat roofs, Londonthorpe's tower is topped with a tall gable, presenting a striking addition to the village skyline.
Londonthorpe Wood, created in 1993 by the Woodland Trust, is around 1 mile to the west of the village and includes wildflower meadows and mature woodland with a number of small paths snaking through, making it a popular place for relaxing walks and taking the dog.
Whether you live in Londonthorpe itself or in any of the areas surrounding Grantham, there will be a style of shutter to suit your home. Contact Shuttercraft and book your free home appointment today.
Get in touch today!
Why not contact your local Shuttercraft?