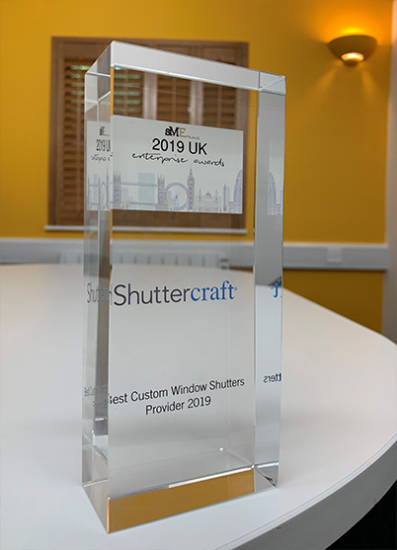 Premium window covering supplier Shuttercraft were nominated, and subsequently won, the award for the Best Custom Window Shutters Provider at the 2019 UK Enterprise awards.
Now in its third year, the annual SME News UK Enterprise Awards recognise small and medium sized businesses based on excellence in the industry, quality of products and dedication to service. Each award is issued on a merit basis and not the number of votes received.
Winners are selected via a combination of votes and nominations from a network of respected industry partners and SME's own rigorous in-house research to ensure the awards are a true representation of the very best that the SME landscape has to offer.
Leaving nothing to chance each business is carefully scrutinised from their performance over the past 12 months, their commitment to innovation, their methods and even their competition to ensure that only the most deserving names walk away with awards.
Lisa Stead, Franchise Manager for Shuttercraft said
"Winning this award is a fantastic recognition of the hard work and dedication of every member of our Head Office team and our Franchise Partners. Impeccable customer service, the provision of quality products and award winning training are at the core of Shuttercraft and this focus has resulted in another accolade to add to our growing portfolio."
Shuttercraft are one of the UK's largest shutter companies, expertly installing premium, made-to-measure shutters and blinds that transform homes up and down the country. You will always deal with a local Shuttercraft expert via their network of franchise partners – only selling quality S:Craft products.