If you're looking for alternatives to blinds, it's easy to assume that curtains and shutters are your only choices. In actual fact, there's a world of window coverings to choose from – you just have to know what to look for!
In this guide, we'll walk you through 8 stylish alternatives to traditional Venetian blinds. We'll explore different styles of shutters and shades – along with the pros and cons of each.
Also – if you're open to having your mind changed – we're going to throw in a couple of lesser-known vertical blind styles that are unlike anything you've seen before!
Quick answer: Shutters are an excellent alternative to blinds – with full-height, café-style, and tier-on-tier styles working in most window types. If you'd prefer shades, Roman, pleated, and roller shades are effective alternatives. If you're open to the idea of alternative blind designs, fabric and panel blinds are fantastic alternatives to traditional blind styles.
Why Look at Alternatives to Blinds?
Although Venetian blinds are excellent at diffusing the light and controlling privacy, they won't always be the perfect match for your interior design look or the function you're looking for from a window treatment.
In period properties, the sleek and simple look of Venetian blinds might clash with traditional detailing – feeling unsympathetic to your home's original time period.
Equally, they might not be the perfect fit for a contemporary home if you're looking for a window dressing that conveys warmth and coziness.
Blinds don't always work for light sleepers either. Although they can often do a good job of reducing the light in your room, the gaps between the slats will sometimes let a little light in – potentially disturbing your sleep.
Everyone's window dressing needs are a little different – but if any of these resonate with you, it's worth exploring an alternative to blinds to find the perfect balance of style and function.
Shutters
Shutters are a popular alternative to blinds – not least because they take the traditional 'slatted' style while offering a more luxurious look and improved functionality.
While slatted blinds tend to look quite minimalist, shutters are infinitely more adaptable – looking just as good in a traditional home with maximalist decor as they do in a minimalist modern space.
Take a look at some popular styles – along with some of the benefits of shutters.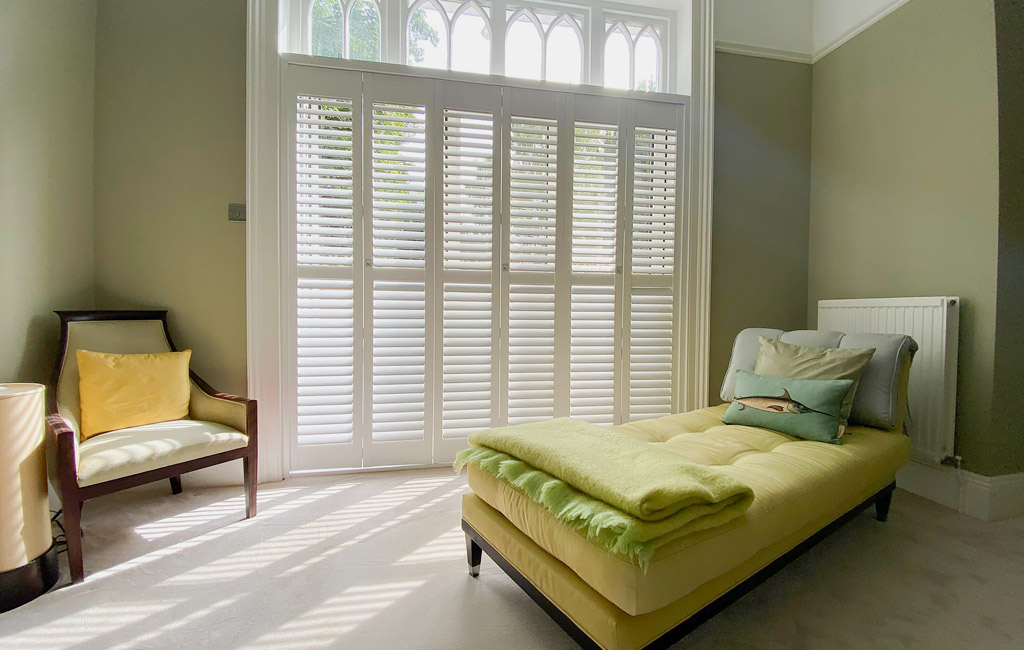 1. Modern Plantation Shutters
Modern, full-height plantation shutters exude a timeless elegance and functionality that beautifully complements a vast range of interior styles.
Made-to-measure for a precise fit in your window frame, they span the full height of your window – offering unmatched light control and privacy.
Their louvres can be tilted to allow light in, keep prying eyes out, or can be fully opened for an unobstructed view.
Most shutters are created using solid hardwood or high-quality engineered hardwood – creating a robust finish and a luxurious interior design look.
For spaces prone to moisture, high-quality ABS can be used instead – ensuring longevity, flawless function and resistance against warping.
What's more, the vast range of painted colours and wood tones means shutters can work perfectly in any interior theme, making them a versatile and attractive choice if you're looking for a blind alternative that will lift any room.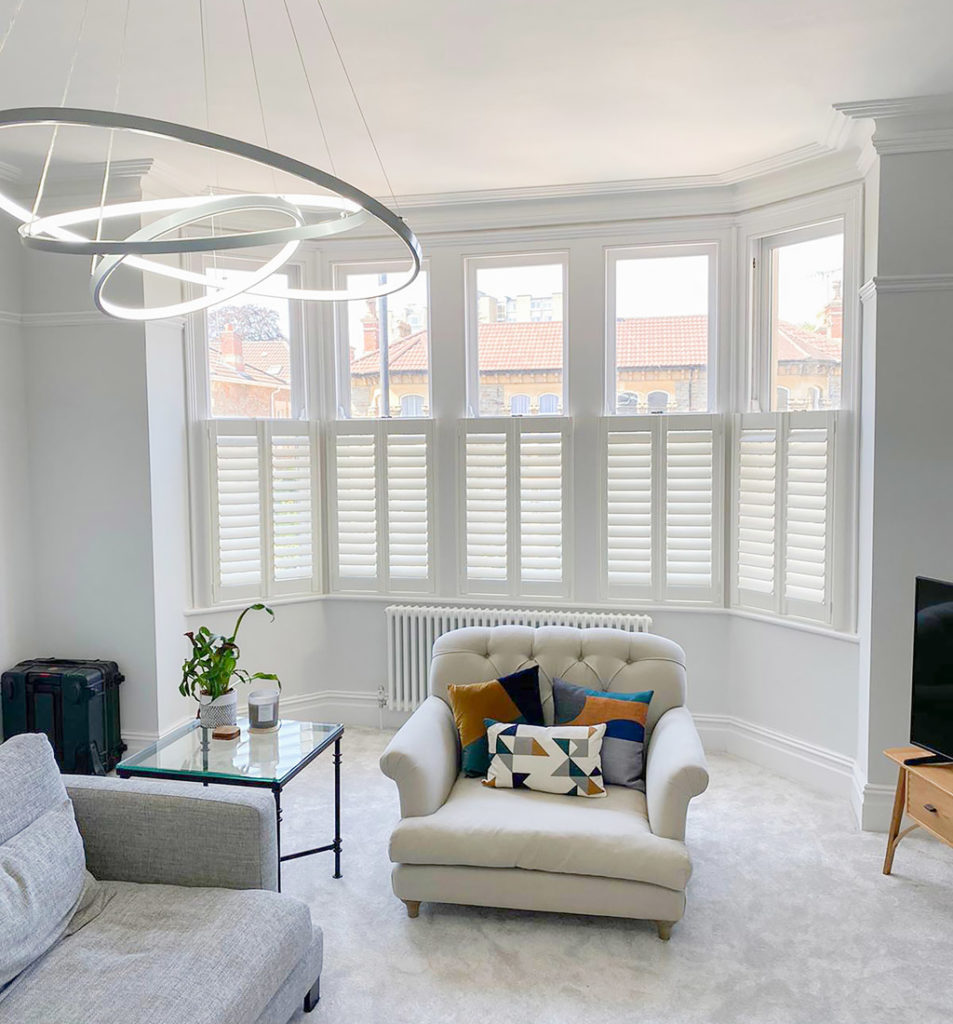 2. Continental Café-Style Shutters
Café-style shutters are also known as 'half-height shutters' – given that they are designed to cover only the lower section of your window. This unique design creates an effect that's difficult to match with blinds – letting the natural light flood into your room while still maintaining privacy.
Like full-height shutters, café-style shutters can be created using sustainable solid hardwood, tough engineered wood, or ABS in spaces that experience moisture – making them perfect for any room.
Café-style shutters lend themselves well to a huge range of settings – including rustic country looks, vintage or retro interior design themes, coastal beach-themed properties, or even city apartments with an urban or industrial look.
Again, the huge range of colour options and wood tones add to this versatility – the same shutters can look significantly different in white, a mid-wood colour, or a bold statement colour.
3. Adaptable Tier-on-Tier Shutters
If you're looking for unmatched control and flexibility when it comes to privacy and light control, tier-on-tier shutters are a stand-out choice.
When closed, they look almost identical to full-height shutters – but the upper and lower sections can be opened and controlled independently, adding to their design appeal.
Of course, every window is different, so tier-on-tier shutters can be designed with upper and lower sections that are the exact height you need.
If your windows have horizontal bars (generally referred to as 'glazing bars' or 'sash bars'), your shutters can be created to split at the same height – creating a seamless look from outside your home.
Again, the fact the tier-on-tier shutters can be made-to-measure in an almost endless range of colours in either solid hardwood, engineered wood, or tough ABS means that their superior light control can be enjoyed throughout your home.
Benefits of Shutters
Aesthetic appeal: Shutters offer timeless elegance that enhanced the look of your home both inside and out
Durability: Made from high-quality materials, shutters will often far outlast blinds or curtains.
Light control: The adjustable louvres give you precise control over the natural light entering your room
Energy efficiency: Shutters create an extra layer of insulation, helping to control the temperature in your room and lower energy costs
Privacy: With careful adjustment of the louvres, shutters let the light in without exposing your room to passers-by.
Low maintenance: Shutters are extremely easy to clean and require virtually no maintenance.
Made-to-measure: Custom-made shutters can be made in an almost endless range of styles, materials, colours or wood tones.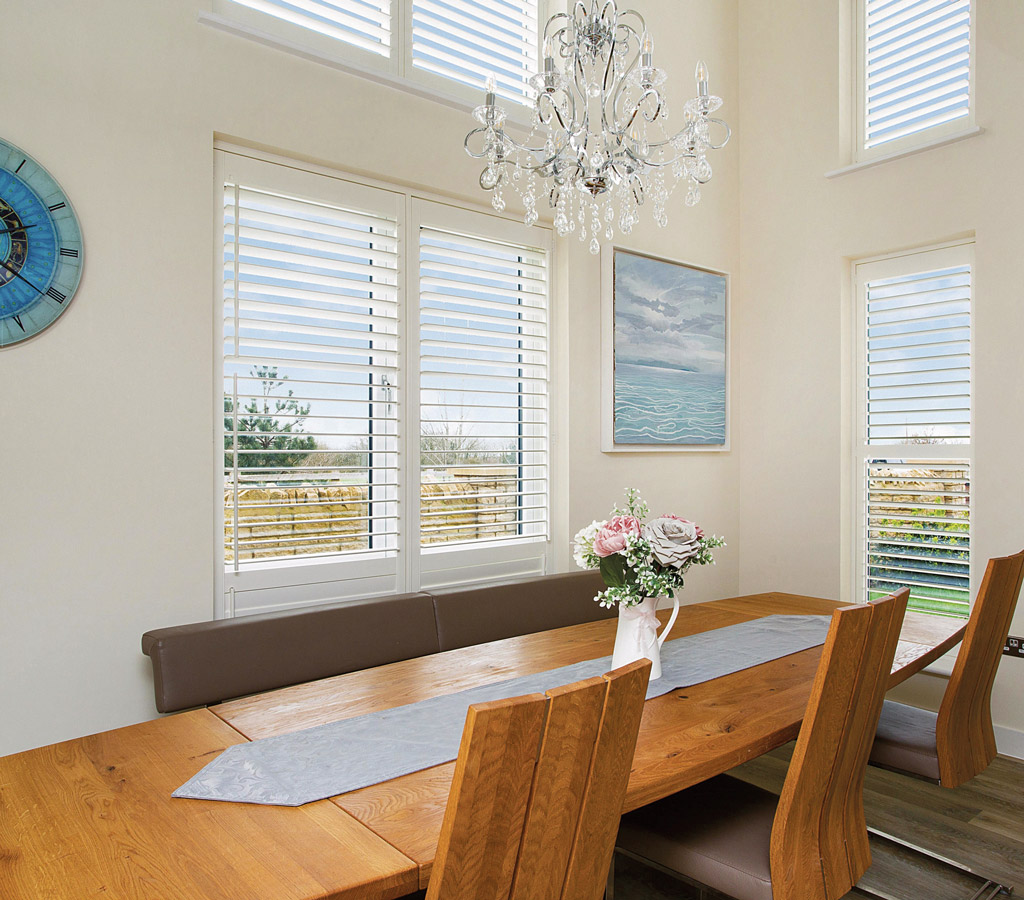 Shades
Although some people would consider 'shades' a type of blind, they are distinct in a number of ways.
Firstly, shades tend to be made of fabric – giving a softer look compared to slatted blinds.
Secondly, shades usually offer a range of light control options – from gentle diffusion to a complete blackout option for bedrooms or media rooms.
Take a look at some popular shade styles – along with some of the benefits of shades as a window treatment.
4. Plush Roman Shades
Roman shades are created using a piece of fabric that, when raised, folds into a series of evenly stacked pleats. When lowered, they open into a smooth shade, covering your windows completely.
Given the almost endless range of fabrics, colours and patterns Roman shades are available in, they are a perfect alternative to blinds and tie-up curtains.
This broad range of design options also means Roman shades can be created to complement your interior design look perfectly – whether ultra-modern, traditional, or anything in between.
When it comes to light, you can decide on the level of control you'd like by choosing the most appropriate fabric and colour.
Heavier, darker fabrics offer more of a room-darkening effect – whereas lighter fabrics and colours diffuse the light, giving a gentle glow in your room.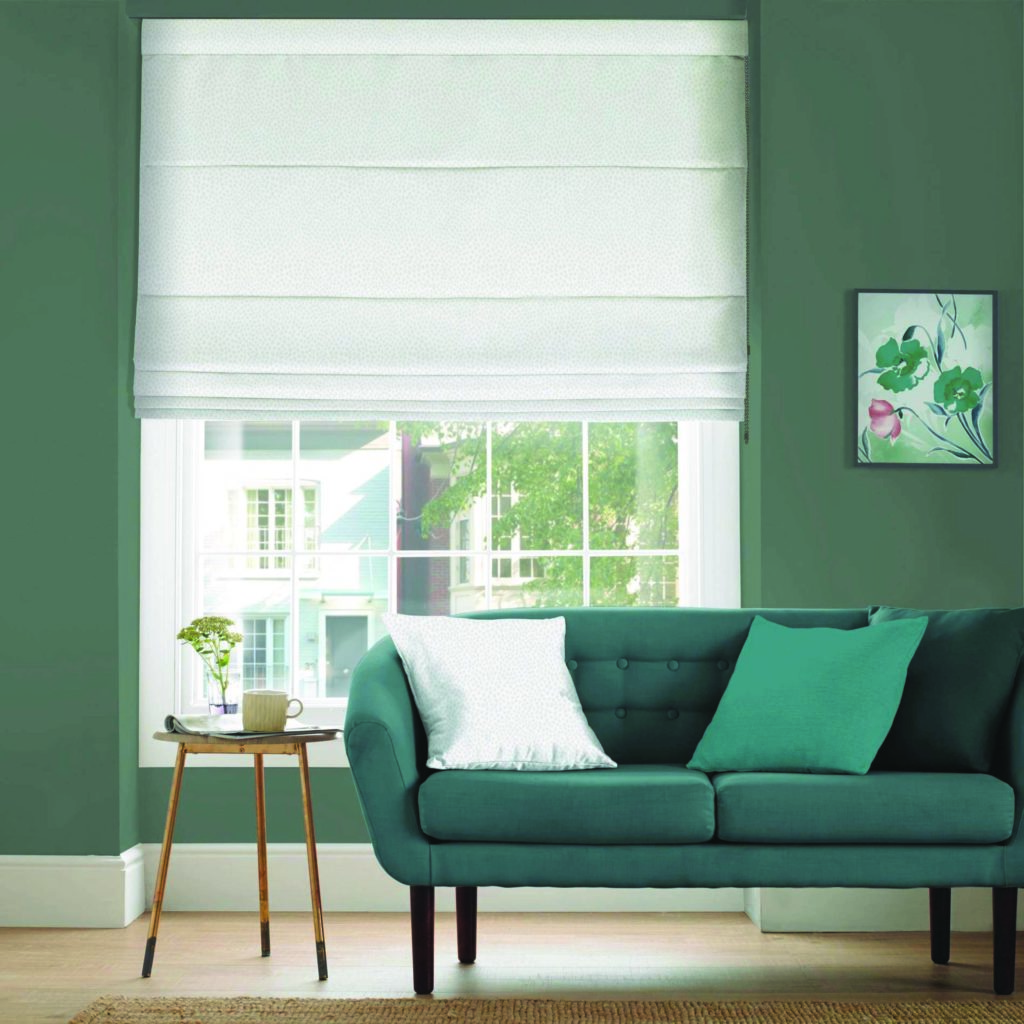 5. Modern Cellular Shades
Cellular shades – also known as honeycomb shades – are window coverings crafted from a soft fabric shaped into a honeycomb structure when viewed from the side.
This unique structure creates individual cells or pockets that trap air – providing an additional layer of insulation when covering your windows.
Honeycomb blinds can be made-to-measure in a massive range of fabrics and colours – making it easy to match your shades to your interior design look.
The colour you choose will also dictate how much light control you'd like from your shades too – with darker, lined colours providing a complete blackout experience, perfect for light sleepers.
Of course, you don't have to go for blackout fabrics. In rooms where privacy is important but you'd like to keep some light, a lighter fabric filters light effectively – creating a gentle glow effect like a frosted glass window film in bathrooms, hallways, or around doors.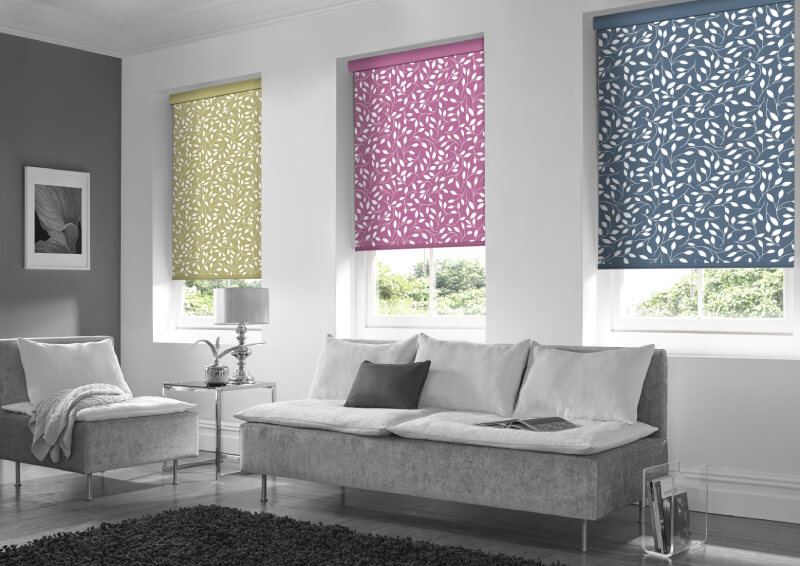 6. Printed Roller Shades
For many people, the plain colours of blinds just don't work with their interior design look – but this is where made-to-measure printed roller shades are a cut above other window coverings.
With an Any Colour, Any Print option, you can perfectly match a colour from elsewhere in your room. Alternatively, you can choose a pattern or image that complements your room perfectly.
You might decide to match your wallpaper for a seamless and minimal look, match a fabric colour to really make your windows pop, or even choose a print to create the look of bamboo shades, a distressed fabric, or even a daydream landscape.
Roller shades are a cost-effective way to control light and privacy in your room too. Again, choosing a darker shade will minimise the amount of light that comes into your space – whereas a lighter, brighter colour will bring the gentle glow of the sun into your room while reducing any glare.
Benefits of Shades
Versatility: With an almost endless range of fabrics, opacities, patterns and colours, shades can be created to suit any room.
Customisable: Made-to-measure shades can be created to suit a huge range of window sizes.
Light and Privacy Control: You can choose a material and colour that creates the exact light level you're looking for while protecting your privacy.
Energy Efficiency: An additional layer of fabric across your windows can help to reduce heat transfer through the glass.
Space Efficiency: Shades take up less room than curtains or shutters, creating additional space around your windows.
Ease of Use: Shades come as standard with effortless child-safe cords – but can also be upgraded to include remote-controlled electric motors.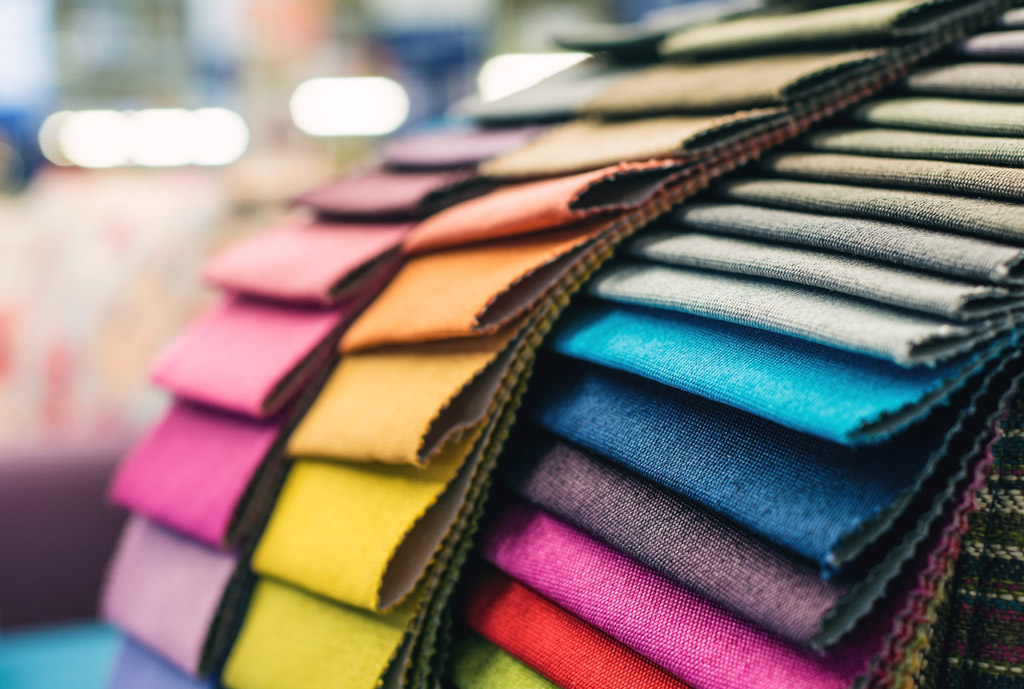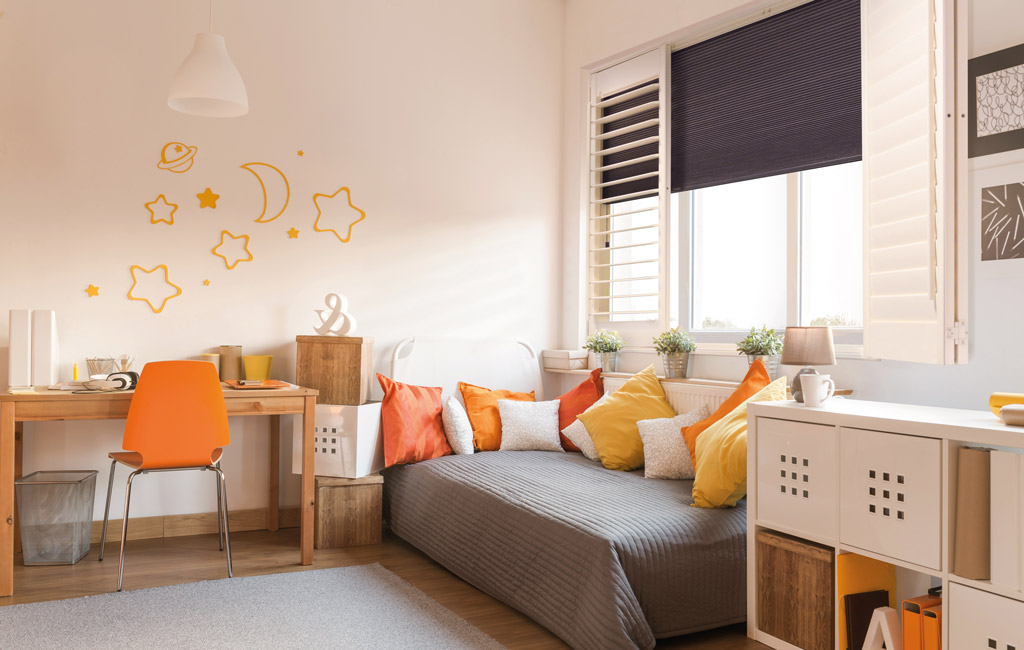 Alternative blind styles
We know you're here looking for an alternative to blinds – but if you've been thinking about alternatives to Venetian blinds, you might be surprised to discover a wide range of new blinds that have been developed with a totally different range of light, privacy, and design needs in mind.
Take a look at the next generation of window blinds – along with some of the benefits of modern window blinds.
7. Sophisticated Fabric Blinds
Fabric blinds can be created to work either horizontally or vertically – making them perfect for virtually any window or door.
Horizontal fabric blinds – also known as 'transitional shades' – are created using alternating opaque and sheer stripes.
Two fabrics are combined into one blind – with a middle bar dividing them. When you slide the bar upwards, the sheer bottom fabric becomes visible, and when you slide it down, the opaque fabric becomes visible.
This unique design makes fabric blinds a perfect alternative to Venetian blinds – as you have almost identical control – but with the softer look of fabric rather than slats.
Of course, you can also choose the perfect colour for your room too.
Vertical fabric blinds work in a similar way – with alternating vanes of solid and opaque fabric.
Angle the blinds with your wand control, and you expose the fabric you want – controlling privacy and light at the same time.
Vertical fabric blinds are designed with patio or sliding glass doors in mind too – created in such a way that you can step through the blind at any point, giving access to the outdoors without compromising on light or privacy.
8. Bold Panel Blinds
Panel blinds are a contemporary and versatile window treatment perfect for large windows, patio doors, or even as room dividers.
As vertical blinds, they're mounted on discreet tracks above your windows or doors. When opened, they overlap – so they can be drawn to one or both sides to let the light in or give access to your outside space.
Since the sliding panels are made of durable fabric, they can be customised to suit your interior tastes perfectly.
If you'd like a minimal look, a plain, neutral fabric complements the look perfectly.
Alternatively, you might choose a bolder colour or pattern to add to a maximalist or traditional interior design theme.
Although they offer the same level of coverage as curtains, the independent panels make panels a more versatile choice – especially when you're thinking about home security.
While curtains and some blind styles are either open or closed, panel blinds can be angled to give the impression that someone is at home without exposing your room to passers-by.
This makes them a perfect choice if your home is unoccupied – either while you're at work or even if you're away on holiday.
Pros and Cons of Alternative Blinds
Versatility: Fabric blinds can be created in a huge range of colours, patterns and materials – making it easy to match your interior style.
Control over Light: The colour and material you choose will give you the exact level of light you want in your room.
Energy Efficiency: Fabric blinds created using heavier materials can help with heat transfer through windows and doors, potentially reducing energy costs.
Soft Aesthetics: Fabric adds a warm, inviting texture to your space, softening the overall look of your room.
Range of sizes: Fabric blinds, particularly vertical blinds, are suitable for a wide range of sizes – including very wide windows and doors.
Enhanced Privacy and Security: By angling the panels or material types, fabric blinds create privacy without compromising on light.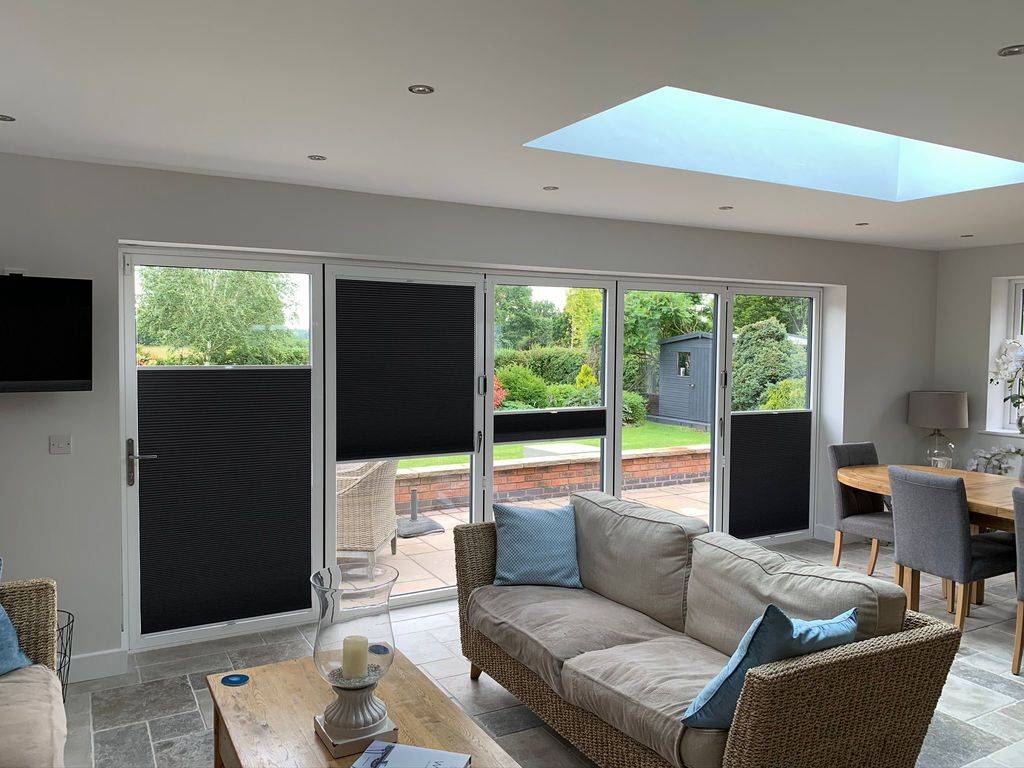 Alternatives to Blinds: What's Right for Your Space?
When it comes to window treatments, blinds aren't the right choice for everyone. If you're looking at some alternatives but still want full control of light and privacy in your room, you might want to consider:
Plantation Shutters
Café-Style Shutters
Tier-on-Tier Shutters
Roman Shades
Cellular Shades
Roller Shades
Fabric Blinds
Panel Blinds
We've explored a broad range of styles here – hopefully making it easy to find a look that's the perfect match for your room and interior design tastes.
If you're still not sure which is going to be right for you – why not contact us and talk to one of our design team?
We'll be able to talk to you about a huge range of alternatives to blinds – and we guarantee we'll have an idea that works perfectly for you!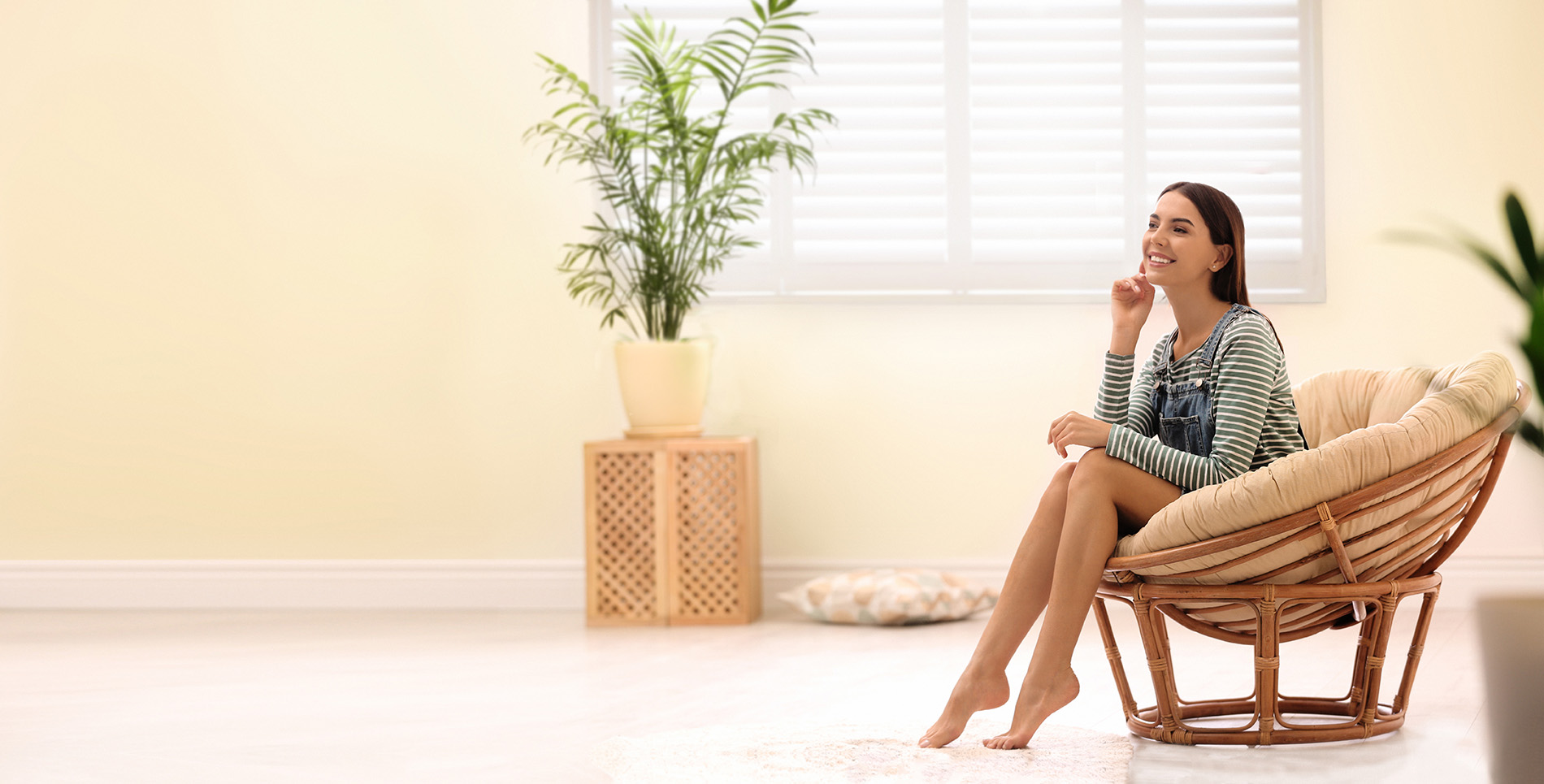 Get in touch today!
Why not contact your local Shuttercraft?