Window shutters for all window types
Window shutters can transform a room, letting you control light and privacy like never before. Read more about our premium shutters to decide whether they'll be a good match for your home.
Explore a wide range of shutter styles
From impressive full-height shutters to chic Parisian-style cafe shutters, your local Shuttercraft has a vast range of window shutter options that will help you transform your space and let the light in.
Choose from various materials, paint finishes, and finishing-touch options to make your new plantation shutters the perfect match for your home.
Why choose hardwood shutters?
Every shutter we supply is a premium S:CRAFT product – so you can be 100% confident that your shutters have a perfect combination of durability and stunning good looks.
Unbeatable kerb appeal
Homes with premium wood shutters stand out on any street. Even from a distance, shutters beautifully complement any window shape – giving your property a well-maintained and well-thought-through look. By combining different types and sizes of tiers, you can create a unique design that brings your property to life.
Complete light control
Daily, there's no predicting what the UK weather has in store. Whether you're hoping to make the most of a sunny day, tone down the low autumn sun, or shut out the grey clouds, interior shutters offer ultimate light control. There's no need to worry about faded blinds or curtain fabrics either – durable shutters will stand the test of time.
Absolute privacy
Shutters offer a unique level of privacy that blinds or curtains cannot match. Close each tier or panel individually to let the light shine through while keeping unwanted attention out. This makes shutters the perfect choice for street-facing windows, bathrooms, and bedrooms. Stay safe and private with just the right amount of light.
Shutters that save energy
When it comes to insulation, premium shutters are hard to beat. Depending on your style, shutters are made-to-measure for your windows and can reduce heat loss through windows by 50%. Our shutters are thermally dynamic, too – so as well as keeping heat inside, they'll make sure the cold is locked out too.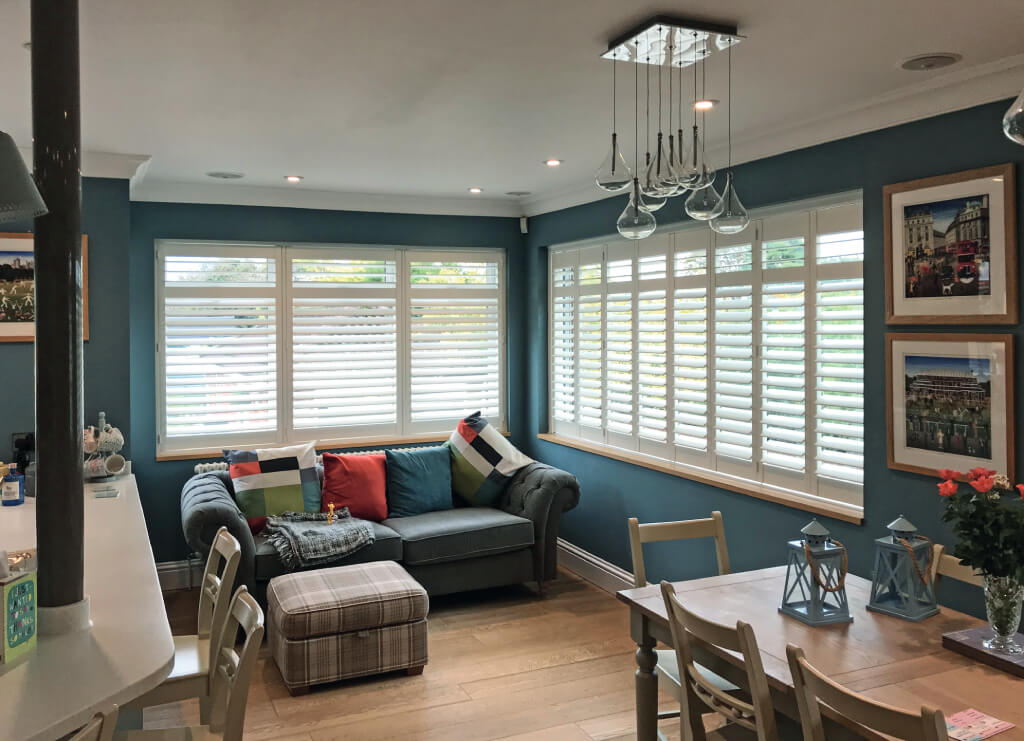 Quick and easy to clean
Curtains and fabric blinds can act like huge dust traps – keeping dust, pet hair, and allergens inside your home. Shutters give dust and debris nowhere to hide – cleaning usually involves a quick wipe of the slats or a flick of a feather duster. Shutters make it easy to keep your house looking great and feeling bright, fresh, and clean.
Shutters made for your windows
At Shuttercraft, there's no such thing as an arch-shaped window! Our shutters can be adapted to fit any window shape or style – from huge multi-faceted bay windows to tiny round bathroom portholes. We'll help you get the kind of fit and finish that's just not possible with DIY shutters or blinds.
Find shutters that are perfect for you
Explore our gallery and custom colour service to find shutters and paint finishes that complement your property beautifully.
At Shuttercraft, outstanding customer service and stunning shutters go hand-in-hand
We don't just provide outstanding shutters – we also guarantee that every one of our customers gets an outstanding experience every step of the way.
No pressure or pushy sales tactics
We believe premium products speak for themselves – so we promise you'll never experience any pressure from anyone here at Shuttercraft. Instead, we're here to provide all the essential information about our products and service – then answer any questions you might have.
And don't worry – there's no such thing as a silly question; we want you to have all the information you need to decide whether shutters will be a beautiful and practical addition to your property.
Free, no-obligation consultation
We don't think any customer should be forced to choose shutters based on pictures and online descriptions – so we do things differently. You're free to book an appointment at a time that's right for you, allowing you to view every one of our different shutters, slats, colours, and designs at your own pace.
Our expert team will be able to answer all your questions – and talk you through how our shutters are carefully constructed using hardwood, MDF, and hardwearing finishes.
Buy shutters with confidence
There's no substitute for a word-of-mouth recommendation for shutters, so we're proud to have happy customers all over the UK.
We strive for unbeatable value and impeccable service. Why not look at some of our reviews and hear from real customers about their experiences?
Shutters with optional extras
Your home is unique – so why settle for shutters that don't match your style? With Shuttercraft, you can choose custom paint colours, room darkening options, AutoClose mechanisms, and even the convenience of PowerMotion technology.
Full height shutters – made to the highest quality
We want you to be happy with the shutters in your room for years to come, so we ensure every product is made to the highest possible standard.
We have an unmatched eye for detail. Every raw material is carefully sourced; every product goes through a strict quality control process, and through design and installation – every measurement is checked and exact. Ours is a level of quality and precision that's almost impossible to achieve when working with a DIY shutter specialist.
The quality of our finished shutters begins with the wood we select for use. Our shutters are produced in China by the world's largest shutter manufacturer at incredible state-of-the-art production facilities. The wood that will eventually control the light in your room starts by being quarter-sawn and kiln-dried, limiting the possibility that it will ever become warped.
Even before manufacture begins, the raw materials are stored in climate-controlled rooms – and when your shutters are assembled, specialist 'mortise and tenon' carpentry joints are used to reduce movement and keep your shutters solid throughout their life.
What does all this mean to you? When you explore our website, browse our videos, and look at our samples, you can do it with absolute peace of mind – knowing that we only use the best variety of materials, the best production methods, and the best quality control methods.
Getting your new shutters to you
Often, time is of the essence when it comes to shutters. If you're working to a strict deadline and need to tick shutters off your to-do list, we can arrange air freight delivery to get your shutter products to your home or site as quickly as possible.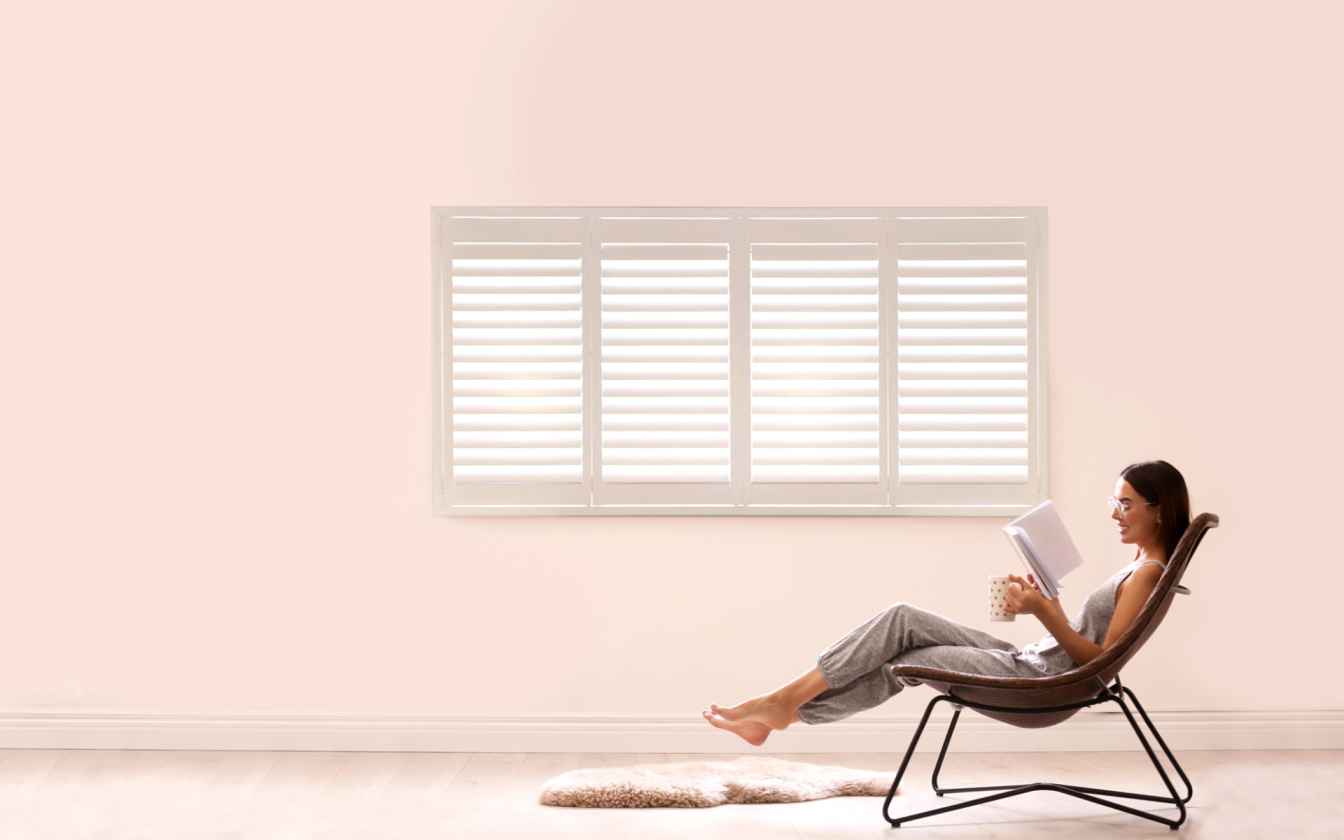 Get in touch today!
Would you like to know more about our shutters? Maybe you've got a question about shutter installation or delivery? Get in touch to book your free survey – our experts will be happy to help.