Since there are so many to choose from, selecting the right window dressing for patio doors can be a little overwhelming.
To help you find the window treatment that's right for you and your home, we've listed some popular design ideas. For each one, we've listed some blind, shutter, or curtain styles that will deliver the perfect look and function.
Quick answer: To choose the right window dressing for patio doors, think carefully about your needs. Decide on how much privacy and light control you need, how practical you need a window dressing to be, and how a window dressing will complement your existing interior design look. You'll typically find blinds, curtains, and shutters that are ideal for your room, whatever your need.
Subtle Patio Door Window Treatments
Patio doors are a beautiful way to let light flood into your room – but because of their size, some window dressings options can be a little intrusive. This is especially true if you're going for a minimal interior design theme in your space.
If you're looking for a window treatment that doesn't take up a lot of space and looks discreet when open, why not explore some of the following options:
Roller blinds take up very little space when fully open.
Vertical blinds gather at the sides of your doors in a neat stack.
Sheer curtains protect privacy while maintaining a light, airy look.
Pleated blinds stack very neatly into their discreet headrail.
Light-Blocking Patio Door Options
Although lots of light in a living space or kitchen often feels nice, there are times when it's useful to block out external light to create a cosy atmosphere in your room.
If you're looking for the ultimate in light control for your patio doors, the following options might be perfect for your home:
Lined curtains have an additional light-blocking layer and can comfortably cover the edges of your doors to prevent light from leaking in.
Pleated blinds can be made-to-measure to offer a full blackout and can be mounted in a discreet frame to ensure no light bleed around the edges.
Functional Window Treatments
Patio doors often see a lot of footfall in busy homes – especially since they're often the most direct way to the garden, the washing line, to let the dog out, or generally let children wander between inside and out.
Because of this, lots of people need a window treatment that looks fantastic but is also practical and functional. If this sounds ideal for your home, the following options could work perfectly:
Fabric blinds can be designed to let people push through easily at any point – combining good looks with practicality.
Vertical blinds can be designed to stack at one or both sides of the door frame, making coming and going easy.
Bypass or bi-fold shutters are mounted on a discreet track in front of your glazed doors so they can slide back to allow easy access.
Pleated blinds can be mounted on each individual door and therefore don't interfere with opening and closing at all.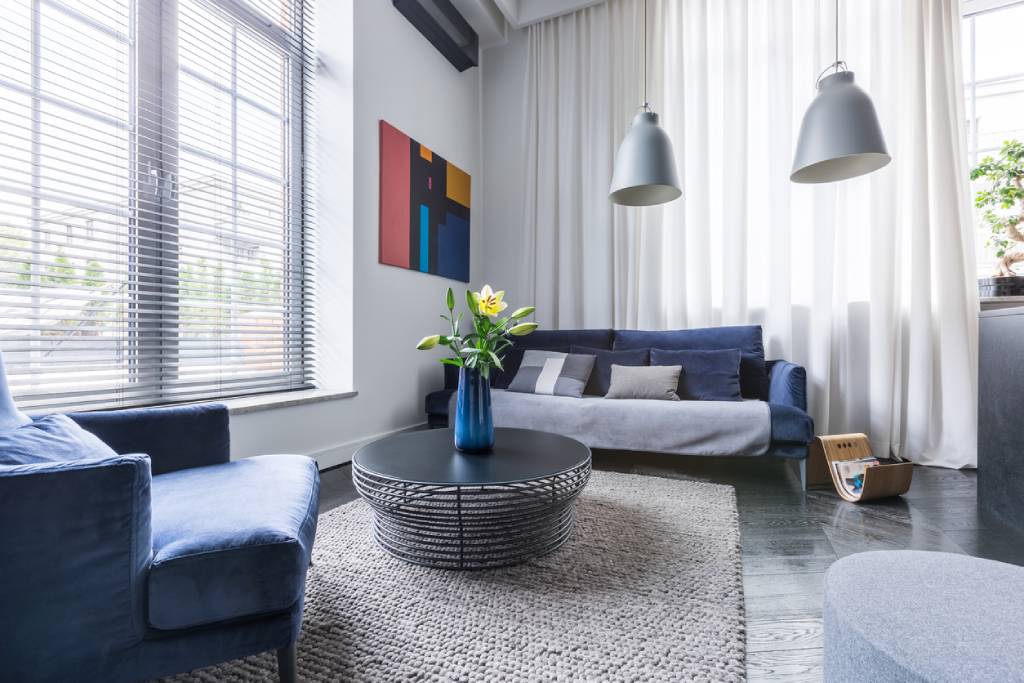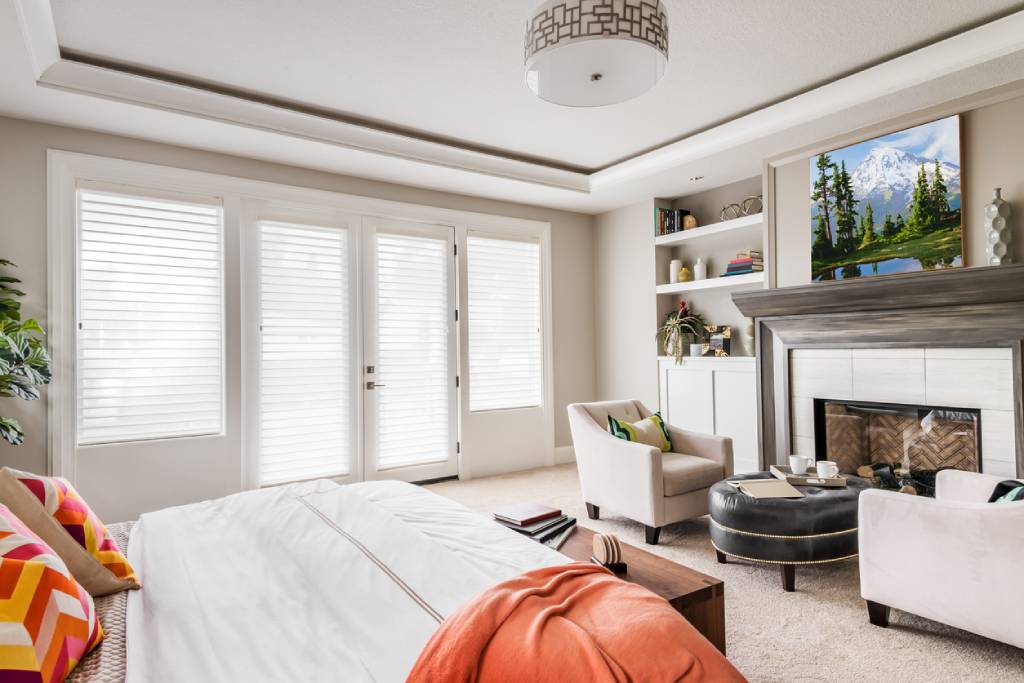 Window Treatments for French Doors that Preserve Light
Finding the right balance between light and privacy with sliding glass doors can be difficult. If your patio double doors are overlooked by passers-by, a nearby road, or neighbours' properties, it's a good idea to find a window treatment that protects privacy without cutting down the natural light entering your room.
If this sounds like the perfect patio door solution for your home, explore some of the following options:
Shutters have louvres that can be angled to keep the light flooding in and protect privacy at the same time.
A vertical blind can be adjusted so the light can enter your home, but the angle of the vanes still offers privacy control.
Sheer curtains hung across sliding doors will gently filter the light but provide a layer of privacy across the glass.
Venetian blinds have slats that can be angled to protect privacy but still let plenty of light into your space.
Patterned Sliding Door Window Treatments
If you've got an interior design look that you're proud of in your home, you'll be pleased to hear that many made-to-measure window treatments can be created to match colours, patterns or fabrics elsewhere in your space.
This is an especially popular idea for window dressings that don't retract completely – so whether they're open or closed, they'll look perfectly at home in your beautifully designed room.
Popular styles include:
Roman blinds come in a huge range of patterned fabrics and colours, making it easy to match your room.
Vertical door blinds that have been made to measure to match your colour palette and patterns perfectly.
Curtains created using specialist fabrics that match furniture or colours in your room.
Ultimate Privacy for a Sliding Glass Door
Sometimes, it's nice to be able to close the world off completely. While many window dressings will shut out the light effectively, there aren't many that effectively make your patio doors disappear completely.
If you like the idea of completely transforming your room with a window dressing, we've got a unique approach that delivers this perfectly:
Solid panel shutters are made without louvres, giving a beautiful timeless look that shuts your windows or doors off completely. This offers absolute privacy control and transforms the look of your space.
Window dressings for Sliding Doors
Although we've talked about blinds for patio doors throughout this list, sliding patio doors come with a range of different requirements compared to French doors that open outward on a hinge.
This sliding opening method means blinds or shutters that are mounted directly to the doors just aren't practical, as they would prevent one or more doors from opening. As such, window dressings that are mounted on a track are a perfect solution that won't compromise how your doors operate.
Take a look at some of the most popular options for sliding patio doors:
Vertical blinds hang on a very neat rail in front of and above your sliding doors. This means they can operate completely independently of your doors – but can still be installed closely to look neat and tidy.
Bypass shutters are mounted on discreet rails in front of your sliding doors. Although the rail is minimal, it actually has two grooves, meaning each door slides independently of the other. This means they operate much like your sliding doors, giving access to either door.
Bi-fold shutters are also track mounted – but they fold as they open, stacking neatly at one or both sides of your sliding doors – taking up less room than bypass shutters.
Still not found the ideal window dressing for patio doors?
Don't worry if you're still not sure what the perfect window dressing would be for your room with patio doors. Often, it's useful to see specific designs, patterns, fabrics, or materials before you make your choice.
If you'd like to hear more about any of the blinds or shutters we've mentioned here, why not get in touch with our design team? We'll help you find the perfect window dressing for patio doors in your home!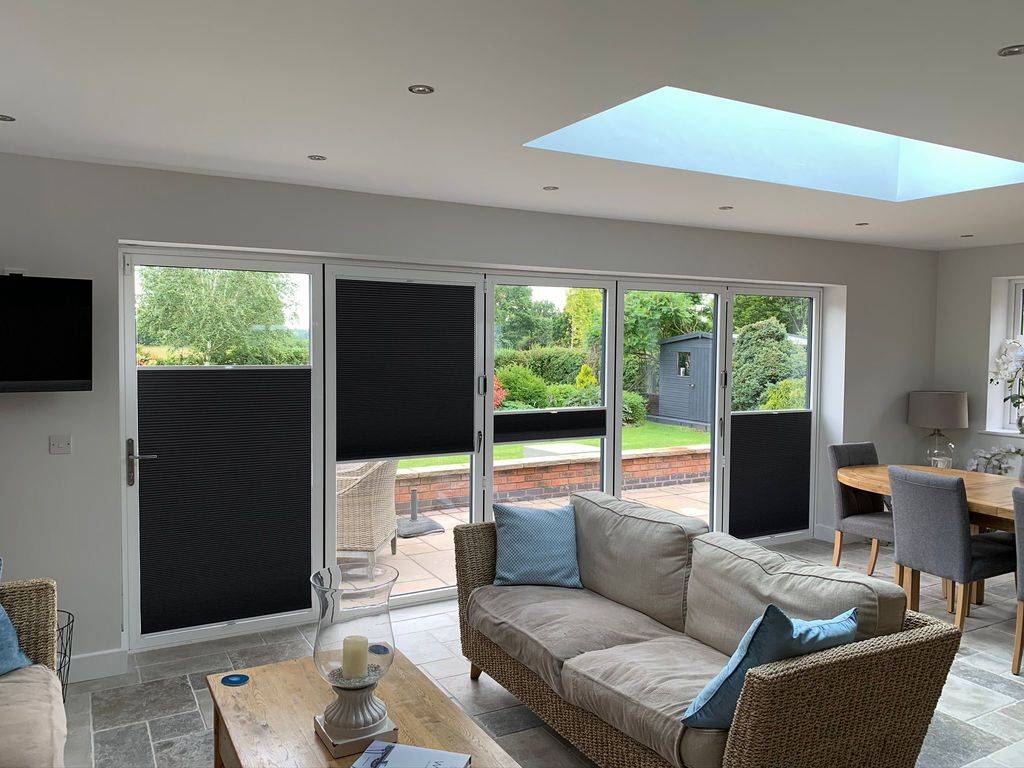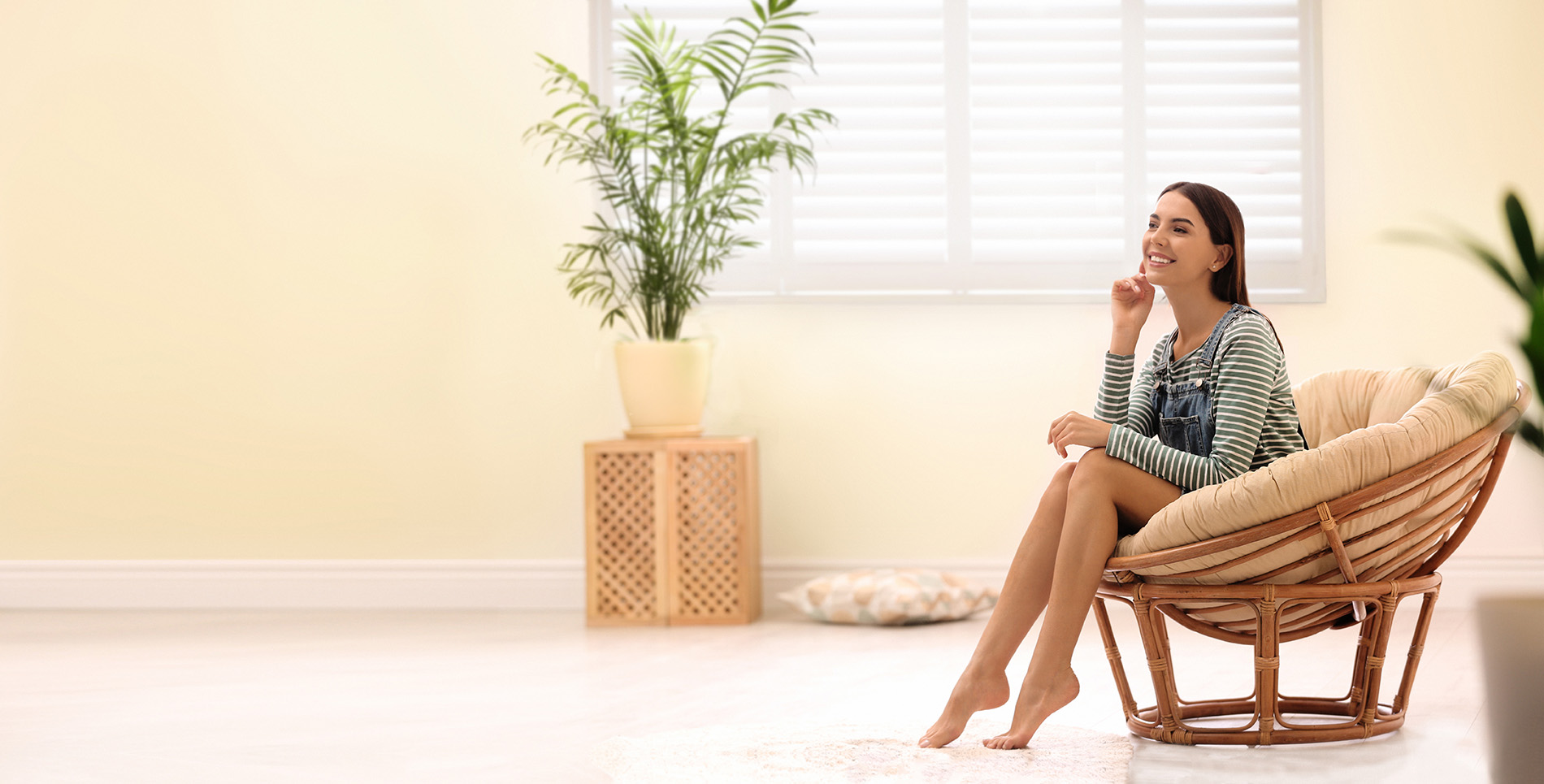 Get in touch today!
Why not contact your local Shuttercraft?