New shutters or blinds can breathe fresh life into your home. The trouble is, how do you decide between them?
When it comes to any sort of home improvement, you need to carefully consider your options. Are you looking to replicate the latest interior trends? Or perhaps you're looking to invest in something classic that will stand the test of time?
Either way, deciding between blinds or shutters is no easy feat. This is why we've put together this handy guide to help you make the right choice for your home and budget.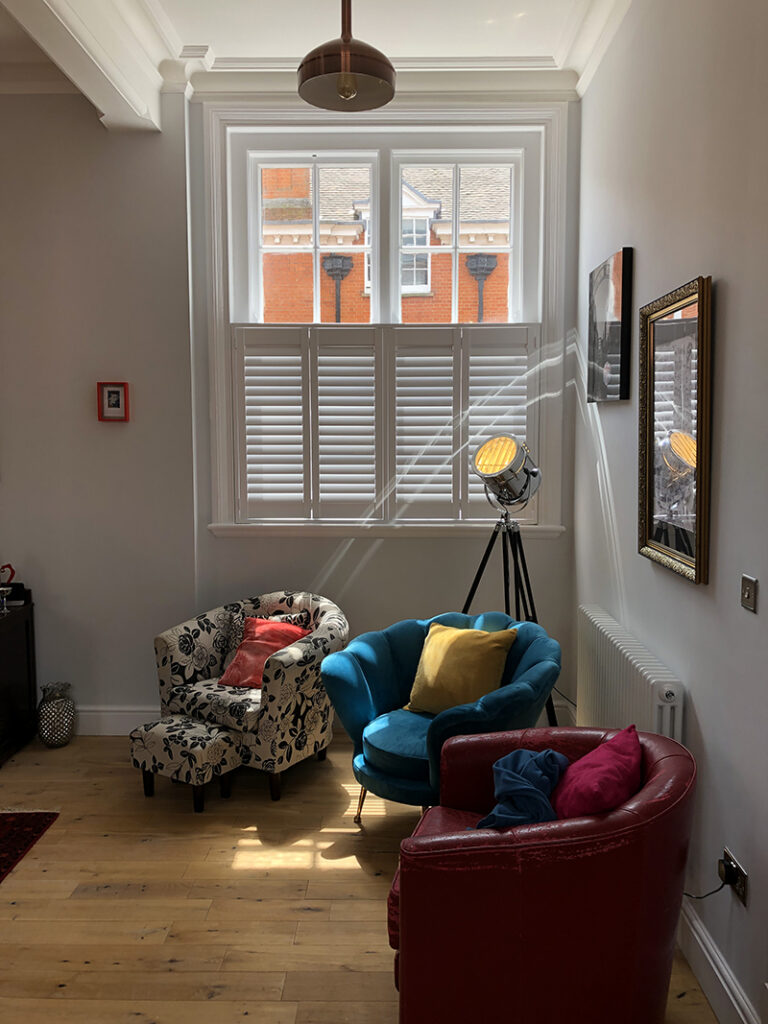 What's the difference between shutters and blinds?
The primary difference between shutters and blinds is their structure. Shutters are solid and fixed to the sides of the windows permanently with metal fittings. Whereas blinds are more flexible and are usually only fixed to the top of the window.
Shutters and blinds both have their pros and cons. Many would argue that shutters are more durable and attractive. However, blinds can be just as aesthetically pleasing – particularly due to the wider range of options – whilst simultaneously being more cost-effective.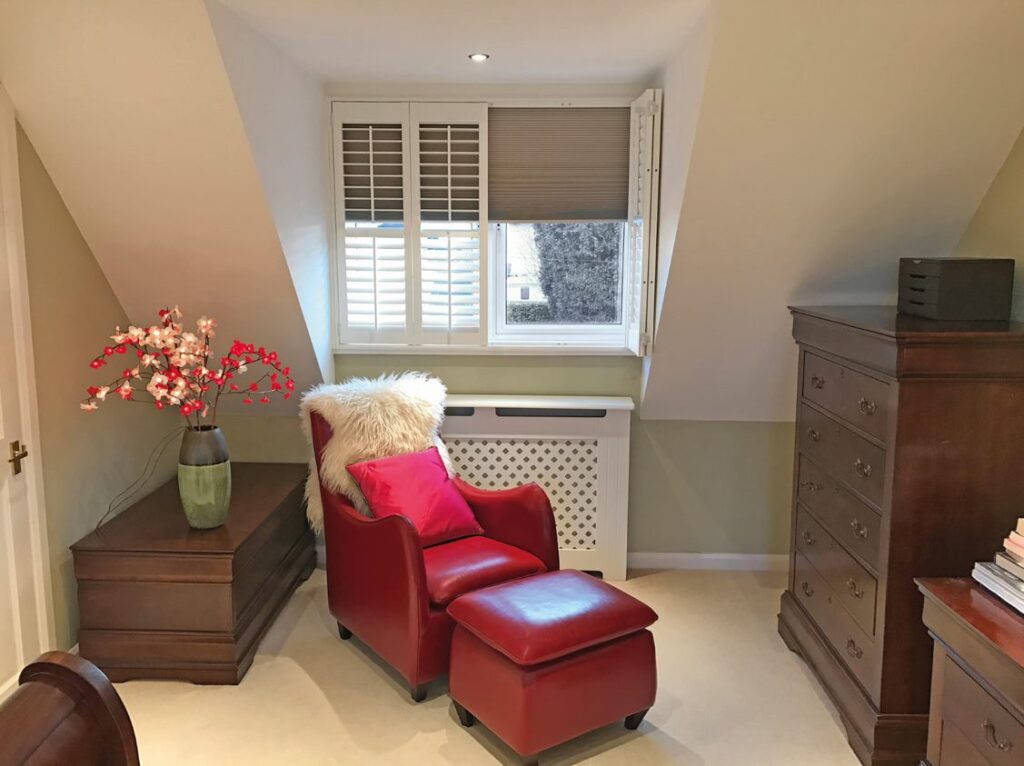 Style choices
Blinds are available in a multitude of different styles, colours and patterns. At Shuttercraft, we supply wooden, fabric, and room-darkening blinds. Our blinds are designed to fit your windows perfectly.
Their flexibility makes it usually possible to find the exact blinds you want for any room. Whether you want to match them against your carpet and furnishings or make them a stand-out feature, the possibilities are endless!
Shutters are traditionally wooden, and at Shuttercraft, we offer seven different shutter materials. These are available in up to 23 paint and 27 stain colours and a custom colour option.
While there are fewer style choices with shutters, they are tremendously versatile, and you'll likely find material and tone to suit your home.
Durability
Another key consideration is the durability and stability of shutters versus blinds.
Many people consider blinds to be inferior because they have seen them break or fall down. While this can be the case with cheaper options, the best quality blinds will stand the test of time if they are treated well.
Comparatively, shutters are generally longer-lasting because they are made of quality, hard-wearing materials. They are securely fitted to the inside or outside of the window recess, which makes them more difficult to damage when operating. Shutters also have a classic, elegant style which ensures they never go out of fashion.
Maintenance
A common complaint surrounding brightly coloured fabric blinds is discolouration. Unfortunately, due to sun exposure, this is something that cannot be avoided. Having said this, the problem can be mitigated by using premium quality fabrics.
Depending on the type of blinds you have, it can also be tricky to keep them clean. Most fabric blinds aren't suitable for washing machine cycles, so dirt and dust must be scrubbed off by hand.
When comparing shutters and wooden blinds, both can be maintained to a similar level. They can be wiped down and dusted quickly, much like other wooden surfaces in your home.
Shutters vs. Wood Blinds
Many people compare shutters and wooden blinds. While both can be made with similar materials, there are some fundamental differences:
Style
Wooden blinds are made with horizontal wooden slats. These are operated using a traditional blind pulley system. Shutters, on the other hand, can be designed in a wider variety of styles, from café style to tier-on-tier. Options such as silent tilt obviate the need for any visible control mechanisms.
Durability
Like fabric and plastic blinds, wooden blinds are more liable to damage than shutters. This is because the blinds pulley system must be treated with more care.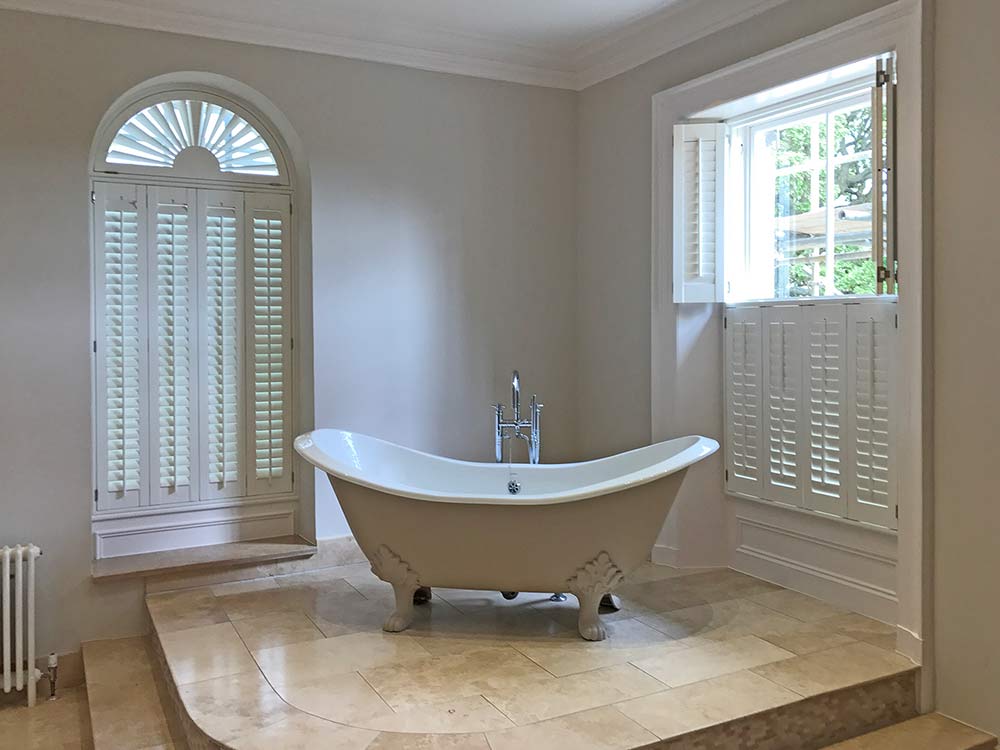 Cost of shutters vs blinds
The deciding factor for many people when looking at shutters and blinds is cost. Blinds come in a variety of materials. These can either be very cost-effective or more expensive. On the other hand, due to their impressive durability and style, shutters are a more costly investment. However, if your budget allows, they may be your preferred choice. This is particularly because shutters are seen as an asset, so the cost can be viewed as an investment in the value of your house.
Benefits of Shutters
There are several reasons why people choose to install shutters. Here are some of the most popular advantages of shutters over blinds:
1) Shutters are more than a window treatment – they're a feature
Shutters make your home more inviting. Their timeless, show-home-worthy appearance gives them a wow factor. No matter if you opt for classic white, a contemporary shade of grey, or a rustic, textured appearance, shutters make a striking feature.
Shutters enhance your home's aesthetics inside and out and are sure to be a talking point among guests. From an outsider's perspective, your home will have envy-inducing kerb appeal. Shutters show you love and care about your home.
Browse a few interior design magazines or Pinterest posts, and you'll see that shutters are popular. They are an attractive addition to both period and contemporary homes. Look at our gallery for further inspiration on how shutters transform a room.
2) They are easy to maintain
Shutters are a practical light control solution as they require minimal upkeep. The last thing you want is to spend hours dusting. Shutters can be kept clean and dust-free with a simple wipe-down with a wet cloth. They are more durable than fabric as they won't retain unpleasant odours from smoke or pets.
3) Shutters offer more temperature control than blinds
The nature of shutters also means they are more insulating than blinds. To make the most of the heat coming from the sun, the slats (louvres) should be tilted fully open. This allows the natural solar heat to reach through your window. In colder weather, louvres should be fully closed so that your room retains more heat. Learn more about the temperature control offered by shutters.
4) They allow you more control over light and privacy
We all need our privacy but don't want to be left in the dark. Much like temperature control, shutters can also be used to manipulate light. They can dictate how many lights filter into your room and where it reaches.
The thickness of wooden louvres means that when they're tilted at a specific angle, you can enjoy natural light and privacy in a room.
5) Shutters add value to your home
Homeowners often find that shutters add real value to their homes thanks to their aesthetics and durability. Discover more about adding value to your period home.
Pros and cons of shutters
| Pros | Cons |
| --- | --- |
| They make an attractive feature in the home | They don't completely block out the light |
| Shutters are easy to clean | Shutters cannot be easily changed |
| They can help control the temperature | They can be the more expensive option |
| You can use them to manipulate the light stream | Difficult to fit yourself |
| Shutters add value to your home | Cannot be raised completely |
| Durable | |
Wood vs. vinyl shutters
Vinyl (polyvinyl) shutters have become an increasingly popular choice. Not only can they withstand moisture, but they can also sometimes be a cost-effective option.
At Shuttercraft, our Java shutters are made with high-grade ABS (a type of plastic that is more hardwearing than vinyl). These are more suitable in a room that sees a lot of moisture. This could be a bathroom or a room with a persistent damp problem.
Because traditional plantation shutters are wooden, however, most customers still favour this material. Our Fiji range uses sustainable hardwood, which offers a more luxurious and natural quality.
Faux wood shutters vs wood shutters
It's possible to buy faux wood shutters made with synthetic materials to give the illusion of wood. At Shuttercraft, customers can choose between hardwood and MDF. The latter of these is less expensive but slightly less durable. It's important to understand the differences between hardwood and MDF window dressings, as each has its merits.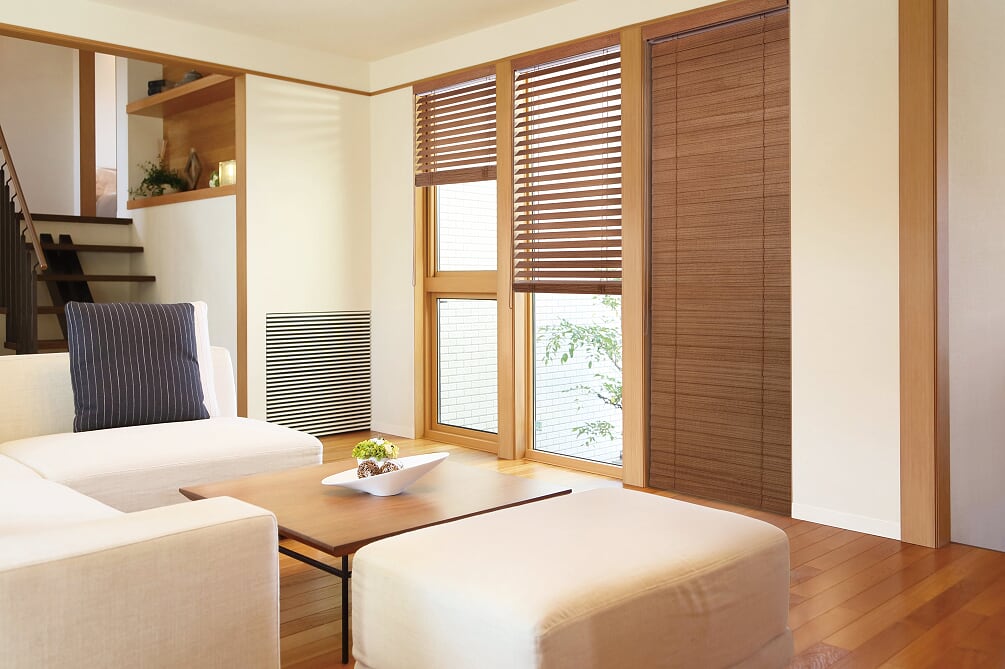 Benefits of blinds
Here are some of the most common benefits of blinds over shutters:
1) Blinds can easily be changed
Blinds are super lightweight and versatile, and they can easily be swapped and changed over time. This might be the case if the colour fades, or if you wish to replace them with a new pattern.
2) There are more colours and patterns to choose from
Fabric blinds in particular come in a huge variety of colours and patterns. This means it's possible to make a choice that complements the look of your rooms. If you want a bold statement colour or something more understated, there are many options. For example, our own PURE Cell Honeycomb blinds are available in a multitude of colour choices.
3) Blinds are less expensive than shutters
The primary reason people choose to install blinds is that they are cost-effective. Shutters are a considerable investment, especially if you wish to install them throughout your home. Blinds, on the other hand, come in a range of materials, which means they differ in price. This means it's possible to find a type of blind that suits any budget.
Pros and Cons of Blinds
| Pros | Cons |
| --- | --- |
| Blinds can be installed and changed easily | Only blackout blinds completely block out light |
| There are endless styles to choose from | Blinds can blow around in the wind |
| Blinds are usually the cheaper option | Easier to damage – especially by children and pets |
| Can be completely raised | Fabric blinds can fade in the sun |
| | Fabric blinds can be a pain to clean |
Different types of blinds
Shuttercraft supplies four types of blinds. These are our Serino Venetian, Albaro Venetian, PURE Cell Honeycomb blinds, and Room Darkening blinds. These can be suitable for different rooms and styles. For instance, room darkening blinds are ideal for bedrooms, particularly for those with trouble sleeping. Roman blinds can have a more regal and decorative effect in a room; reminiscent of a stately home or country hotel.
Wood blinds
Our Serino Venetian and Albaro Venetian blinds are a great option for those who want the best of both worlds. They are made with lightweight and sustainable hardwood and can be finished with wood stain, paint or Osmo.
While wooden blinds and wooden shutters have a lot in common, the finished look itself is undeniably different. The way shutters look and operate is more traditional, and many would say more aesthetically pleasing.
Are shutters better than blinds? How to make your decision
There are advantages and disadvantages to both shutters and blinds. The final choice will often come down to personal preference and budget. Here's a final snapshot into some of the main benefits when comparing shutters and blinds: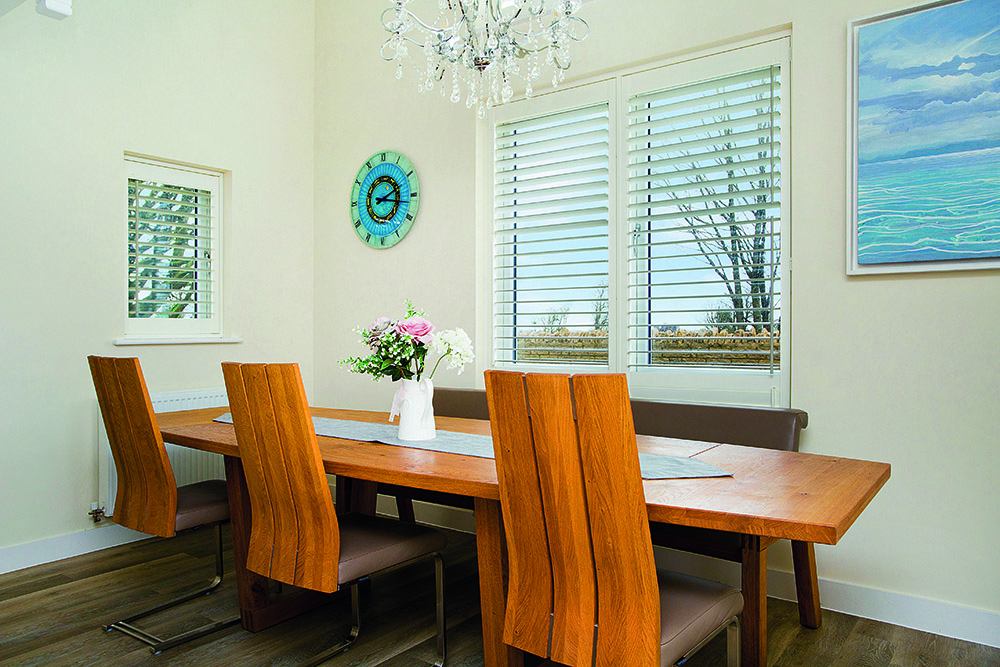 | | Shutters | Blinds |
| --- | --- | --- |
| Durable | | |
| Easy to clean | | |
| Inexpensive | | |
| Improve house value | | |
| Luxurious appearance | | |
| Vast range of style choice | | |
| Versatile | | |
| Good insulation | | |
| Effective light control | | |
| Easy at-home installation | | |
| Privacy | | |
| Ease of Use | | |
Hybrid Shutter Blinds
Still can't decide between shutters and blinds? Thankfully it's possible to experience the best of both worlds with our shutter and shade option. This means installing both options to achieve maximum light blockage. Hybrid shutter blinds are ideal for children's bedrooms, home cinema or gaming rooms, and shift workers' bedrooms.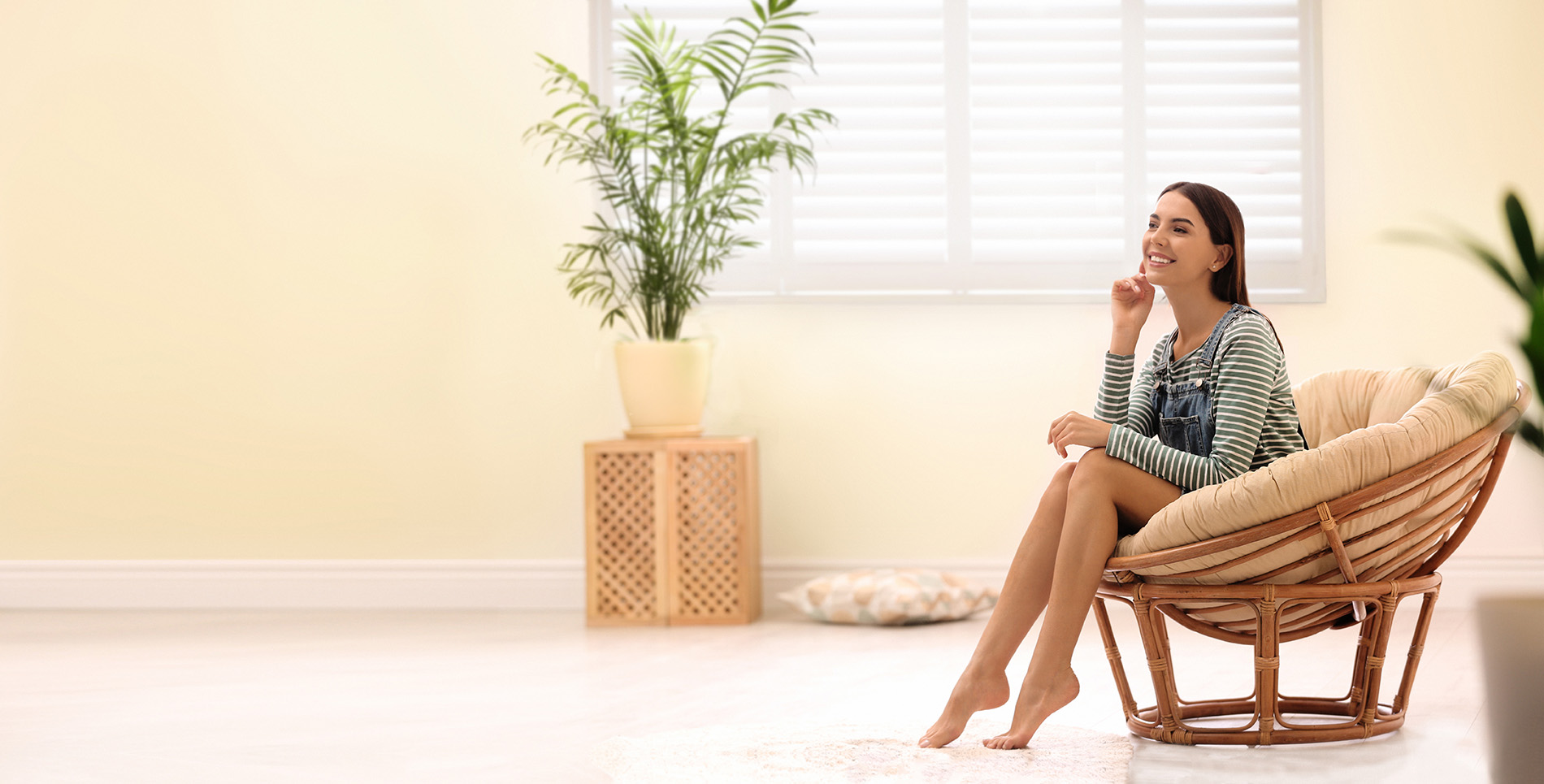 Get in touch today!
Why not contact your local Shuttercraft?
Whether you want to wow your guests or achieve a budget-friendly look that can be adapted over time, we'll help you make the right decision.