There are hundreds of different bedroom blinds available. The question is, how do you choose the right style and material for your bedroom window?
In this guide, we'll explore the benefits of the different style blinds for bedrooms and some practical considerations to remember. We'll also answer some common questions about blinds for bedroom windows.
When you're finished reading, you'll better understand which blinds will help you get a great night's sleep, wake up feeling refreshed, and keep your room private.
What are the benefits of bedroom blinds?
Each style of bedroom blind has its list of pros and cons. As such, it's a good idea to explore the different types available and ask yourself whether their unique style benefits suit you.

Here, we'll look at the specific benefits of a range of styles, including:

– Blackout blinds
– Roller blinds
– Roman blinds
– Wooden blinds
– Venetian blinds
– Vertical blinds
Blackout blinds for bedrooms
True blackout blinds are designed to eliminate virtually all the light from your bedroom window.
Not all 'blackout blinds' are equally effective, though. While a blackout lining with a darker colour fabric will prevent most of the light from penetrating the fabric, you should also think carefully about light coming in through the small gaps surrounding your blinds.
This is called 'light bleed', and it can significantly affect how dark your room gets. The most effective blackout blinds are pleated blinds that gather at the top of the window.
Since even a little light in your room can affect sleep, the best blinds combine blackout linings with a made-to-measure fixed frame that prevents light bleed almost entirely.
Roller blinds for bedrooms
Roller blinds are a popular bedroom window covering, thanks to their sleek and minimal design.
Made from a single piece of fabric that rolls up and down around an internal tube, a roller blind is usually fitted at the top of the window recess. This simple design makes them cost-effective and very simple to operate.
Blackout roller blinds usually do an excellent job of preventing light from coming directly through the blind but often suffer from light bleed around the edges.
Roman blinds for bedrooms
A Roman blind is a slightly more elaborate window dressing compared to roller blinds or pleated blinds.
They have distinct horizontal sections that fold and gather as they're raised. This gathering method means they take up a little more room at the top of the window when fully open. It also means they can be made of more elaborate fabrics, adding more style to your bedroom.
Roman blinds don't fit tight to the window frame like roller blinds, which can often let in a little light from outside around the edges.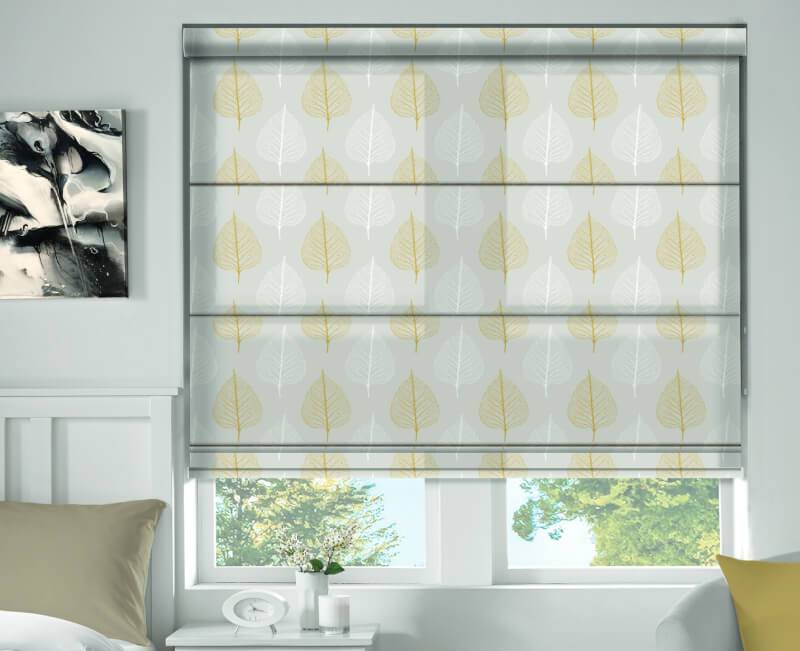 Bedroom wooden blinds
Wooden bedroom blinds are usually a variation of Venetian blinds – but with slats made of hardwood.
The most significant benefit of wooden blinds is that their adjustable slats allow a balance of privacy and light in your room. This means you can dress in daylight without passers-by or neighbours being able to see into your room.
Wooden blinds create a unique look in your room – similar to shutters. They can be matched to a wood finish found elsewhere in your room. Alternatively, they can be painted or finished in various paint or stain options.
If you're looking for a blackout option for your room, wooden blinds may leave a little to be desired. The tiny gaps between the slats and around the outside of the blind may let in more light is ideal.
Venetian blinds in bedrooms
To get the ideal combination of privacy and light management in your bedroom, Venetian blinds are formed of horizontal slats that can be adjusted.
Venetian blinds are usually made of a tough man-made polyvinyl material that's hardwearing and easy to clean. This makes them a practical option for bedrooms. This material can be finished in a range of colours, often including faux wood effects.
Although Venetian blinds are excellent at controlling the light from the moving sun, they often don't provide the widespread blackout light control that some blinds can.
The small gaps between the slats and around the outside of the blind will let sunlight in if you're trying to create a dark room during daylight hours.
Vertical blinds for bedrooms
Vertical blinds are created by suspending fabric panels from a track system at the top of your bedroom window.
The light and airy feel that vertical blinds create can add to the atmosphere in a bedroom.
Although some retailers offer blackout options, the gaps between panels often lead to significant light bleed into your room, making them one of the less practical solutions if you need absolute darkness for a good night's sleep.
Despite this, vertical bedroom blinds are still popular, owing to their balance of light control and privacy.
If the light doesn't stop you from sleeping, a carefully adjusted vertical bedroom blind is an excellent way of controlling privacy without shutting the light out completely.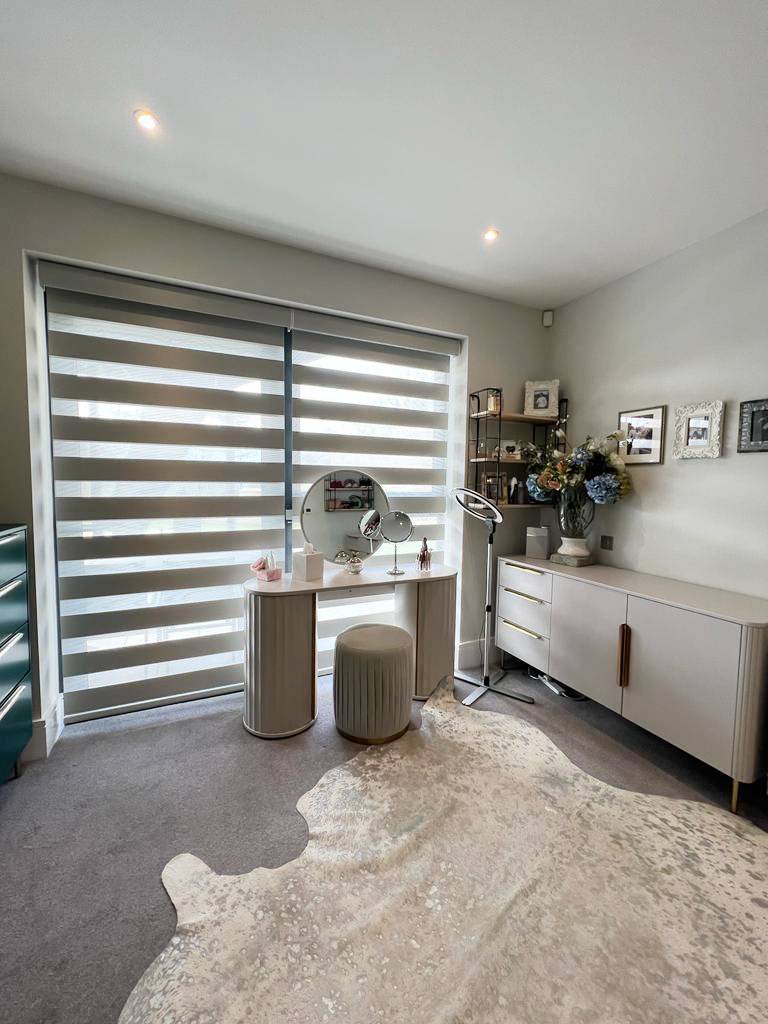 What are the best blinds for a bedroom?
As you can see, there's no right or wrong answer when choosing bedroom blinds. Instead, it would help if you thought about what's the essential factor for you.
If the changing seasons or your work patterns make it difficult to sleep when it's light, then a pleated blackout blind will likely be the most effective option. These are also an excellent option for children's rooms if you'd like your little ones to stick to a bedtime routine!
If you're less concerned about light control, a roller blind is an excellent option if you like a minimalist look in your bedroom. Alternatively, a Roman blind offers a similar level of light control but with a more traditional and versatile look.
If you'd like to create a light and airy feel in your room but are not too concerned about blacking the light out, then vertical, Venetian or wooden blinds are a beautiful addition to your space.
Bedroom blinds FAQs
Are blackout roller blinds effective?
Roller blinds, even those with a blackout lining, are only partially effective at creating a dark space. This is due to the light that can creep into your room around the blind.

Getting made-to-measure roller blinds can help with this a little, but the mechanism at the top of the window always has slight gaps.
What kinds of colours and designs are available for bedroom blinds?
Although options vary between retailers, you'll often find that made-to-measure blinds are available in various colours and patterns.

As well as popular fabrics, colours, and patterns, many bespoke blind manufacturers offer customers the option of custom colours and images. This means you have a world of design ideas to choose from – so you're guaranteed to find a perfect match for your space.
How do you measure blinds for bedroom windows?
Measuring your bedroom windows for blinds includes a few measurements people don't immediately consider.

As well as measuring the height and width of the window recess, you should also measure the depth of the recess.

It's also essential to think about any parts of the window mechanism (such as window handles) that protrude into the recess – as these could stop your blinds from operating or hanging as they should.

If you're not 100% confident about measuring your bedroom windows for blinds, you should talk to a retailer that offers a measuring service. This can prevent you from buying a product that turns out to be ineffective or impossible to fit.
Finding the right bedroom blinds for your room
There are many different bedroom blind styles and designs on the market. To find the right one for you, you should start by thinking about how dark you want your room to be.
If the answer is "the darker, the better!" then look for a bedroom blind design that minimises the light creeping in from around the panels and fittings.
If darkness comes second to choosing a specific design that will complement your bedroom design, you have more options.
You might decide that wooden blinds tie in nicely with wood elsewhere in your room. Then again, Venetian blinds offer a timeless style with excellent privacy benefits. Roller and Roman bedroom blinds provide a simple function that works well with various interior design tastes.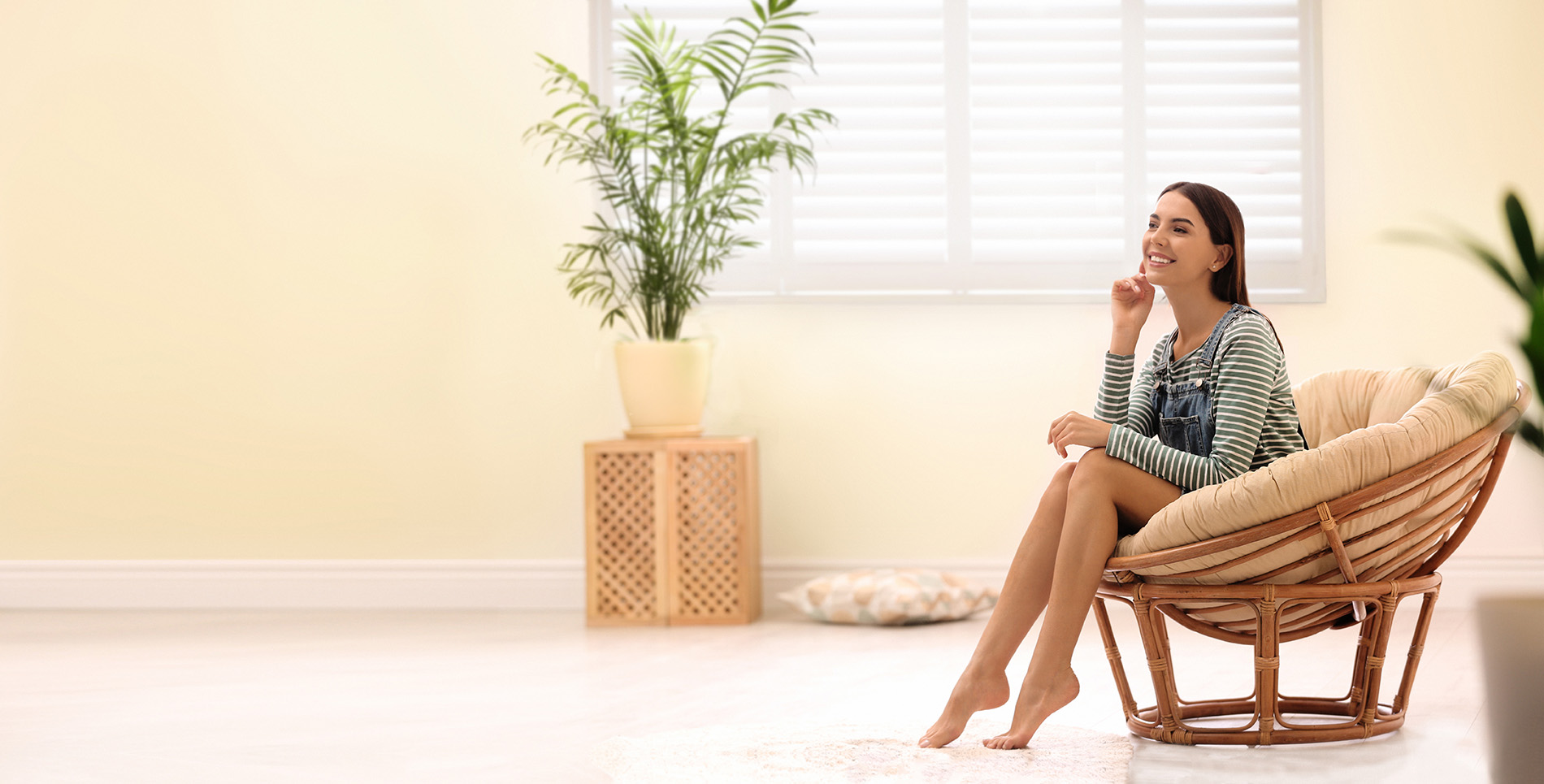 Get in touch today!
Why not contact your local Shuttercraft?