If you research external window shutters in the UK, you'll generally find lots of information about purely decorative shutters or external roller blinds designed for security.
So, where do you turn if you'd like fully-functioning and attractive exterior shutters?
At Shuttercraft, we have the perfect solution – our Portchester range. Designed to work as internal or external shutters, they add aesthetic charm and a range of additional benefits to your property.
In this guide, we'll explore exterior window shutters in more detail – including what they're made from, how they work, and the full range of benefits they offer.
What are external window shutters?
External shutters are, perhaps unsurprisingly, shutters that are suitable for mounting on the outside of your property.
Shuttercraft's Portchester range is ideally suited for external use. While most of our range is created using sustainable hardwood, Portchester shutters are created using aluminium – making them durable enough for the changeable UK climate and weather conditions.
If the idea of aluminium shutters conjures up images of roller shutters on commercial buildings, don't worry! Even up close, our external shutters look as beautiful as our range of interior shutters.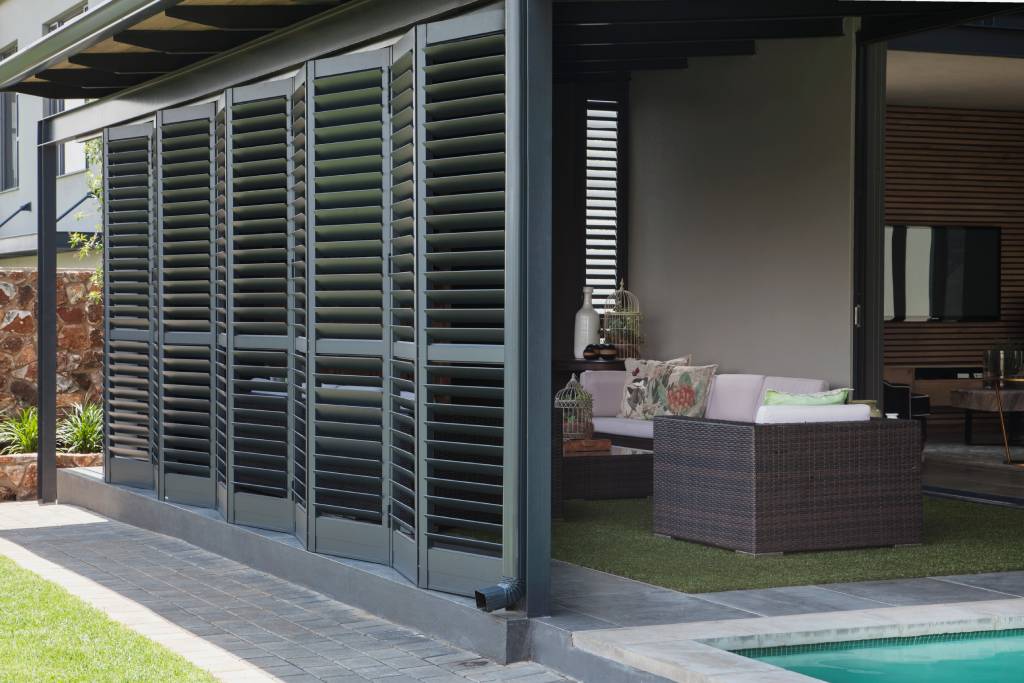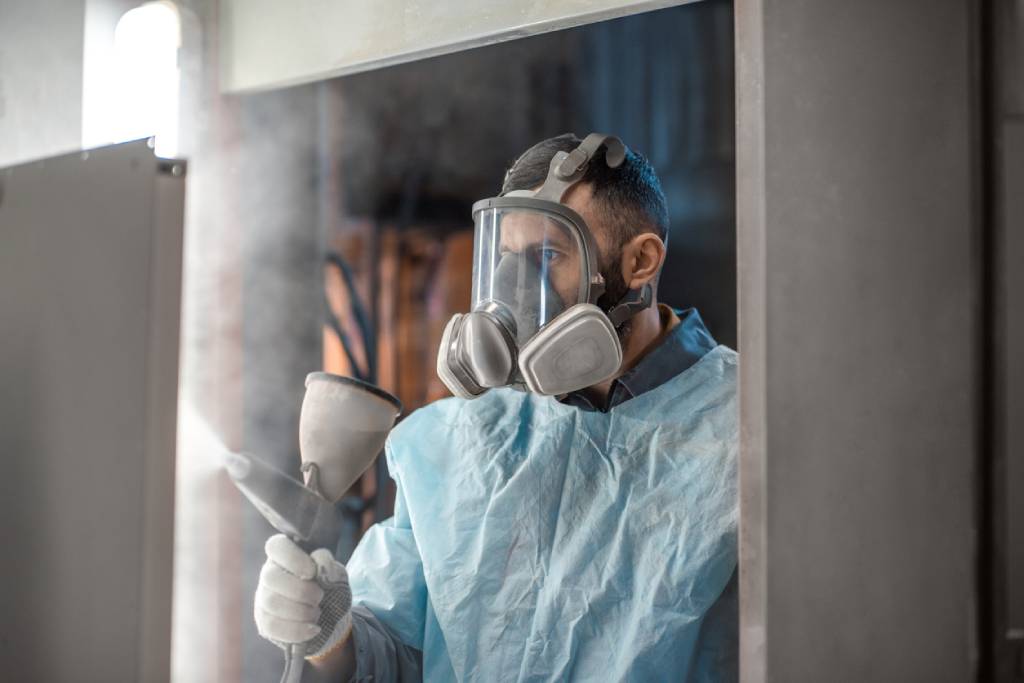 Tough powder-coating
The high-quality finish is a big part of what makes our exterior shutters look attractive. Weatherproof aluminium takes on a whole new look when powder-coated.
For external applications, powder-coating is almost always favoured versus traditional painting. During the powder-coating process, a single thick and highly durable layer of colour is added to the components of our aluminium shutters.
Not only is powder coating significantly tougher than multiple layers of paint, but it also creates a more authentic finish on your shutters – resembling painted wood more than aluminium.
Our outdoor shutters come in four attractive colour options – but they can also be created in a custom colour if you need a specific tone to suit your home.
Benefits of external shutters
When shopping for external shutters, many people's primary concern is finding a window treatment that looks fantastic. While our shutters undoubtedly look beautiful, they have many benefits beyond good looks.
Added security
If you look carefully, you'll see that our Portchester range of exterior shutters has a very discreet lock on each shutter panel.
Each panel is lockable, adding significant security to your home. The extruded aluminium construction makes our exterior shutters highly resistant to prying or attempts to open them with power tools. In short, you'll get the security of a roller shutter but with the good looks of a plantation shutter.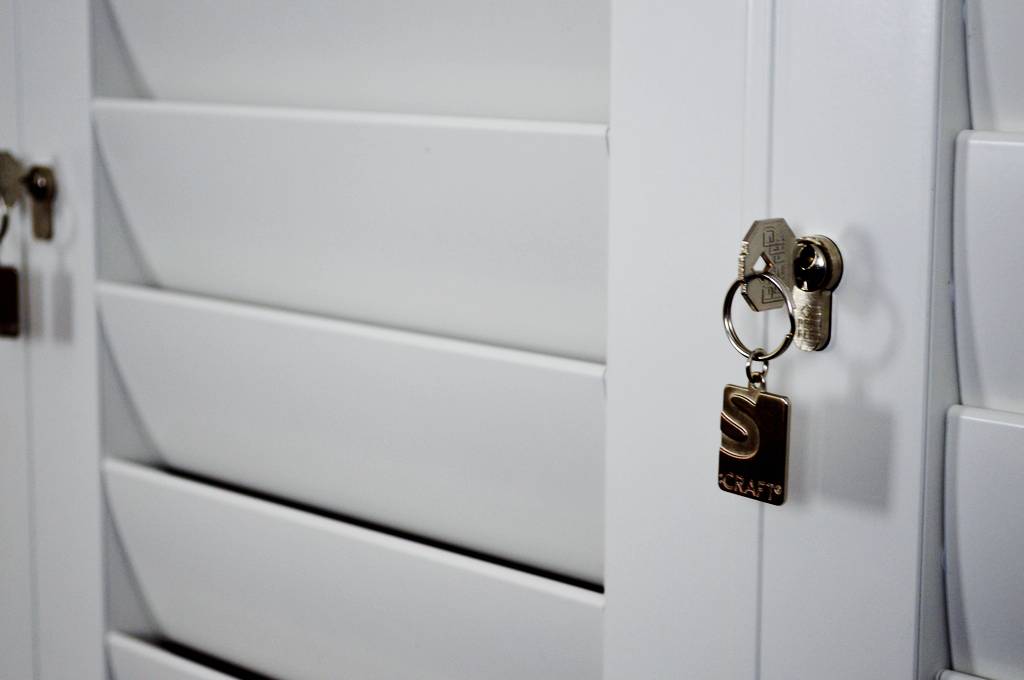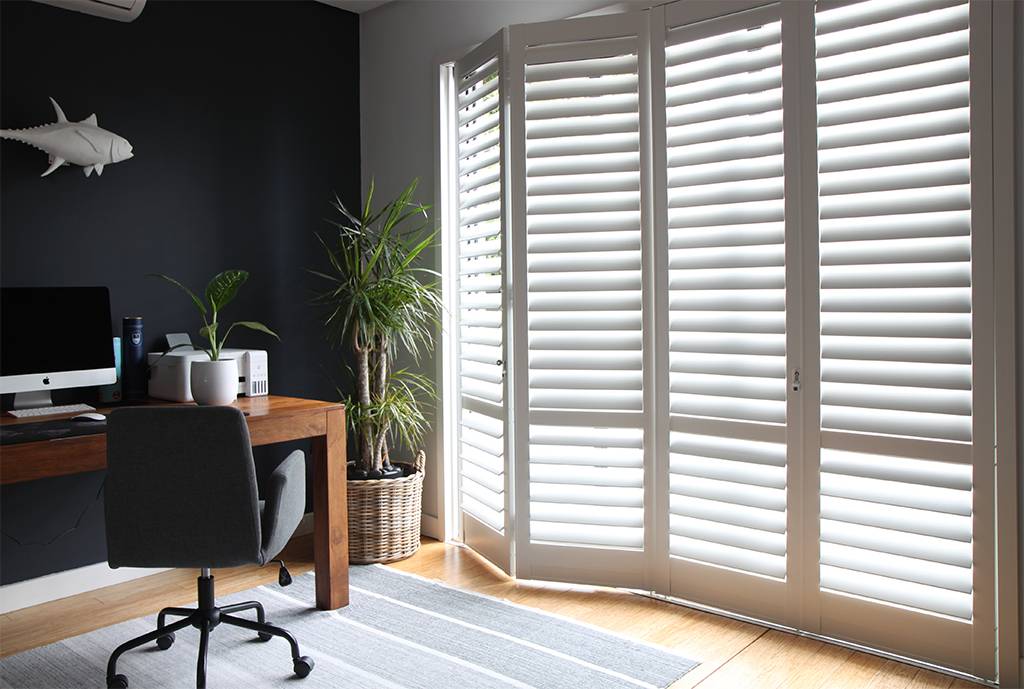 Improved privacy
Privacy can be hard to get right with internal and external window dressings – but shutters make getting just the right amount of privacy quick and straightforward.
You may decide that you'd like to let the daylight in but not like the idea of passers-by or neighbours being able to see into your home or business premises. If so, you can angle your louvres, so daylight still comes in, but there's no line of sight for prying eyes.
This is also perfect if you're away from your property for significant periods. When window dressings are left completely open, a property can look empty – likewise, when blinds or roller shutters are closed throughout the day.
However, shutters can be closed with louvres in an open-but-private position, making the risk of opportunist thieves or unwanted attention far less likely.
Enhanced light control
Many window treatments offer an all-or-nothing approach to light control. For example – roller shutters are either up or down, meaning the light is either coming in or not.
External shutters offer a fantastic range of light control options. You might decide that you'd prefer to block the light as much as possible – in which case, you can close your shutters and adjust the louvres so minimal light enters your room.
Alternatively, you might angle your louvres, so the glare is removed from the sun – but some natural daylight still comes into your property.
The choice is yours – but the extensive range of light control possibilities is a big part of why shutters are popular architectural solutions on everything from domestic homes to busy commercial properties.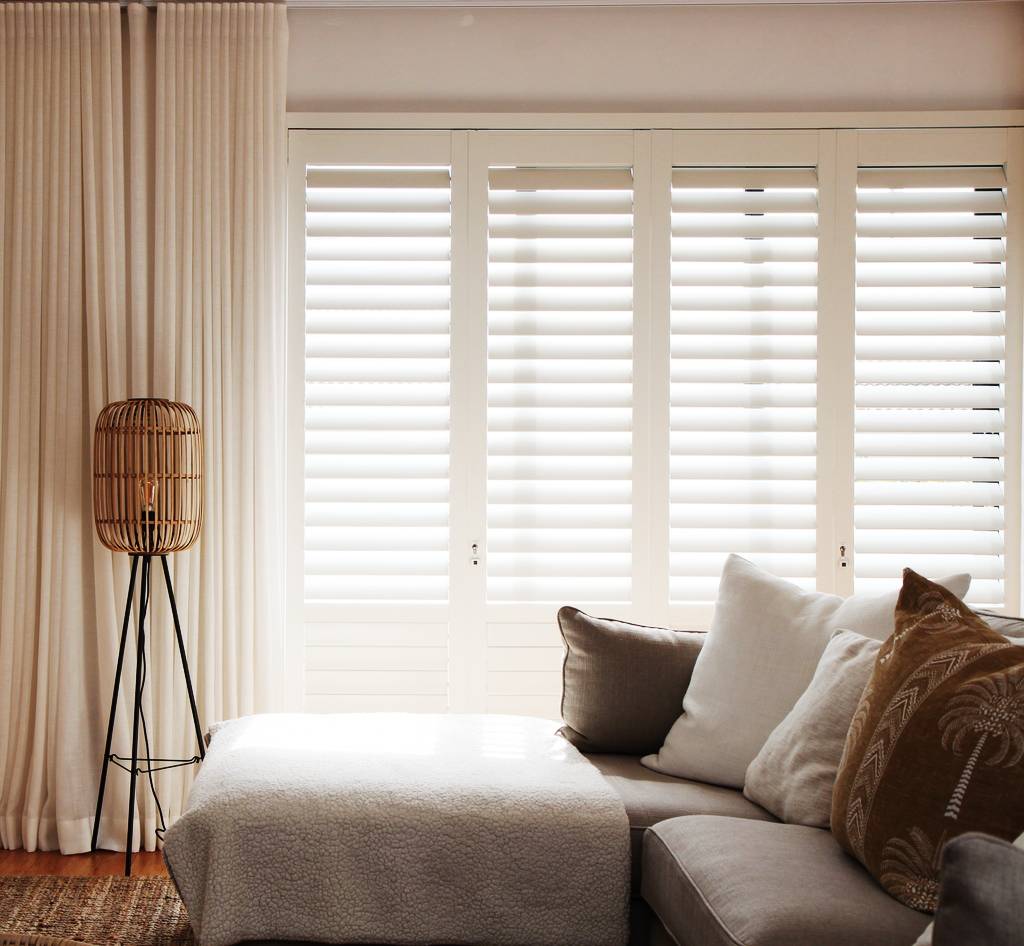 A choice of mounting options
Just like our interior shutters, exterior shutters can be mounted in a way that complements your property.
For example, if windows are slightly recessed, an exterior shutter can be mounted within the window frame. Alternatively, external shutters can be mounted on the outside of your property slightly away from the window frame, allowing them to be closed across the entire window.
Consider how your windows open
Before you commit to exterior shutters, an important factor to consider is how your windows operate.
Almost all window opening mechanisms in the UK are designed, so your window opens outward. This can somewhat limit your mounting options, as you'll have to ensure they don't collide with your new shutters.
Don't worry; this is the detail we look at when we visit for a free shutter survey.
A range of styles and fixing options
Porchester shutters are available in a range of styles and mounting options.
For instance, you might decide that a full-height shutter works especially well with your windows. Then again, a tier-on-tier design with independent upper and lower panels might better match your design tastes.
You can also choose from different mounting options for your shutters. You decide that shutters mounting in or around your window frame suit your property. Then again, you might prefer the function of track-mounted shutters. If sliding tracked shutters are right for you, you can choose from bypass and bi-fold options.
Whichever shutter style and mounting option you choose, the only visible difference to our other ranges is that there are locks and keys. When locked, the louvres still work as before, but the shutter panels can't be opened.
The patented Italian locking mechanism operates locking bolts that secure the shutter panel's top and bottom into the surrounding frame.
Adding security without losing airflow
When the cold season passes, it's often nice to have some fresh air coming into your home. Since air conditioning is rare in the UK, our best option is to open our windows.
This often represents a security risk – not least because most burglaries happen due to opportunists seeing an easy access point into a home.
External shutters do away with this worry by locking in front of open windows. This means you can secure your home without having to close off airflow.
Additional security for single-glazed windows
According to the latest insulation statistics, over 3 million homes in the UK do not have full double-glazing.
While this can prove to be an energy efficiency problem, it also represents a security problem. Single-glazed windows are significantly easier to break to get access
s to a property. As such, many people decide that adding external shutters to these windows is the best way to make their homes more secure.
This is especially the case with homes that are subject to conservation orders. If the original window style cannot be changed, adding an external shutter is often an excellent alternative.
Would you like more information on external window shutters?
When you get in touch with the team here at Shuttercraft, we promise a strict "No Hard Sell" policy.
We're not here to sell you a product – instead, we're here to answer your questions, offer advice, and suggest different ideas or products.
Therefore, if you'd like additional information about external window shutters, why not call us?
We'll ensure you have all the information you need to decide if they suit your property! If you'd like, we can even arrange a free survey.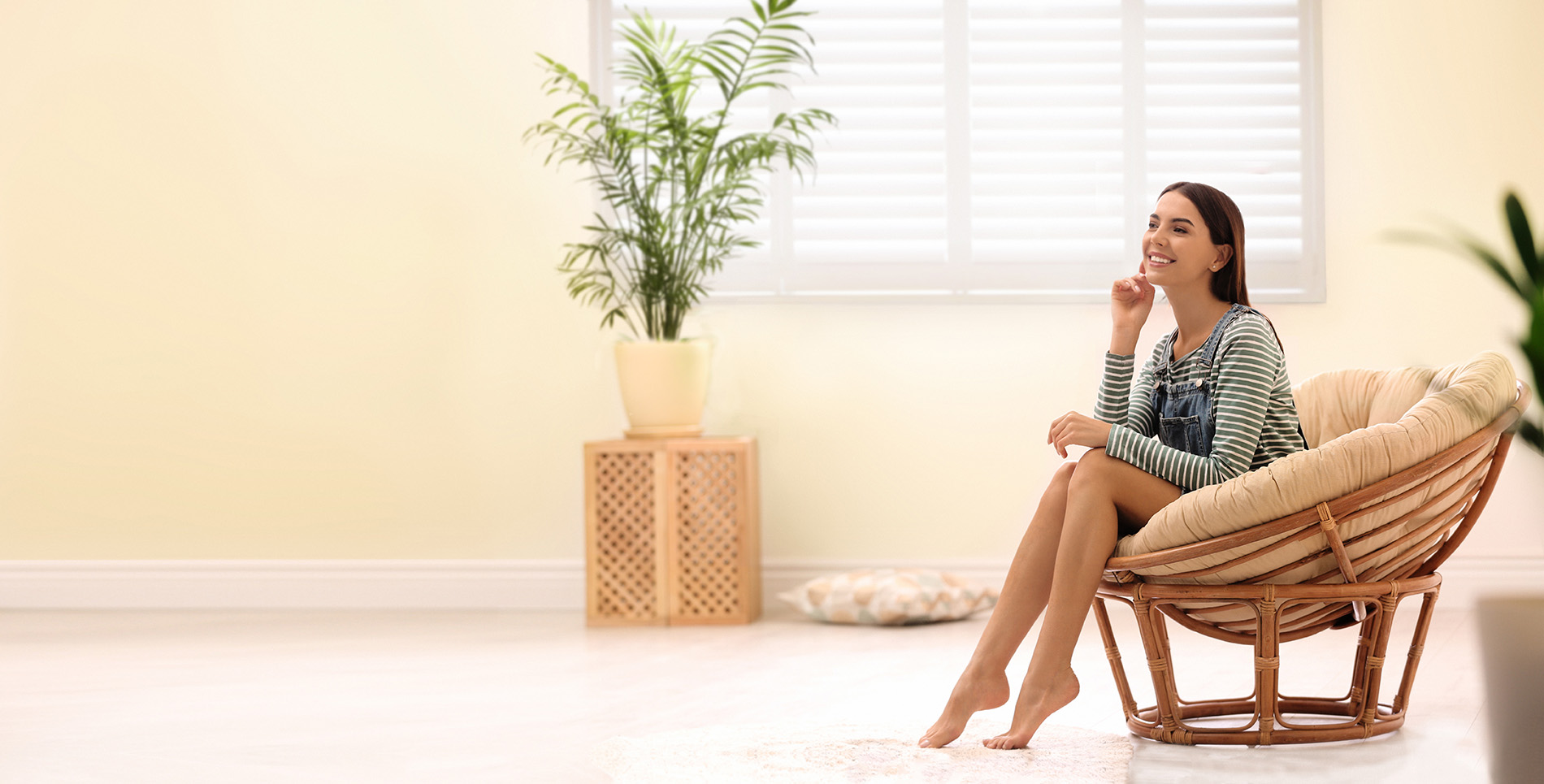 Get in touch today!
Why not contact your local Shuttercraft?