Would some inspirational shutter ideas for windows help to add a little interior design flair to your home?
If you think the answer is yes – we're here to help! Our design team has put together 11 fabulous shutter ideas that will transform a boring room into a stand-out space.
Quick Answer: Lift the look of your home with shutter ideas for windows: opt for cafe-style shutters in street-facing rooms, make bold statements with black, or choose tier-on-tier for ultimate control. Enhance light and privacy, embrace natural wood, or use vinyl for peaceful bathrooms. Add architectural interest with solid shutters, incorporate colour, combine shutters and curtains, match wallpaper, shade conservatories, or pair shutters with room dividers for a visually exciting space.
Choose café-style shutters for street-facing rooms
Café-style shutters add design flair to street-facing rooms by blending design elegance and functionality.
The half-height design of café-style plantation shutters allows plenty of natural light to stream in while providing privacy when your room is viewed from street height.
The timeless aesthetic of café-style shutters enhances kerb appeal and complements various architectural styles – especially when fitted in a bay window.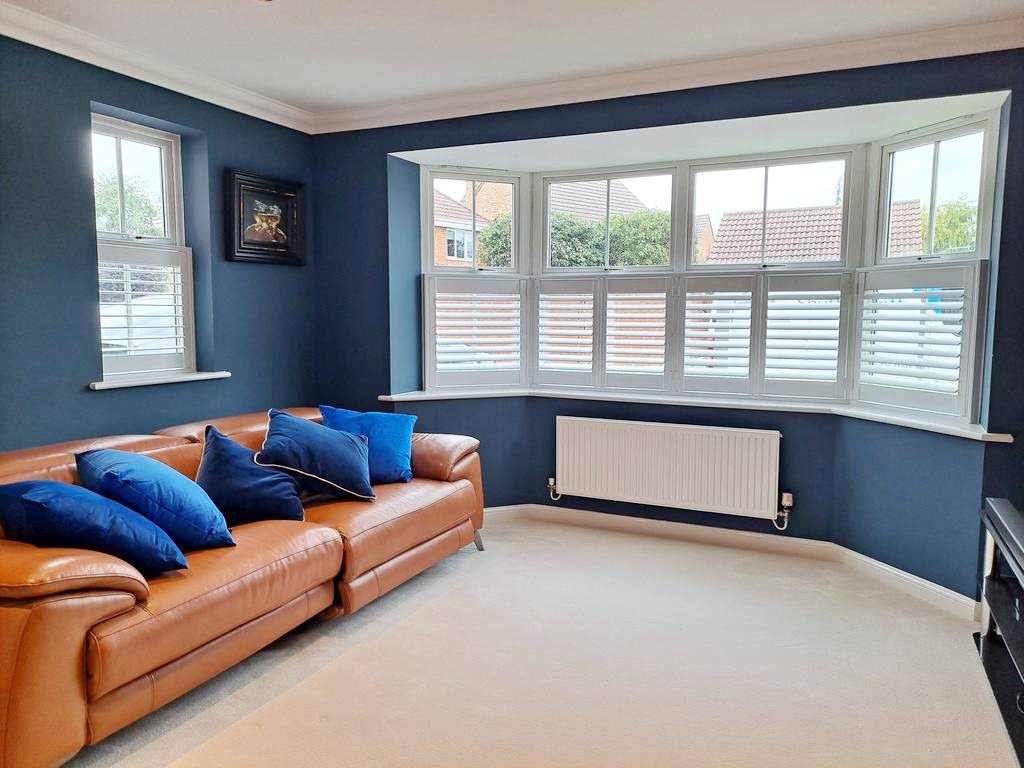 Make a statement with black
Black window shutters create a strong interior design statement in a room by adding visual depth and contrast.
The bold colour choice draws the eye, highlighting the windows and window treatments as a key design element.
Black shutters effortlessly bring a room together, providing a sophisticated backdrop that can complement various design styles, from modern minimalism to traditional elegance.
Opt for tier-on-tier window shutters for ultimate control
Tier-on-tier shutters add sophistication and interest to interior design by offering increased versatility and control over light and privacy.
Their distinct two-tier design allows for independent operation of the top and bottom panels, enabling a range of configurations to suit varying moods and requirements.
The clean lines and tailored appearance of these tier-on-tier shutters as a window treatment enhance a room's aesthetic, effortlessly blending with various design styles and creating a real feel of refinement to the space.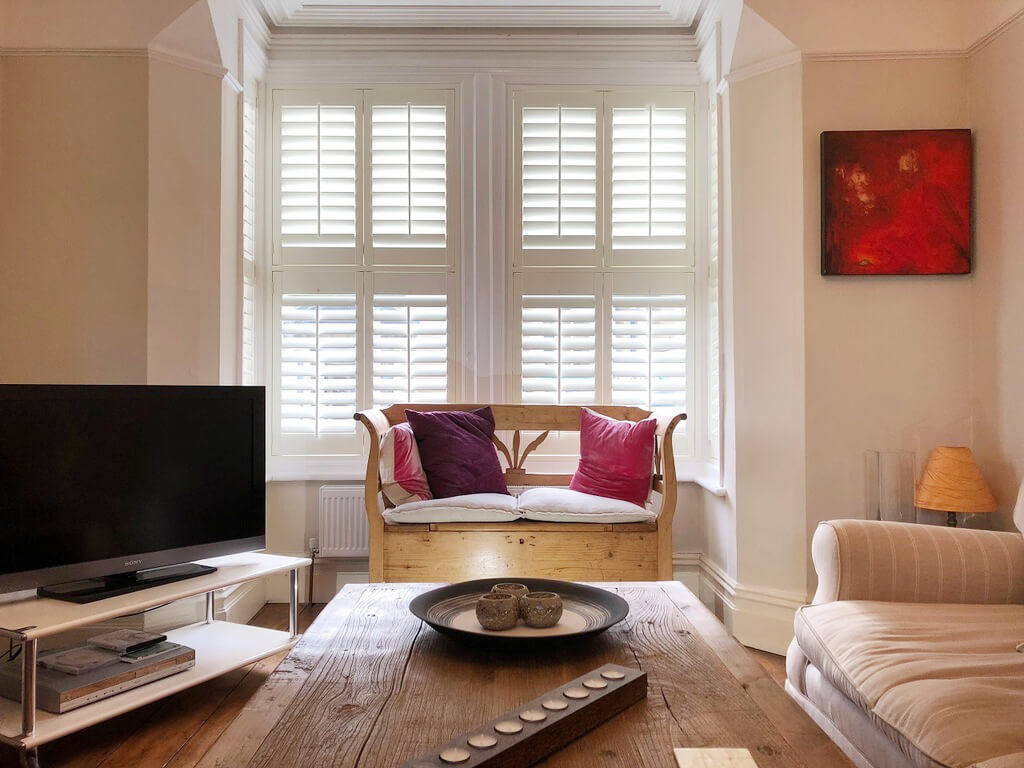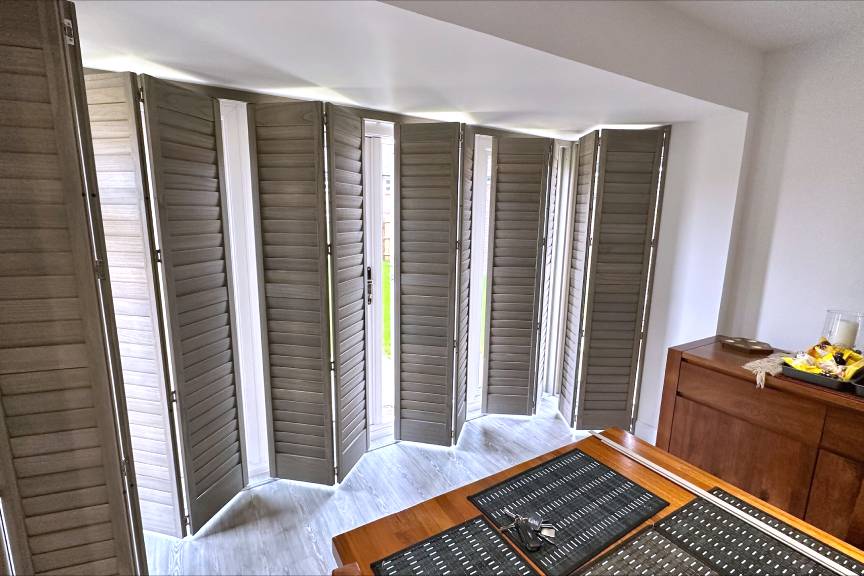 Keep it natural
Natural solid wood shutters enhance the visual appeal of a room by adding warmth, texture, and organic charm.
The rich, natural tones of wooden shutters create a cosy atmosphere, connecting the indoor space to nature.
The natural feel of wood adds to a huge range of interior themes, from traditional rustic vibes right through to a modern, minimalist look.
High-grade ABS shutters for a peaceful bathroom
Waterproof shutters create a peaceful mood in a bathroom setting by providing privacy, light control, and an elegant touch.
While other window treatments don't work well in high-humidity areas, ABS shutters are engineered to stand up to moisture. What's more, they look virtually identical to solid wood shutters – so you don't lose any of the aesthetic charm.
Looks aside, shutters work perfectly in a bathroom because they can be adjusted to offer a level of light without any compromise on privacy. Just adjust the louvres so light comes in, but your bathroom isn't on show.
Shutters are a perfect way to add flair to a bathroom. The clean lines of waterproof shutters enhance the bathroom's aesthetic, contributing to a serene and spa-like atmosphere.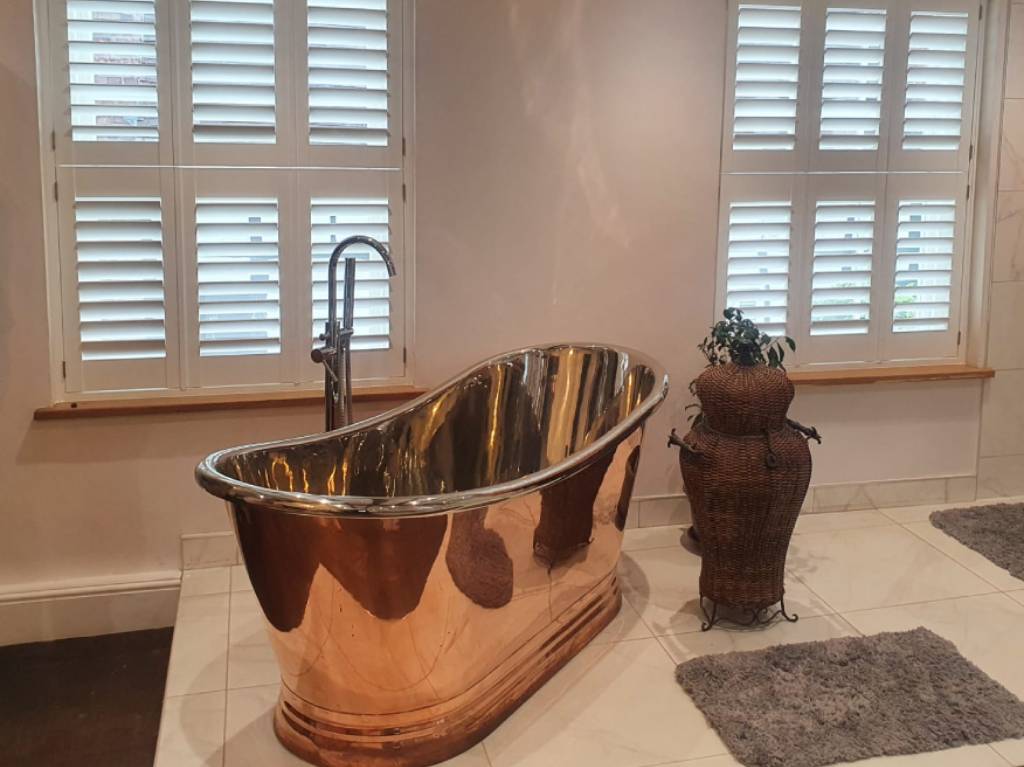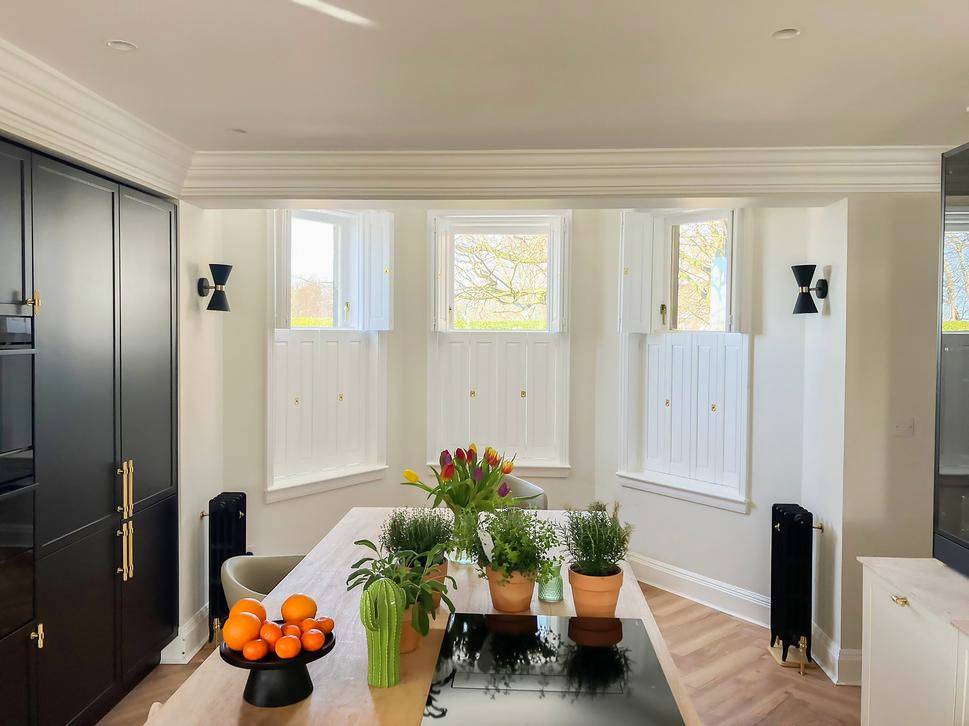 Select solid shutters to add architectural interest
Solid panel shutters add visual appeal and architectural interest to a room by introducing a classic, refined design element.
The full coverage offered by a solid design creates a bold statement, drawing attention to the windows and enhancing the room's aesthetic. Solid panel shutters can also be colour-matched to a specific tone elsewhere in the room – whether that's another woodwork colour or even a tone picked out of wallpaper or furniture.
By providing a striking contrast to surrounding textures and patterns, solid shutter panels contribute to a sophisticated interior design feel.
Use your window shutters to add colour and interest
Coloured shutters help create visual flair in interior design by introducing vibrant accents and enhancing the room's overall colour scheme.
A coloured shutter will draw attention to the windows, transforming them into a focal point that can either harmonise or contrast with surrounding elements.
With a custom colour option, shutters can be personalised for a huge range of unique personal styles. You can decide whether you'd like to coordinate with tones found elsewhere in the room – or create a pop of bold colour that draws the eye.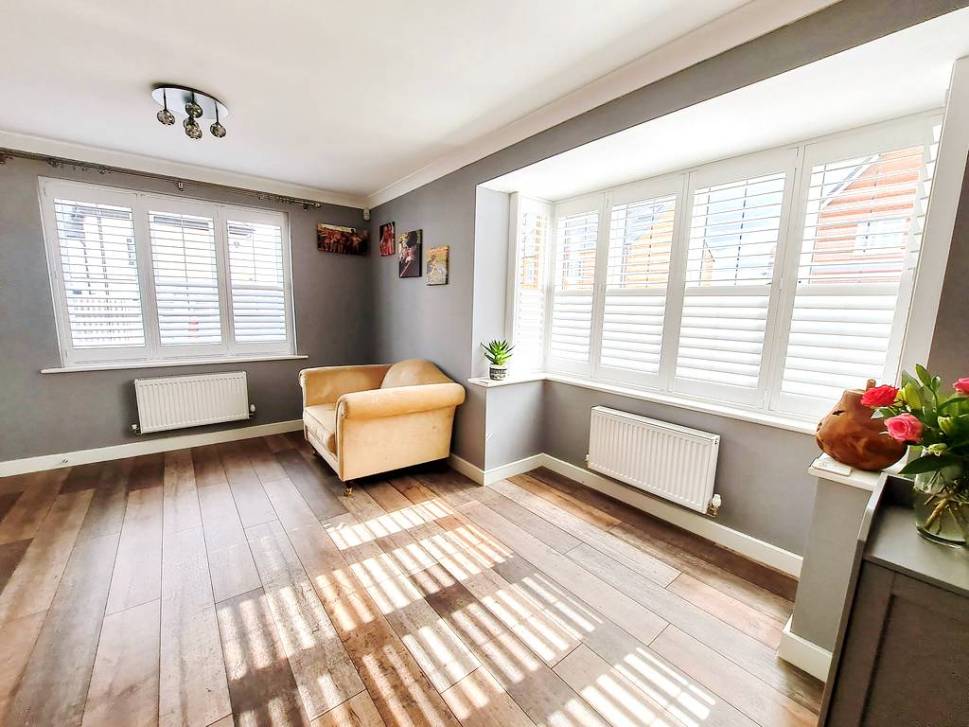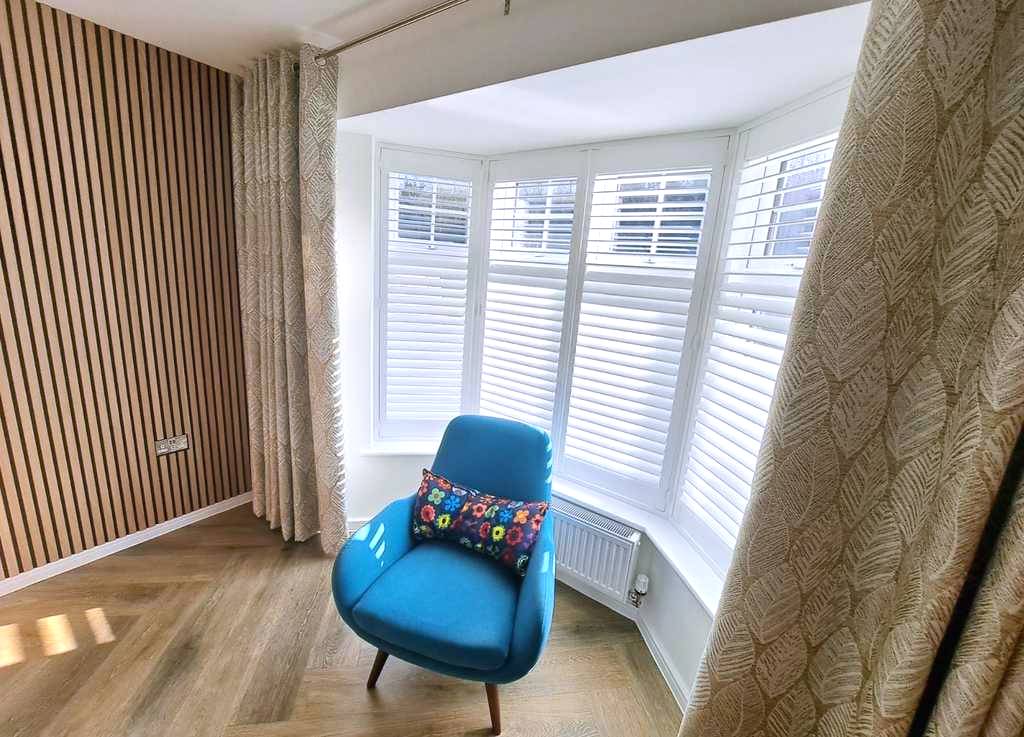 Team shutters with curtains
When you combine shutters and curtains, you add a new level of visual interest to an otherwise unexceptional room.
By layering textures, patterns, and colours, you combine the neat lines of shutters with the soft fabric of curtains, adding a touch of luxury to your space.
A combination of shutters and curtains also opens up a new range of light and privacy control options. For the ultimate in cosiness, you can close both – dimming the light from outside and creating a warm homely feel in your room.
Match window shutters to wallpaper
If you work with a shutter company that offers a custom colour option, you can perfectly match your shutters to a tone that you pick from your wallpaper.
This makes your interior design efforts look very intentional and helps to emphasise your chosen colour – drawing attention to the windows and the walls.
This kind of coordination between shutters and wallpaper creates the perfect backdrop for additional tones to be introduced to the room too. Adding pops of colour that complement the wallpaper and shutters can create a visually striking feel in your room.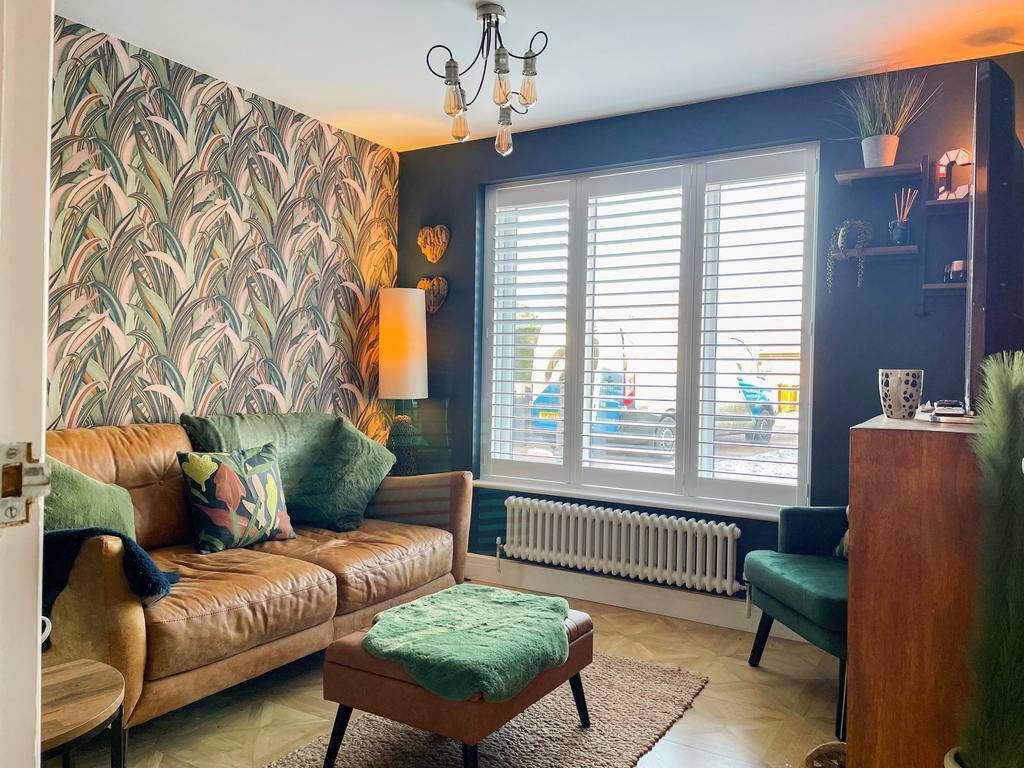 Bring shade to a conservatory
Shutters can completely transform an otherwise uninteresting conservatory or orangery.
Often, fluctuations in temperature mean a conservatory is out of bounds for many months of the year. Shutters add a level of insulation and light control that makes a conservatory space useful all year round – unlocking new uses an often forgotten-about part of your home.
Shutters can also be created to work with the often-awkward angles and shapes of windows in an orangery or conservatory too. This can completely change the look and feel of the space – creating a Provençal or Mediterranean feel, even if the weather outside doesn't quite match!
Of course, if it's not practical to overhaul a full conservatory, there are shutter styles available that will close it off when it's not in use. Adding bi-fold or sliding shutters to the patio or French doors that you use to access your conservatory can completely change the design feel in a kitchen space, dining room or living room.
Combine window shutters and room dividers
If you really want to add some visual interest to an otherwise boring room, why not consider adding shutters elsewhere too?
Shutters can be used as room dividers and even wardrobe doors – adding a design consistency that extends from your windows throughout your space.
Shutters as room dividers unlock a huge range of additional uses for your room. You might decide to create a dedicated working space, a peaceful retreat, or even an area that's dedicated to play for children to enjoy the space too.
In summary: Shutter ideas for windows that will breathe new life into your home
It's easy for a home to feel boring – especially if you've had the same interior design themes for a number of years.
If you'd like to add a fresh feel to your space, shutters are a perfect solution.
Consider:
Adding café-style shutters to street-facing rooms
Using black shutters to add a strong design statement
Choosing tier-on-tier shutters for the ultimate in light and privacy control
Selecting a natural wood finish to add a luxury feel
Enhancing your bathroom with waterproof shutters
Adding a bold architectural feel with solid shutters
Combining curtains with shutters to add texture
Picking shutter colour from your wallpaper to bring harmony to your interior look
Transforming your conservatory with new shutters
Expanding the visual appeal of your window dressings by adding shutters as room dividers or wardrobe doors
If you're not sure what would work in your home – why not talk to our design team for even more shutter ideas for windows that will reinvigorate your property?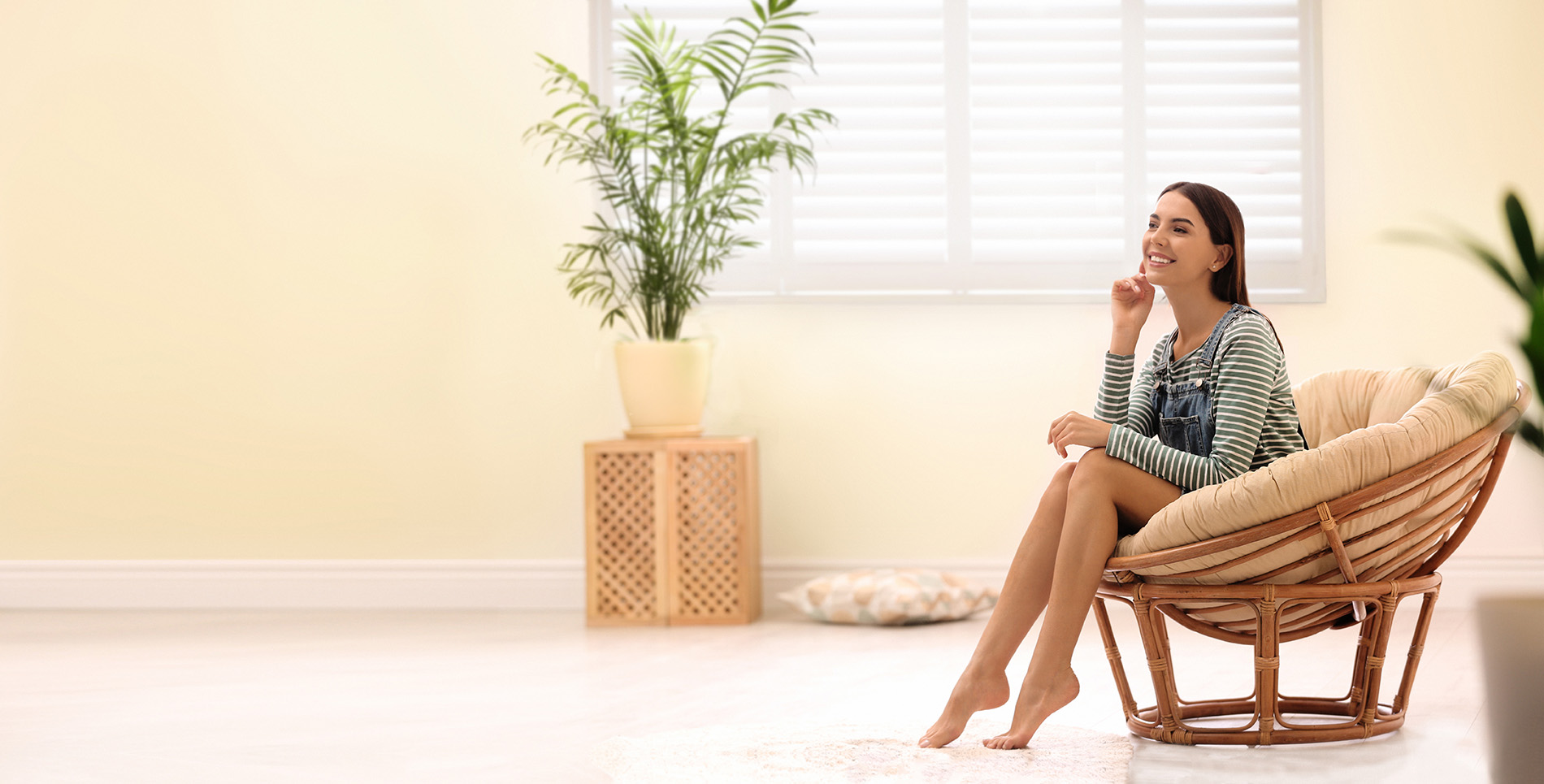 Get in touch today!
Why not contact your local Shuttercraft?