Quick Answer: Most of the time, the choice between shutters and curtains will be personal preference. If you have unconventional window shapes. You may find curtains will not suit your situation.
If you're considering a new window dressing, there are plenty of shutters vs curtains questions you might want to find answers for.
Both choices will refresh and revitalise a room – but not all window treatments are created equal!
You'll no doubt expect us to recommend shutters wholeheartedly – but this isn't always the case.
We have a very strict 'no hard sell' promise here at Shuttercraft – so if shutters aren't going to be the right choice for you, you can trust us to provide an honest, objective opinion.
That said, very few customers call us and ask whether curtains or shutters will be right for their home – so we don't get to share our expert knowledge on the subject very often!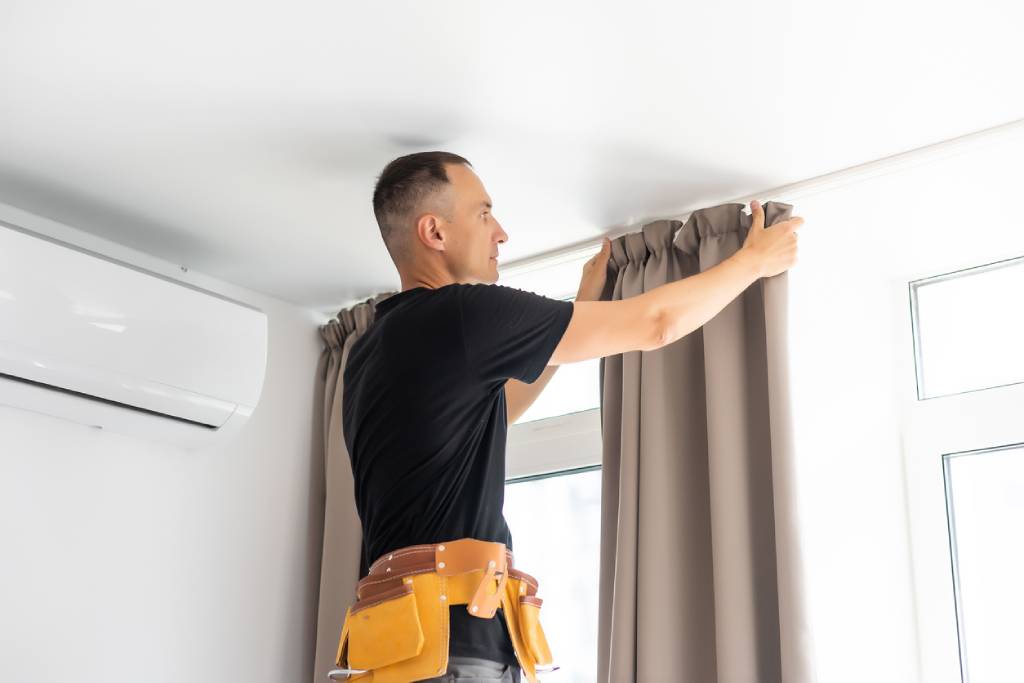 Choosing between curtains and window shutters
Here, we've taken a deep dive into the shutters vs curtains debate – looking at how these attractive window dressings could work in your home.
After reading, you'll hopefully have all the information you need to choose window coverings that suit your home, lifestyle, and windows perfectly.
Special shapes
A lot of the time, the choice between shutters and curtains comes down to personal preference.
However, if you're dealing with unconventional window shapes, you may find that curtains simply do not work.
Take, for instance, a triangular gable end that's been transformed into a window.
There is no physical way of adding a track for a curtain at the narrow top that spans the full width at the bottom of the window.
Shaped windows
In instances like these, shutters are the only practical solution. Since shutters can be mounted in various ways, shutter designers will always find a way to work with special shaped windows.
Other special window shapes we often work with include:
Triangular windows
Circular windows
Arched windows
Floor-to-ceiling windows
Of course, it's not just physical practicality that stands in the way with curtains. Countless properties in the UK have unique feature windows.
In instances like these, it's perfectly possible to hang curtains, but by doing so, you'll be hiding a beautiful stand-out feature.
Privacy
The overwhelming majority of properties in the UK have windows that are visible from a road, footpath, or neighbouring property.
There are plenty of times when this is far from ideal.
Even if your neighbours are close friends, you might not feel comfortable with them seeing you fresh out of bed, getting a coffee in the kitchen first thing.
When it comes to privacy, plantation shutters usually win over curtains.
The reason comes down to the flexibility that louvres offer. With window shutters, you can adjust the louvres so you cannot be seen from a particular angle.
That means you can obscure the view from a busy street without shutting the light out altogether.
With curtains, your options are limited to open or closed. Having your living space closed off from the outside world during the darker winter months might not feel like a problem.
However, if your only option for privacy is closing the curtains at 6 pm on a summer's day, you might be keen to find more flexibility.
In some rooms – especially living areas and kitchens – café-style shutters offer a fantastic balance of light and privacy.
Covering just the lower section of your windows, a café-style window shutter gives absolute privacy when needed, without ever compromising on light.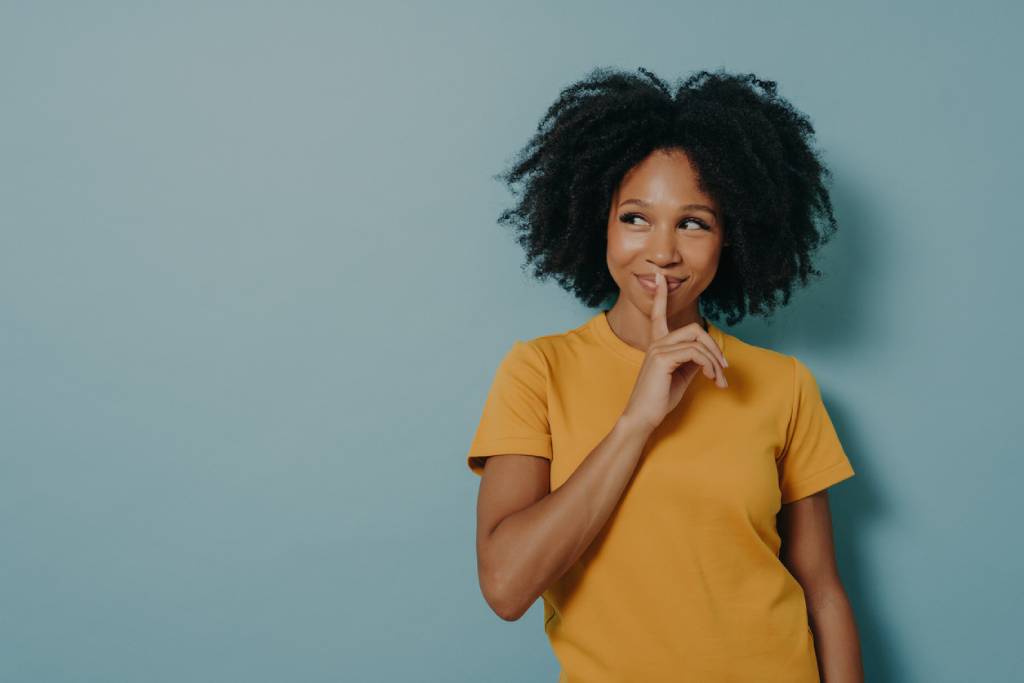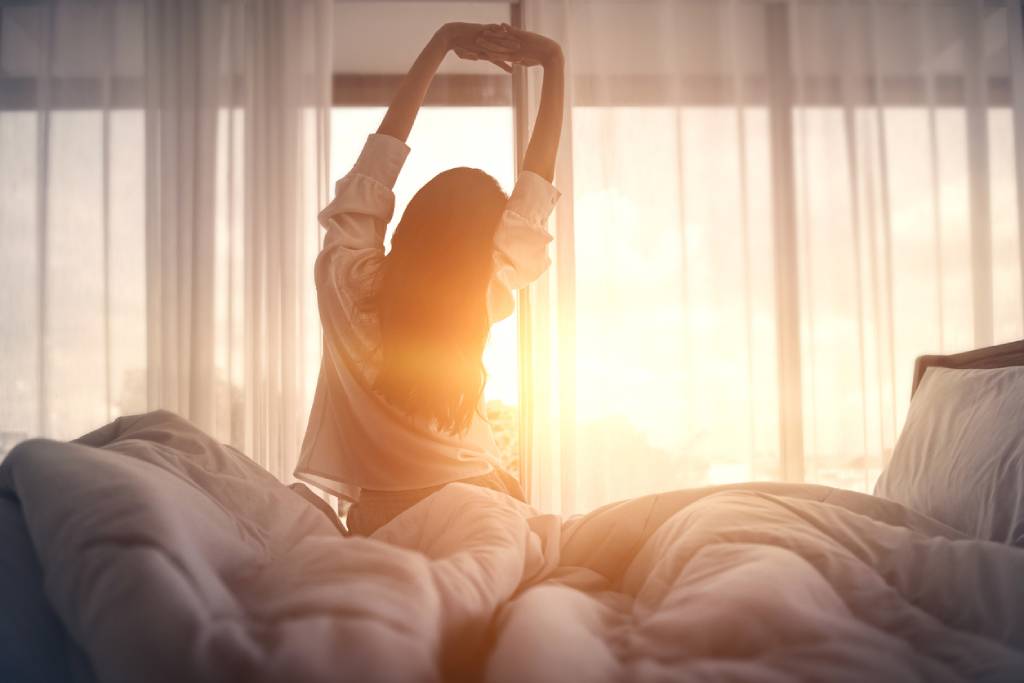 Natural light control
It's not unreasonable to describe the weather in the UK as 'changeable'.
Easter time is as likely to bring snow as it is a heatwave – and summer 2022 has seen temperatures in some parts of the UK that threaten to break all-time highs.
Not knowing whether the sun will be high in the sky or hiding behind clouds can make it tricky to get the levels of natural light in your home just right.
If you choose curtains, you get an 'all-or-nothing' solution to light control. If they're open, you're at the mercy of the sun's rays – but if they're closed, your room is immediately dulled.
If you go for a half-measure and half-close them, you'll constantly adjust them to keep the sun out of your eyes as it moves across the sky.
Plantation shutters have definite benefits when controlling the light coming in through your windows.
Swing them open completely, and you can enjoy all the sunshine the day has to offer. But, with a slight adjustment of the louvres, shutters let you temper the light to your liking.
Security
You might think that window dressings aren't going to make a great deal of difference to your household security.
In terms of your insurance premium, you're probably right – but choosing shutters over curtains may have other security benefits.
Firstly, interior shutters give the impression that your windows would be more difficult to get through.
An extra layer of solid wood behind two panes of glass can certainly work as a visual deterrent.
There's also the fact that they can be angled so would-be thieves just cannot see into your home.
According to a 2021 report from the Office for National Statistics, around 70% of domestic burglaries in England and Wales take place during the week – with many taking place during the morning or afternoon.
Online advice from the Met Police explains that thieves are also often opportunistic – meaning they will strike if they notice a valuable item or chance to get inside a home.
As well as making sure windows and doors are locked, one of the best things you can do is prevent people from being able to see inside your home while you're out or on holiday.
If you don't want to leave your curtains shut all day, shutters can be easily adjusted to prevent unwanted attention – but they don't make your home look unattended or unloved.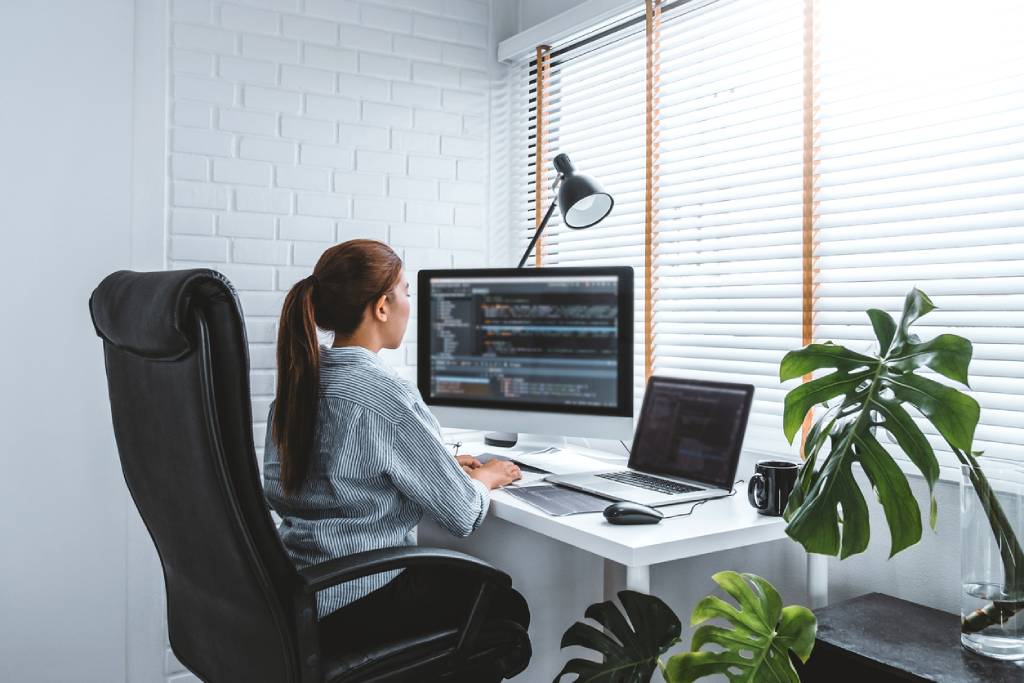 Allergies
According to statistics from Allergy UK, a staggering 44% of UK adults suffer from at least one allergy – with around half of those people (around 10 million) suffering from more than one allergy.
The same statistics explore how many people have changed their lifestyles to reduce allergies. Around 11% have to take steps to keep their home extra clean.
Many people who suffer from allergies are sensitive because of 'allergic rhinitis' (commonly referred to as hay fever) or dust and animal allergies. In each of these cases, microscopic particles are to blame.
You might be wondering what window treatments have to do with this.
Well, it's all about trapping allergens in your living space. Those allergens include:
While we're keen for this guide not to be an attack on curtains – the fact that they're large pieces of fabric makes them a perfect place for these kinds of allergens to get trapped.
Unlike blinds and curtains, a window shutter doesn't include any fabric. Therefore, allergens are nowhere to become trapped and affect allergy sufferers.
Of course, there's nothing to stop dust from landing on shutter panels – but it can be wiped off in seconds.
Cleaning curtains is a tricker job and often involves taking them down and waiting a couple of days for a call from the dry cleaners.
Room darkening
Light is the most important external factor that affects peoples' sleep – and it's not just the sun that keeps us from getting the quality of sleep we need to thrive.
One of the world's leading authorities on sleep, Sleepfactor.org, explains that it is best to sleep in as much darkness as possible.
However, from street lights and car headlights to neighbours' security lights, it's very difficult to get absolute darkness in your bedroom – but both curtains and shutters can help.
As far as standard window shutters and blackout curtains go – both do a very good job of minimising the light coming in from the outside world.
If you choose a smaller louvre size, you'll block more light, too – as they close together slightly closer than large louvres.
That said, window shutters and blackout curtains still let some light in – due to 'light bleed' where they're not tight against the surrounding window aperture.
Don't worry, though; this is where a good shutter company can go one step further.
Hybrid shutter blinds combine the outstanding looks and practicality of shutters with a hidden honeycomb blind that can be closed behind the panel – blocking virtually all the light that would otherwise come through the window.
So, curtains and standard window shutters are neck-and-neck when it comes to blocking light – but if you want the ultimate solution for a dark room, hybrid shutter blinds are the perfect window treatments.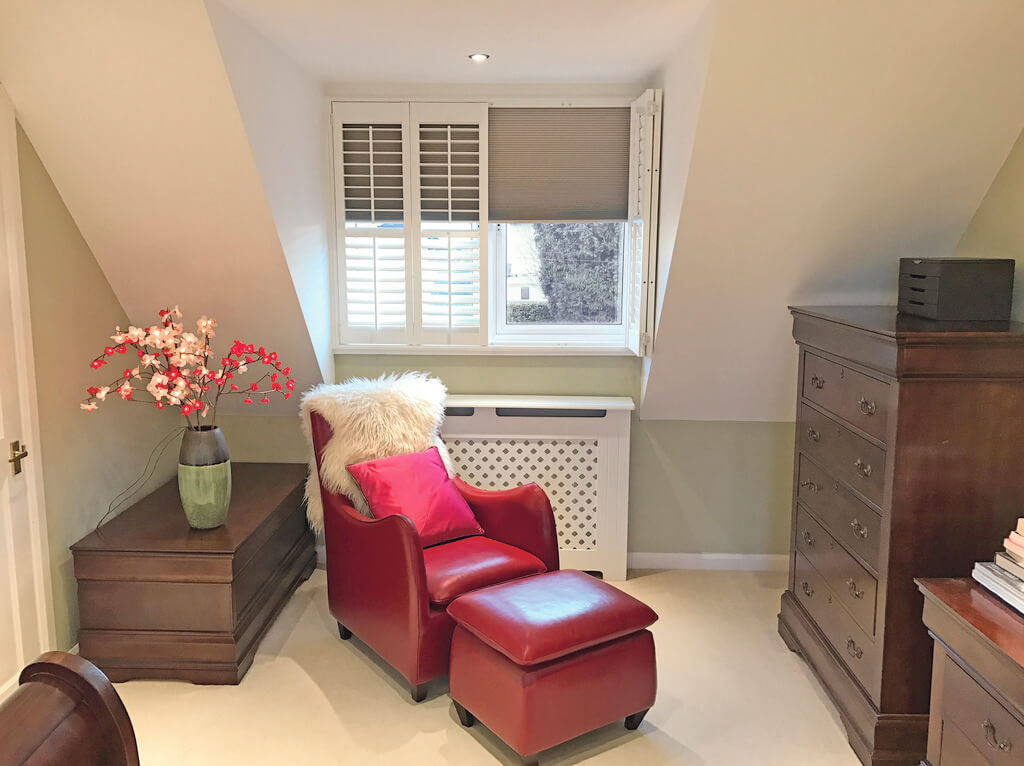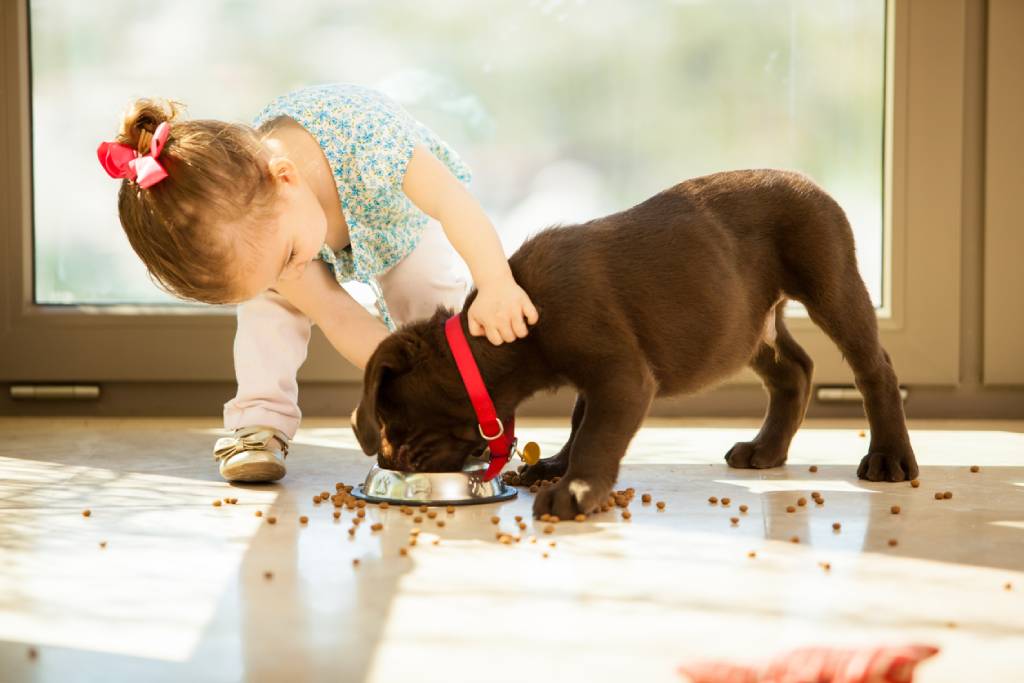 Children and pets
Whether you choose curtains or window shutters, you can be confident that both are pet and child friendly – but which will stand up to the bumps, bashes, and scrapes of a busy home the best?!
Thanks to their hardwood construction, shutters are incredibly durable, and whichever finish you choose, they'll be more capable of dealing with curious kids and animals.
It's not just the robust construction you can rely on either – shutters are probably the easiest window treatment to clean.
A quick wipe from a damp cloth and even the most stubborn jam or chocolate fingerprint will disappear in seconds.
While curtains won't break easily, they can't boast this same ease of cleaning. They're better for playing hide-and-seek behind, and they'll probably be a favourite option for any climbing cats in the house!
Cost
There's no getting around that curtains are almost certainly going to be a cheaper option than shutters when it comes to upfront costs.
More often than not, curtains can be bought at the correct length and width – and even a slight adjustment is unlikely to cost a great deal.
On the other hand, our shutters are made-to-measure and then manufactured to the exact specifications of your windows.
Of course, cost and value are two different things. Curtains will generally need replacing more often than shutters – and even the most impressive set of drapes isn't going to add any value to your home…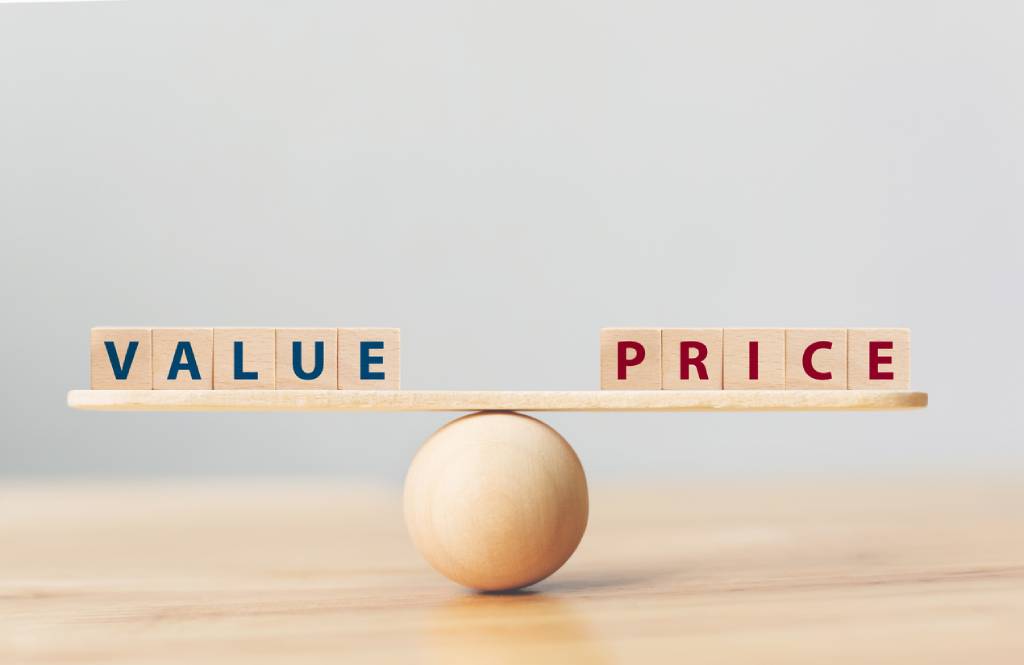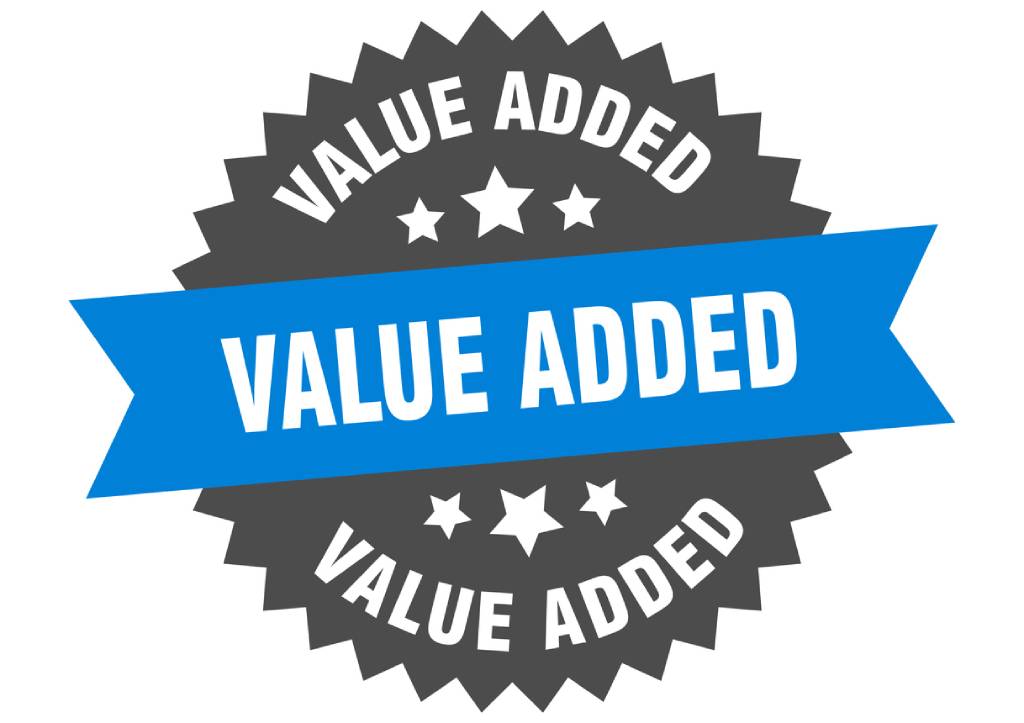 Adding value to your home
Shutters are a real win/win when adding value and appeal to your home.
Sure, you're probably not planning new window dressings purely so you can sell your home – but if the idea of moving home in the coming years is possible, you can be confident shutters will make a difference.
Firstly, there's the added kerb appeal that shutters bring. Many prospective buyers will either drive past your home before enquiring – or do the virtual equivalent using Google Streetview.
Unlike curtains, shutters look fantastic whether open or closed – so they will help your home stand out from the crowd.
Of course, there's also the actual monetary value that shutters can add to your home. If prospective buyers can move in without worrying about window covering, it's one less cost.
Even if you don't add anything to your asking price because of your shutters, they can be a helpful tool for negotiating.
Energy costs
Curtains might look like the cosiest window dressing option, but shutters tend to lead the way when it comes to temperature control and locking in a home's heating energy.
The secret is in the materials used to create custom-made window shutters.
Natural hardwood is considered 'thermally dynamic' – which means it reflects heat.
This means that the heat you've generated inside your home stays inside your home – when it reaches your shutters, it's reflected into the room.
As a result, you can expect to save money on heating costs with shutters – whereas curtains, roman blinds and roller blinds generally don't insulate as effectively.
Of course, shutters aren't going to chop your energy bills in half – but with energy bill price caps as high as they currently are, even a small improvement in energy efficiency can result in hundreds of pounds saved annually.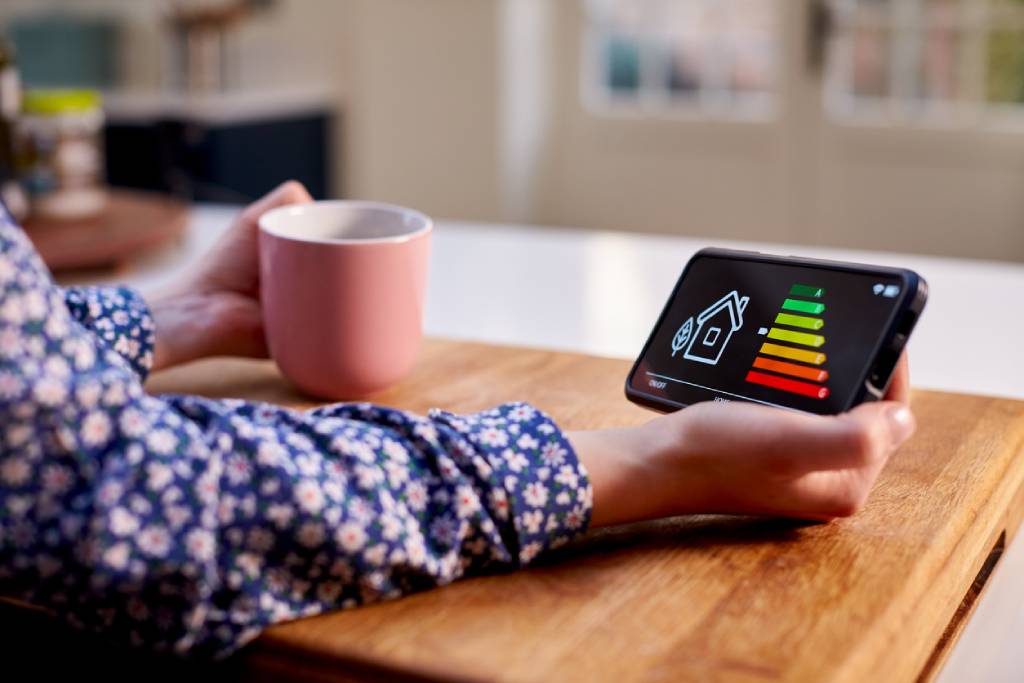 Room cooling
If you're reading this guide in the summer of 2022, you're probably going to be less concerned about your central heating setting and more about keeping your home cool.
Again, this is where the thermally dynamic properties of shutters are going to work in your favour.
Shutters don't just reflect heat into your home, wood shutters also stop many of the sun's rays from entering your home through the windows.
Now, it's fair to say that curtains can be bought with thermal linings – but on a sunny July or August day, it's unlikely that you're going to close all your curtains – whereas shutters can be angled to keep your home cool without losing more light than is necessary.
Conservatories
Conservatories are often a room that can only be practically enjoyed for a small part of the year. A predominantly glass room can be too cold in winter and sometimes too warm in summer.
As we've just discussed, shutters will help you regulate the heat – making your conservatory practical all year round.
Now, we appreciate that you're unlikely to go for floor-to-ceiling curtains around a conservatory or orangery – so shutters are probably an obvious choice.
However, there's a shutter vs curtains conversation to have about the doors that lead from your house to your conservatory.
With curtains, it can feel like you're completely closing a full section of your house off – leaving your conservatory a little unloved when it's not in use.
If you choose shutters instead, you can close the room off when it's not in use – but they still do a wonderful job of keeping an airy openness throughout your home.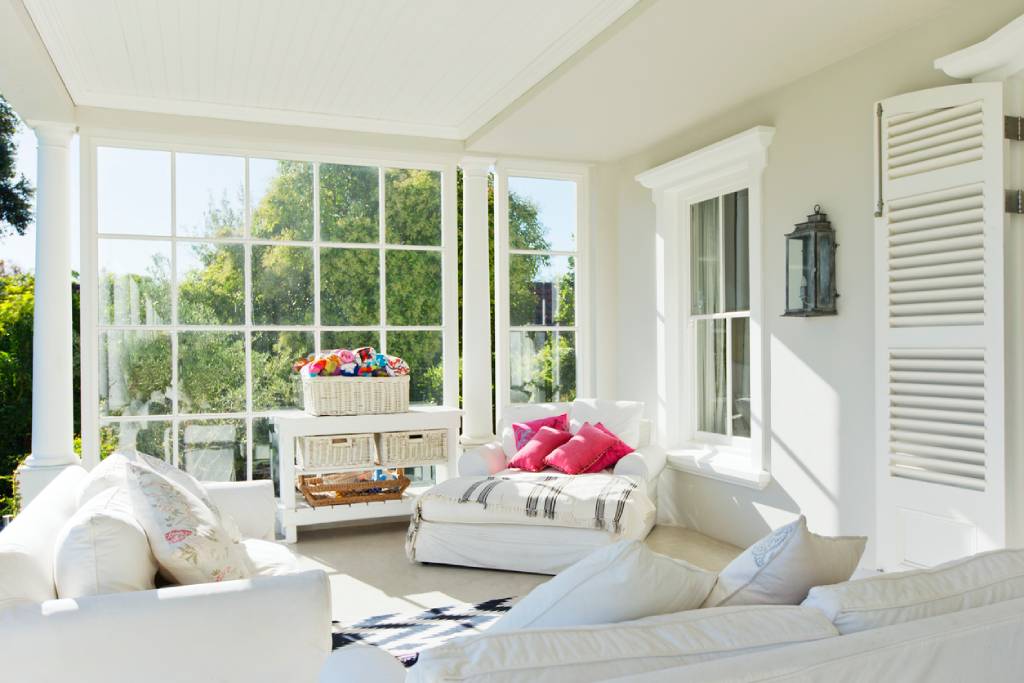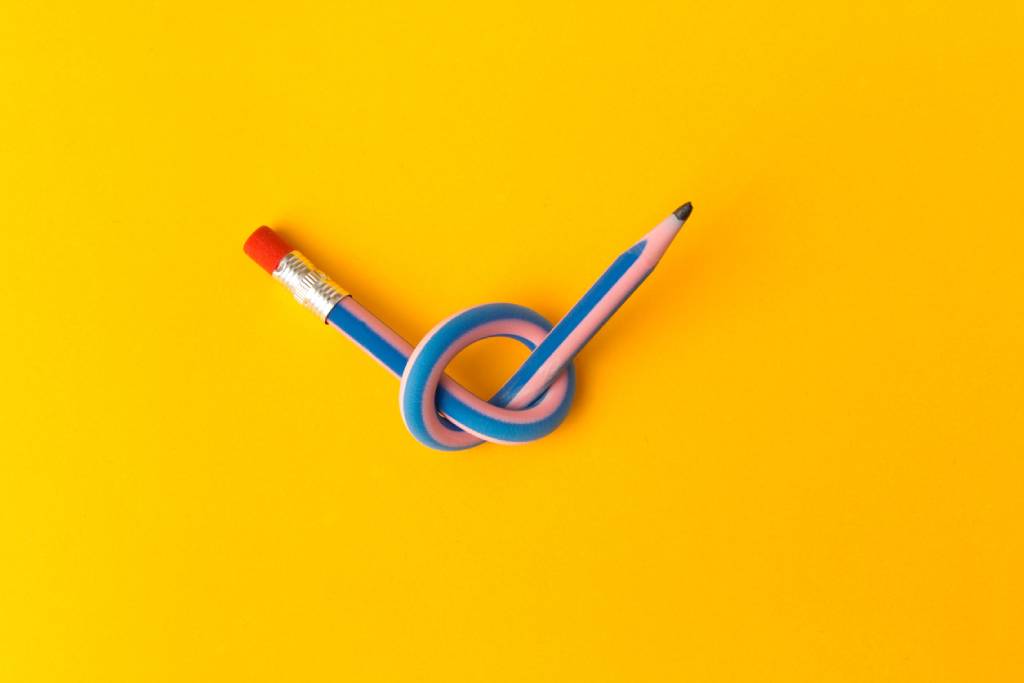 Design flexibility
Sometimes, it's easy to buy with your heart instead of your head. We've all seen sofas, rugs, or accessories that look wonderful in the showroom but require a full room redesign actually to work in your home!
This is a factor that can sometimes make curtains tricky to work with. Curtains that match your bedding can look wonderful – but they tend to look less impressive when that set of bedding is in the wash.
The same can be said of interior design ideas – with curtains, you'll often find they only work with your current colours and might need to be changed if you redecorate.
Window shutters have the benefit of being exceptional versatile – especially if you choose a neutral colour.
Need a window covering that will work with your next three sofa choices or a change or carpet? Bespoke shutters tick that box.
The environment
You don't have to explore any news outlet for long to understand the impact that 'fast fashion is having on our environment.
According to the UN Environment Programme, the world's hunger for cheaply produced clothes is responsible for more global carbon emissions than all international flights and maritime shipping combined.
So, what does this have to do with curtains and shutters?
Well, there's an increasing focus on the impact of the so-called 'fast homeware' – cheaply produced homewares that many homeowners will consider on-trend today and ready to be replaced when the next trend hits interior design magazines.
The problem isn't quite on the same scale as fast fashion, but industry experts say it's a growing issue.
There's no getting around the fact that shutters are a more expensive option than curtains – but it's worth considering quality window coverings as more of a long-term investment rather than a quick interior fashion fix.
Your shutters are going to be still looking beautiful long after curtains have come down and been binned or hidden away in a cupboard.
Moreover, you can work with Shuttercraft confidently, knowing that the materials used are from sustainable sources.
From sustainable Ayous wood plantations in the Solomon Islands – to the ethical sourcing of Paulownia wood for lighter-weight shutters with a reduced carbon footprint – your new shutters will be a talking point for all the right reasons.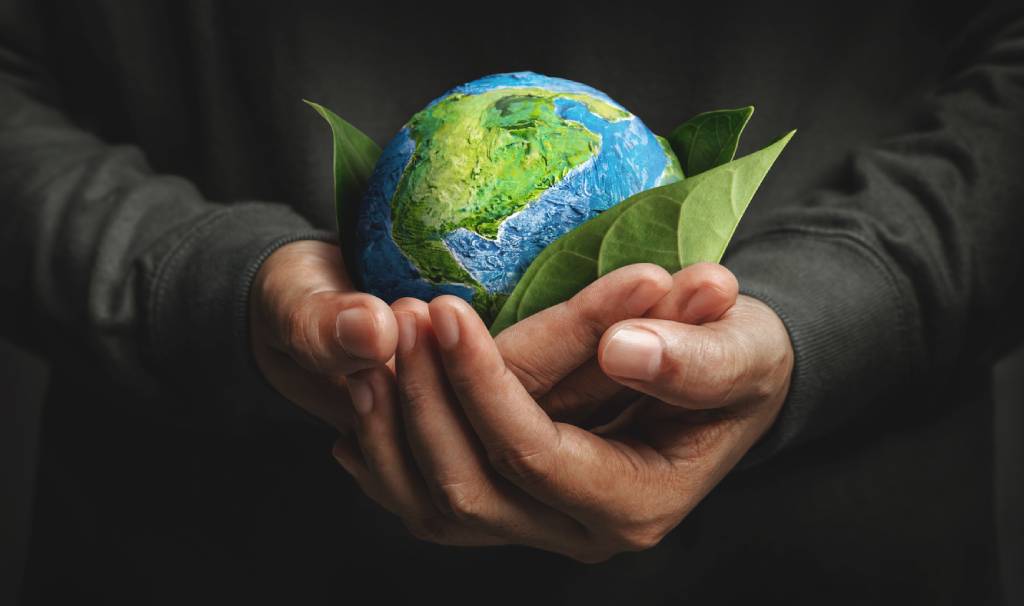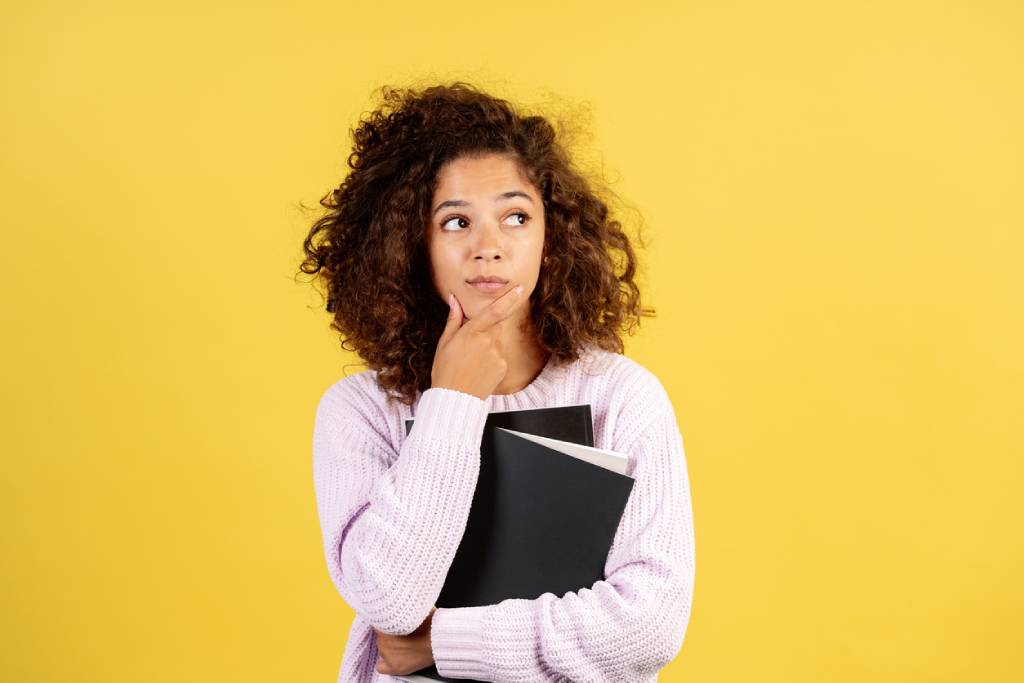 Making your window dressing decision
So, which window treatments will you choose? Shutters or curtains?
Of course, shutters and curtains aren't the only window treatment options available.
High-quality blinds can also look attractive and offer their own advantages and disadvantages.
If you've ruled out curtains and now want to decide between shutters and blinds – we've got a guide that will help you choose.
Although we've discussed some of the benefits of shutters here, you'll notice that we haven't assumed that shutters will be right for your home.
The truth is, that shutters, curtains, and blinds can all look beautiful – and each has its own pros and cons.
If you're still not sure, why not think about which factor is most important to you?
If a plush, cosy room with rich fabrics feels right, explore curtains in more detail. Alternatively, if clean lines, privacy, and light control top your list of must-haves, then perhaps look at what shutters can offer.
If you'd like to talk to a member of our design team about any of the shutters vs curtains factors we've discussed on this list, you're more than welcome to get in touch.
Remember, when you do – there will never be any pressure or obligation – just a chat about what's right for you and your home.