Why choose a window shutter fitting service?
Looking to install shutters yourself? Selecting a company to come into your home can seem daunting at first, but with friendly fitters like those at Shuttercraft, you can rest assured of a quality fit every time.
Rather than off-the-shelf alternatives, interior window shutters are a made-to-measure product that breathes new life into your living space. Unlike new curtains or blinds, shutters can require detailed installation relying on technical know-how to ensure they last for years to come.
At Shuttercraft, we pride ourselves on our friendly and thorough approach. We take our shoes off when entering our home, tidy up after we're finished, and guide you through your shutters' proper maintenance and upkeep. We value the sanctity of your home: it's your space, and we want it to look its best, just as you do.
Table of contents: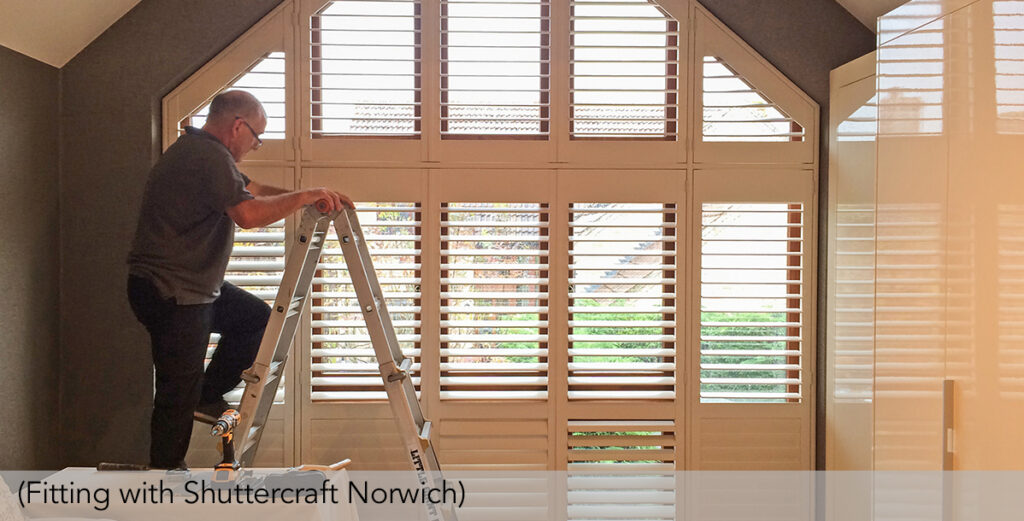 What is a shutter installation?
Window coverings can't usually be used for other purposes around the home, but plantation shutters are a popular choice as they can. As well as offering effective light control, they can be used as room dividers or wardrobe doors, for example. Although online guides show you how to install plantation shutters, these should be approached with caution if you consider doing it yourself.
The products can end up being damaged because of being poorly fitted. Usually comprising both a frame and panels, installing a shutter needs to be carried out precisely, or else there are likely to experience issues with operation.
How to fit shutters in seven steps!
Although every shutter install is different, several key stages need to be carried out every time:
Assemble frame (in recess if needed)
Loosely install frame
Attach panels
Ensure correct panel movement
Ensure the frame is securely fixed to surround
Adjust panel hinges as required
Special shapes, tracks, tier-on-tier and bay window installs will require more steps to be followed during the fitting. Adjustments and amendments may also need to be made to ensure the installation is carried out to the highest standard if the initial measurements were incorrect. This is why it is a much safer alternative to rely on trusted shutter installation services offered by companies such as Shuttercraft.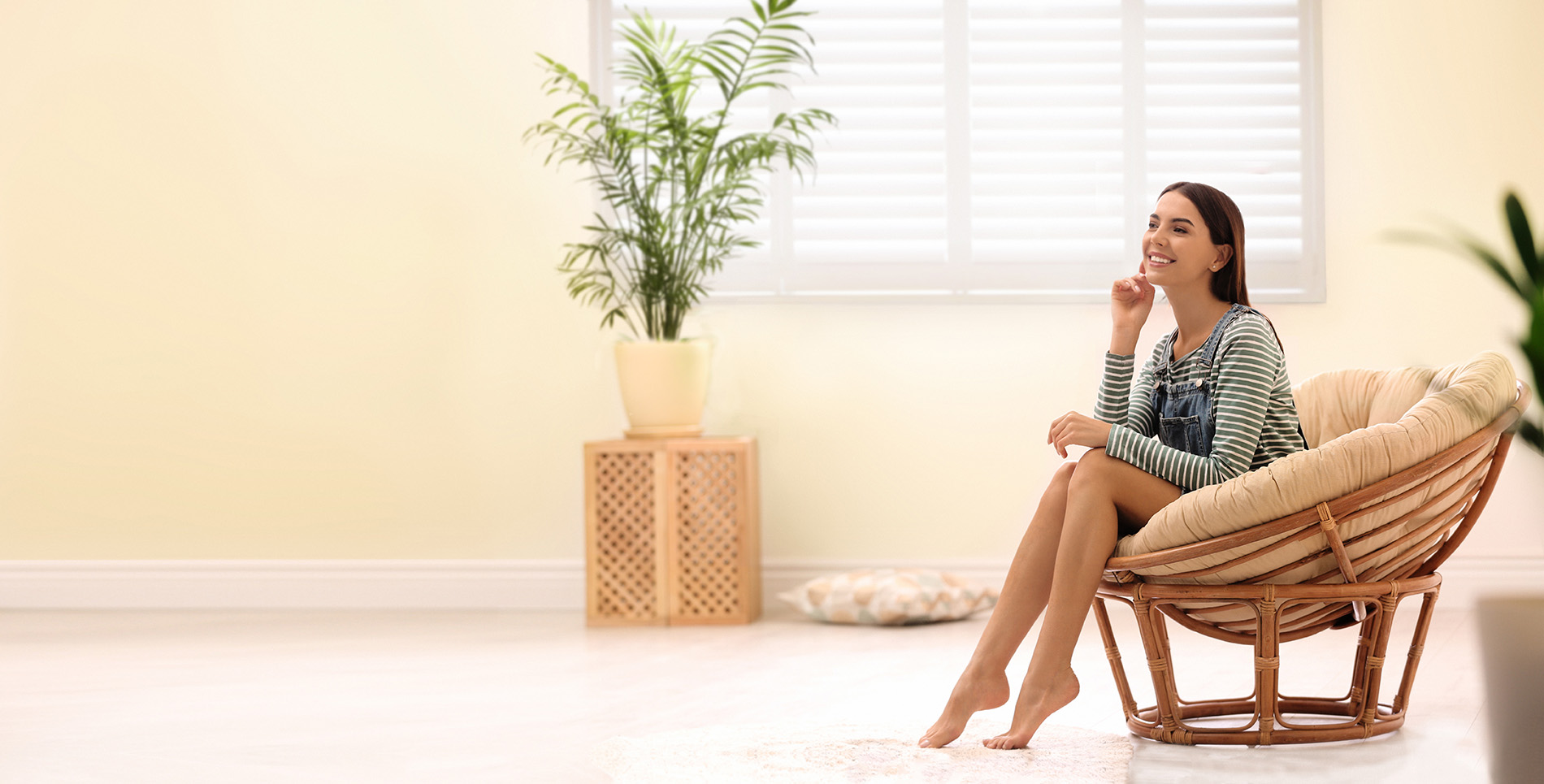 Get in touch today!
Why not contact your local Shuttercraft?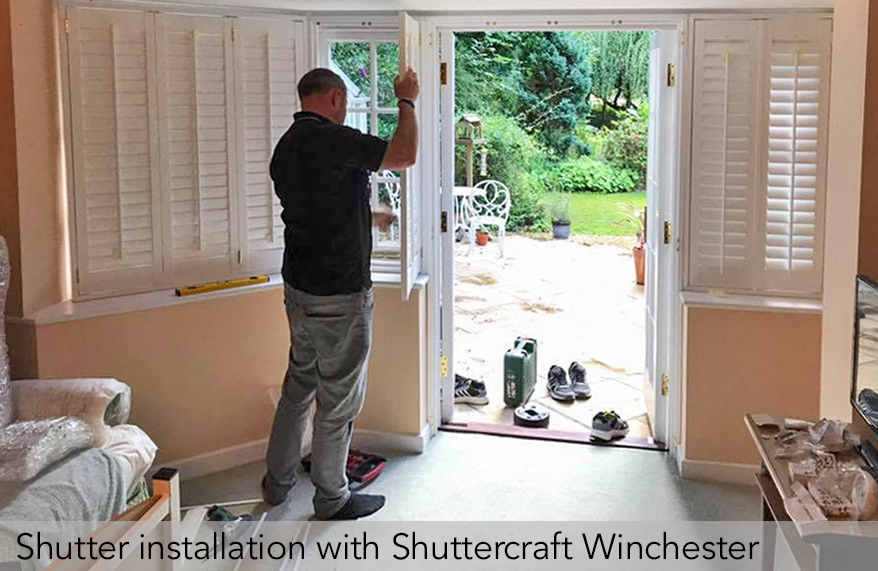 Can shutters be fitted to any window?
From arches, bays and portholes to gable end, skylights and conservatories, countless window types are found throughout the home. Throughout history, windows have been a key architectural feature that helps admit both light and air and have developed in style and design just as tastes have shifted from generation to generation.
Various inventive window designs, including modern property design and shutters, are an elegant finish for the vast majority. From tiny portholes to vast gable ends, windows can come in all shapes and sizes, but as our shutters are custom crafted, we guarantee there will be a solution for you. Your window and surrounds will guide the way shutters can be installed, but with so many style, colour and material options, you can choose your design to suit your style.
Shutters can be fitted to almost any interior window, inside or outside the recess, so long as the fixing surface is secure. Even spaces with damper environments like bathrooms won't challenge the shutter treatment, as they can be produced from waterproof ABS, a hardwearing polymer.
Fitting shutters to uPVC windows requires a little more skill but can easily be carried out by a professional installer. Many customers opt to match the hardened thermoplastic of ABS with uPVC in areas prone to condensation and dampness.
If you have standard windows, then there's a shutter solution to suit your needs. Even if the fixtures of your space are a little out of the ordinary, it's well worth exploring the options with your local Shuttercraft expert, as we fit almost every type of window out there.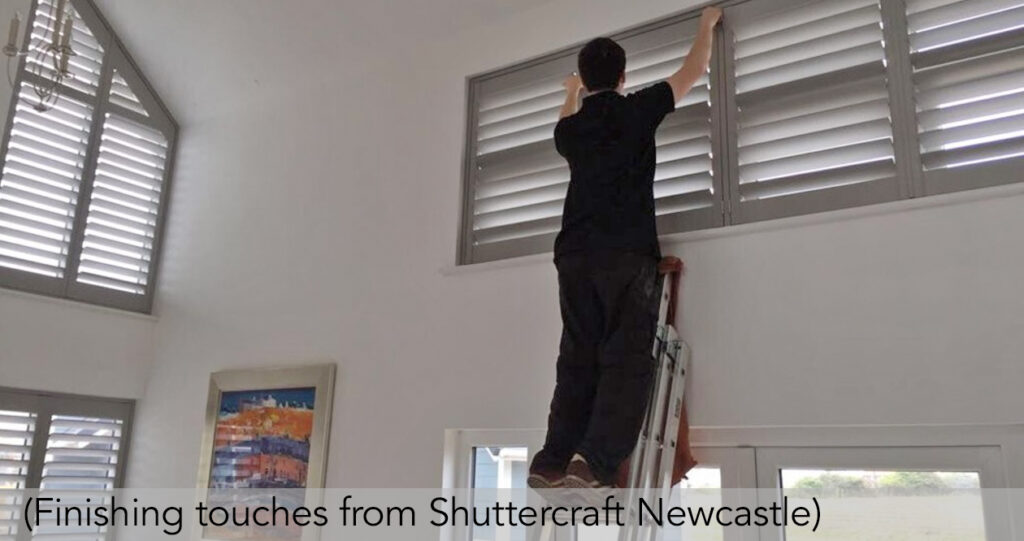 How long does it take to fit shutters?
Knowing how to install interior shutters will give you a better idea of how long an installation will take. Experienced shutter experts will, of course, be more skilled and knowledgeable than your average DIY enthusiast.
There will always be many factors to consider, such as the shape/size of the window, fixing surfaces, frame elements, and track components. Larger windows or spaces can often take longer to fit, so this must be considered if you plan to install them in your home.
During an initial (free) survey, your local Shuttercraft expert should be able to give a rough indication of the amount of time required for any project. Smaller jobs can take just a couple of hours, but to ensure your shutters are fitted with precision, larger jobs or entire houses might take a day or more.
Could I fit the shutters myself?
Shutters are manufactured using precision joinery techniques such as mortise and tenon joints. With shutter elements such as tilt rods, additional skills need to be used to attach them correctly.
When installing the shutter frames and panels, we recommend you use a trusted local company, such as Shuttercraft. No matter how good your DIY skills are, you can't beat fully trained professionals with specialist knowledge. It's also worth remembering that incorrect fitting may invalidate the manufacturer's warranty.
Fitting shutters to sash windows and bays or installing track mechanisms can be technically demanding, so it's essential to weigh up the potential problems caused by unprofessional installation against the additional cost of fitting. For what is often only a one-off project, learning an entirely new skill set will prove a stretch for many, given the time it'll take to learn.
If you're considering a do-it-yourself approach to shutters, you'll know the detail required when measuring. It's why made-to-measure shutters from a trusted company such as Shuttercraft are the most reliable option.
We offer the full package, from accurate measurements and competitive quotes to skilled fitting and aftercare. DIY shutter kits are available from many online retailers but can be tricky to assemble, so they aren't always suitable for novices. With Shuttercraft, you can rely on the fact that your shutters will look their best for years to come.

How about shaped shutters?
At Shuttercraft, we believe in made-to-measure, which is why we only supply custom-made shutters. This means nearly every window shape can be finished with a shutter – from ovals and circles to triangles and, of course, more usual rectangles and squares.
Interior shutters are also an incredibly popular choice for arched windows and angled gable ends, fitting the unique contours in a way other solutions cannot.
Architects like to make a visual statement with their designs, and it is only natural to want to provide some privacy and light control through even the most unique openings. Special shape shutters are individually crafted to suit the space, emphasising the beautiful features of your home and providing an alternative when curtains and blinds won't work.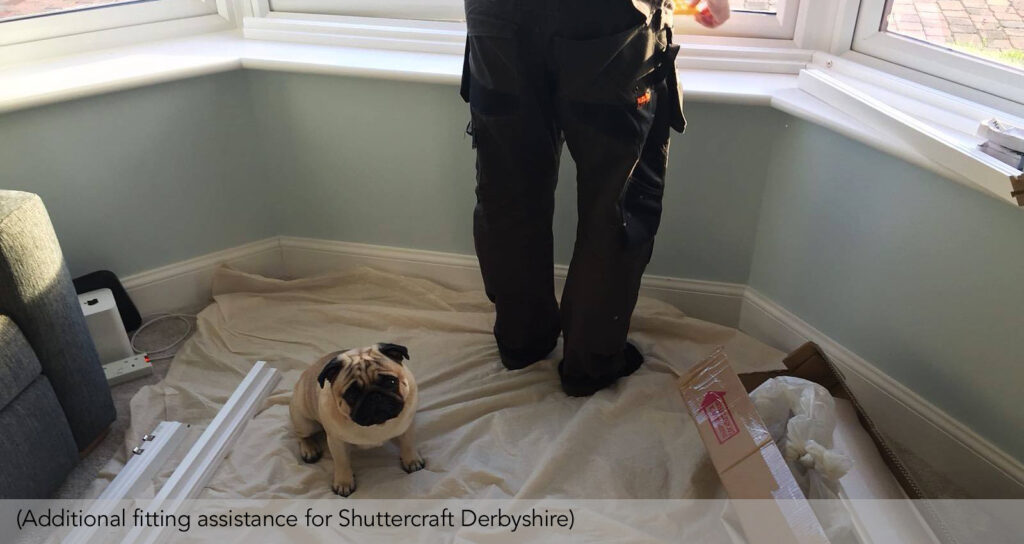 What is the Shuttercraft Difference?
We want your Shuttercraft experience to be a happy one. This is due to our impressive range of shutters and materials and the care we show you, from your first contact to the finished result.
We know it's vital to trust anyone who comes into your home and that you'll want the job done right the first time. Only by understanding our customers' insights and experiences can we deliver on their expectations, time and again.
We'll arrange a convenient time and date if you place an order. Upon completion of the installation, we'll explain how to operate and maintain them and ensure your home is as tidy as before we arrived!
Shuttercraft customers all over the UK have repeatedly commented on our professionalism, attention to detail and expert knowledge. You care about your home, and we care about getting you the right shutters in a way that suits you through every step of the journey.

What do our customers say about the quality of our work?
At Shuttercraft, we pride ourselves on being shutter experts, which extends to our installation service. With a keen eye for detail, our fitters will take the various shutter elements and assemble them in situ or nearby, ensuring they are firmly fixed to prevent damage.
Here is a sample of what people have said about Shuttercraft; you can find more by checking reviews and testimonials on our websites, Facebook, Google, Checkatrade and Trustpilot.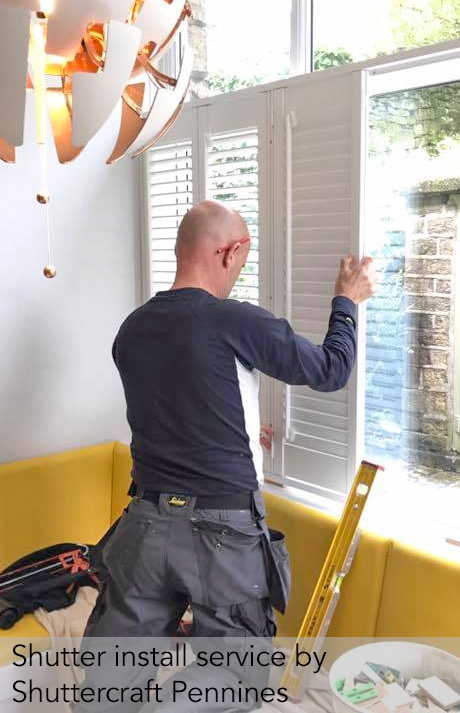 Happy Customers!
"Friendly and professional services. Shutters look stunning in large bay window as well a smaller front bedroom window. Fitted very quickly with no mess left behind. Would strongly recommend and am about to put in another order for more shutters in my house."
"Professional and friendly, did a great job, and I am very pleased with the results." 
"Prompt professional guidance, good product, expertly installed – what's not to like? And all at a good market price for a quality experience." 
"Absolutely thrilled with our new shutters they have transformed the house and the quality is excellent. The whole process dealing with Shuttercraft from initial consultation to fitting has been outstanding, professional and great value for money, can't recommend highly enough."
"From the moment we arranged for measuring up to be done to the final fitting, excellent service. Friendly, informative, clean and no fuss. Thank you."
"Just had wood shutters fitted in four of my rooms. Really pleased with the work completed, and they look amazing. Would, and already have, recommended Shuttercraft to friends." 
"Amazing job by Shuttercraft the windows looks amazing. The men that completed the work were very professional clean, and tidy. Would highly recommend this company." 
If you're thinking of revisiting your interior designs, Shuttercraft has both the experience and skill to deliver the perfect shutter solution. We help you choose the right materials, colours and styles to suit your requirements and breathe new life into your home.
Find your local Shuttercraft today and let us make light work for you!
Resources: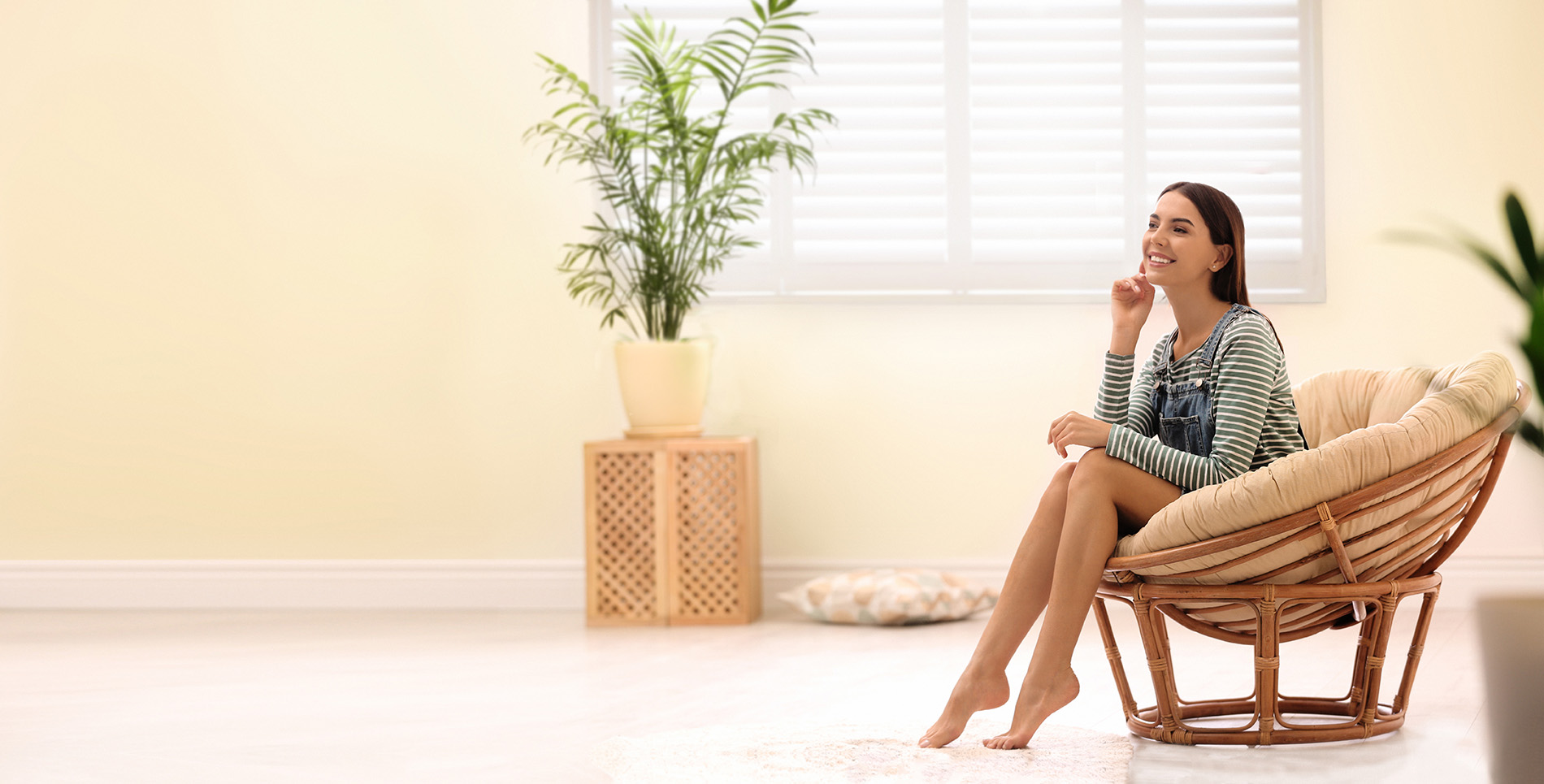 Get in touch today!
Why not contact your local Shuttercraft?