Quick Answer: When buying blinds for bi-fold doors, you should first consider if you need the privacy and light control they offer. When choosing between roller blinds, Venetian blinds, vertical blinds, and Roman blinds, you should choose the one that offers the light and privacy control you need while working with the aesthetics of your room.
There's much to consider if you're considering blinds for bi-fold doors. You'll probably want to know the best practical blinds and which will work with your door frames.
This guide will look at bi-fold blinds and how they work with folding doors. Crucially, we'll give you a series of factors to consider to ensure the blinds you choose are right for you and your home.
Do bi-fold doors need blinds?
Ultimately, whether or not you need blinds are up to you. For most people, the decision will depend on where your bi-fold doors are and whether they're overlooked.
For instance, if you have bi-fold doors that open from a living space into a garden that is not overlooked, they're probably not essential for privacy.
In this case, bi-fold door blinds are most commonly installed to help with light control. That said, there are situations where you do need a window covering on bi-fold doors.
Many overlooked apartments and townhouses now incorporate a Juliet balcony into their design – often from a bedroom. If you have bi-fold doors that offer a view into a private area, then a window covering is essential – and blinds are a very effective option.
What types of blinds are available for bi-fold doors?
Since bi-fold doors operate differently from windows, some window blinds are better suited than others. The most effective bi-fold door blinds are:

– Roller blinds
– Venetian blinds
– Vertical blinds
– Honeycomb blinds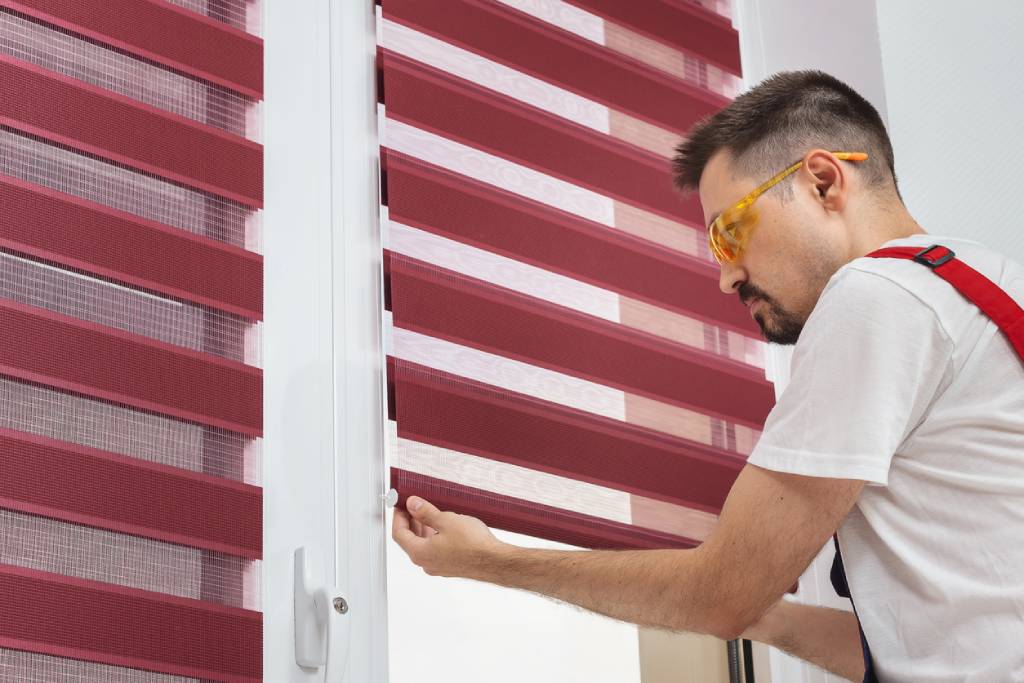 Roller blinds for bi-fold doors
Roller blinds are one of the most straightforward blind design styles. They consist of a single piece of fabric you can roll up and down according to your light control and privacy needs.
Individual roller blinds will generally be fitted to each folding door, so your doors can still operate as intended. This helps to give enhanced light control since individual blinds can be controlled independently.
Roller blinds are often one of the most cost-effective ways to dress bi-fold doors – but this doesn't mean they're low quality.
With made-to-measure roller blinds, you can often choose from thousands of colours, patterns, and embellishments – making it easy to find effective blinds that work perfectly with the style of your room.
Wooden blinds
Wooden blinds are often referred to as Venetian-style blinds. They have hardwood slats that can be adjusted according to how much light and privacy you desire.
Individual wooden blinds will be mounted on each door panel when fitting to bi-fold doors. This maintains the opening function of the doors and means each blind can be controlled independently.
It's worth noting that wooden blinds are not suitable for all areas of a home. In areas with a lot of moisture – such as kitchens and bathrooms – it's advisable to choose a faux-wood alternative.
Venetian blinds
Although typically mounted in a window recess above window frames, Venetian blinds are also popular for bi-fold doors. When used for bi-fold doors, individual Venetian blinds will usually be mounted directly on the door so they don't get in the way of the folding function.
Venetian blinds have numerous horizontal slats that can be angled according to light and privacy needs. Since each door has a single blind, this means each blind can be controlled independently for even more light and privacy control.
Although many off-the-shelf Venetian blinds are available, ordering made-to-measure blinds offers a far greater choice of materials, colours, and design options. This means bespoke blinds can be created to match your doors, your choice of the wall colour, or even different shades found elsewhere in your room.
Vertical blinds
You get a unique design and mounting style if you choose vertical blinds for bi-fold doors. Rather than mounting directly to the door, vertical blinds will be suspended from a discreet track at the top of the aperture above your doors.
When you need to access your doors, vertical blinds can be opened fully – gathering neatly at one or both sides of your doors. This is perfect if you'd like your blinds to be completely unobtrusive when opened.
When drawn across your doors, vertical blinds offer excellent light and privacy control. You can obscure the light from the sun or the view into your room by simply angling the panels according to your needs. This offers ultimate flexibility as you can completely protect your privacy without blocking the light.
Roman blinds
A Roman blind is a window covering created using a single piece of fabric that gathers into pleats as it folds upwards.
Like roller blinds and Venetian blinds, individual Roman blinds are attached to each bi-fold door panel, so the door's functions are unaffected.
Unlike the other blinds on this list, Roman blinds do not retract completely, even when fully open. Instead, they gather neatly at the top of the door but do not offer the minimal look other blinds achieve.
Since they are made of fabric, made-to-measure Roman blinds can work perfectly in any home style. You'll almost always be able to choose from various fabrics, colours, and patterns.
Honeycomb blinds for bi-fold doors
Honeycomb blinds (sometimes called 'pleated blinds') are innovative window covering perfectly suited to bi-fold doors.
The pleated honeycomb-shaped cells that make up honeycomb fabric neatly collapses when pulled up. The blinds expand to cover the glass when pulled down over part or all of the windows or doors.
The unique design of honeycomb blinds makes them exceptionally good at controlling the light in your room. If your bi-fold doors are in a room that would benefit from blackout blinds – honeycomb blinds in a darker colour will almost entirely block the light from your doors.
Honeycomb blinds are also highly effective at preventing heat from passing through. This makes them a great choice if you'd like to block the sunlight entering your room on hot days – or prevent warm air from leaving when the weather is cooler.
Since honeycomb blinds work by sliding up and down an enclosed track, they don't necessarily have to open from bottom to top. As a result, they are the ideal option for finding a balance between light control and privacy because of the ability to customise to your home's specifications.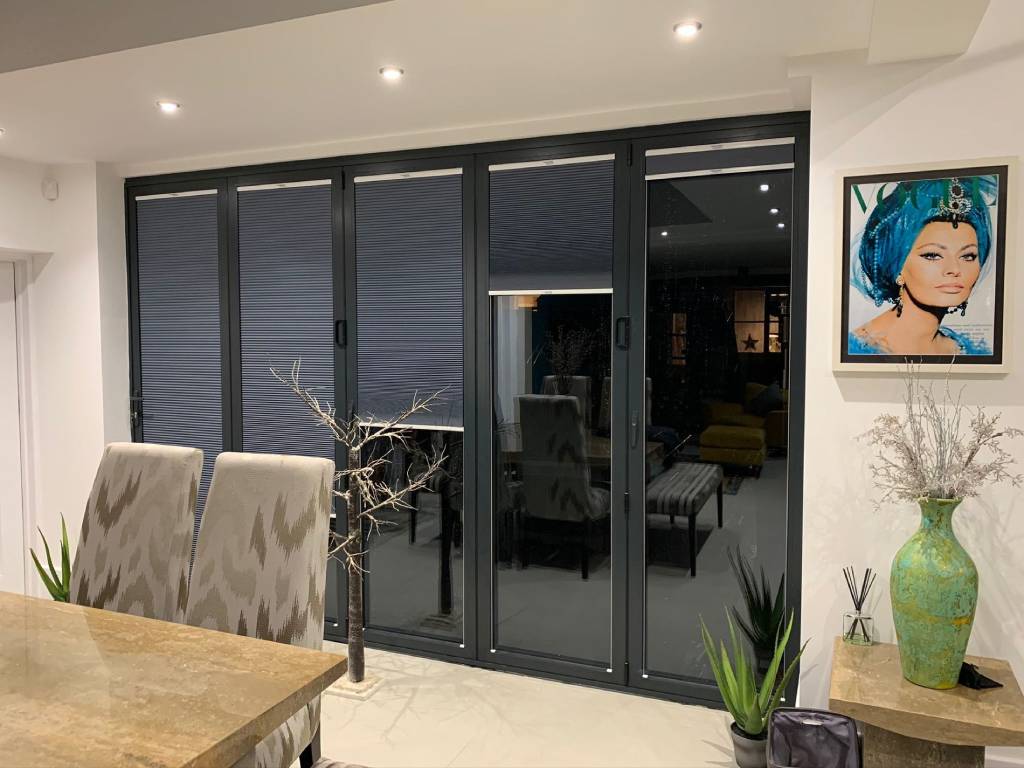 How to fit bi-fold door blinds
Different blinds have different fitting methods when installed on wood, PVC or aluminium bi-fold doors.

This makes the exact fitting process different because different door designs also present unique features that must be worked around.

As such, fitting blinds to bi-fold doors is a task that most people would only consider taking on if they have DIY experience. A thorough understanding of how the doors open and the clearance required for door handles and locks must be factored into complex measurements.

Because of this, many people decide to have professionals fit blinds for them – a service offered by most blind companies. This removes the chance of any functional issues and maintains any warranty that comes with your blinds.

What are some of the benefits of blinds for bi-fold doors?
Made-to-measure bi-fold door blinds offer a series of benefits for a room, including:

– Effectively increasing the shade in your room
– Perfect-fit blinds can add privacy to your home
– Helping to keep rooms cool by helping to reduce glare from the sun
– Still allowing the door to be opened fully
Can you fit shutters to bi-fold doors?
Although not strictly 'blinds' – shutters are worth a mention here, not least because people often assume they cannot be fitted to bi-fold doors.

Shutters can be fitted to bi-fold doors but would represent more of a challenge to get right unless you have a professional design and installation team. The design and fit need to factor in a few additional points compared to window shutters:

Mounting type
The space around bi-fold doors can be limited. As such, it usually makes sense to mount shutters on a track in front of your door. This allows a bi-fold shutter to slide and fold along with the doors.

Door handles
Shutters are often designed to sit close to doors or windows when they are closed. Your design team will have to factor in the size and shape of your door handles to ensure the shutters close correctly.

Installation
Fitting shutters on a bi-fold door is more challenging than a typical installation. It is a good idea to work with a company that includes installation in their prices.


How to decide on the perfect blinds for your bi-fold doors
When deciding on blinds for your bi-fold doors, consider the design that appeals most to you. This will often be about aesthetics – but you should also consider the levels of light control and privacy you require.
It's also a good idea to consider the coverage you'd like.
Since many blinds mount directly to the door and leave space for door handles and opening, you'll see many of your window frame and door hardware if you choose roller, Venetian, or Roman blinds.
If you'd prefer a window dressing that fills the entire doorway, vertical blinds for bi-fold doors will be worth exploring in more depth – or possibly even track-mounted bi-fold shutters.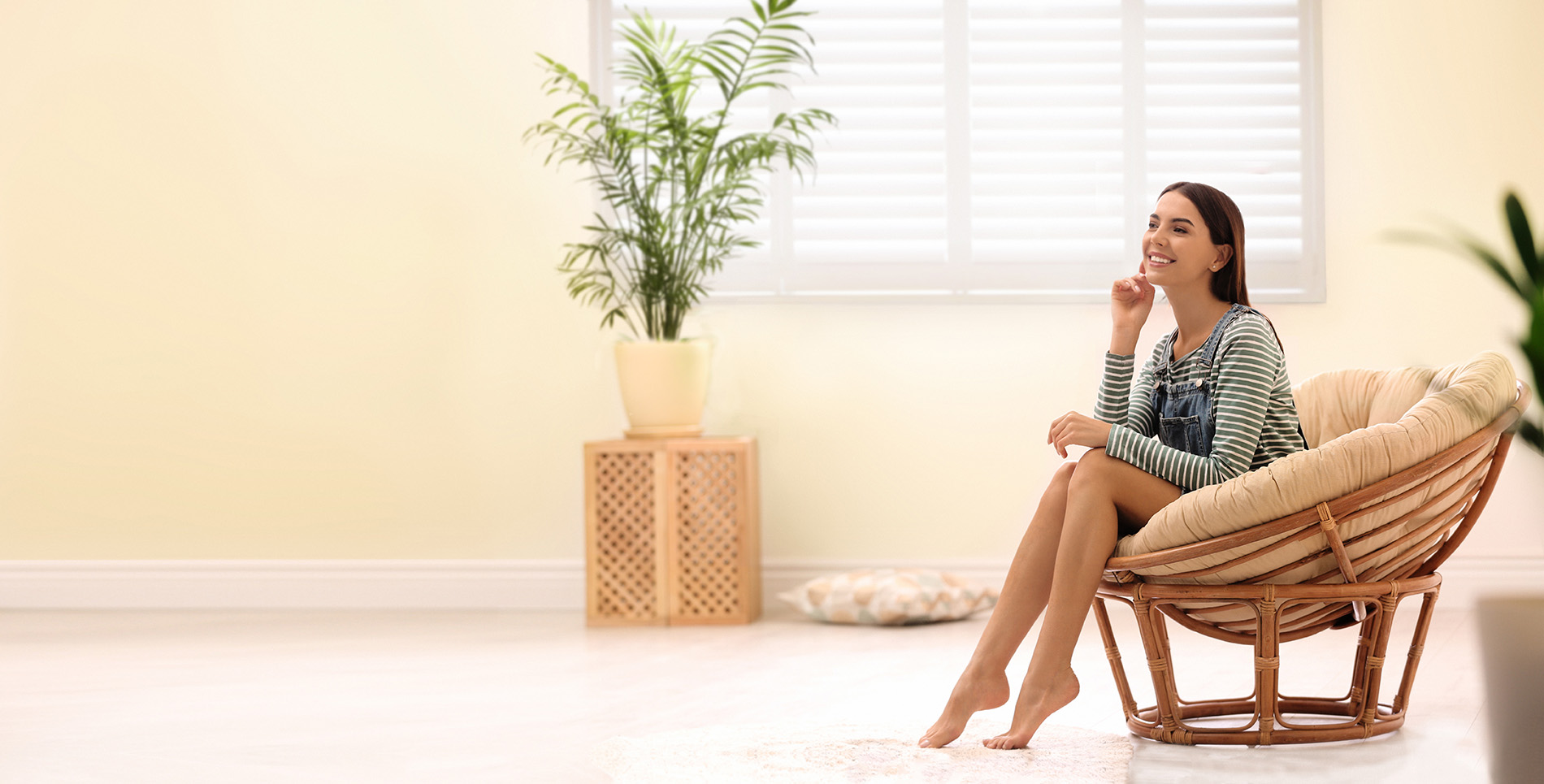 Get in touch today!
Why not contact your local Shuttercraft?