Quick Answer: Window coverings come with a range of benefits, including controlling the light to your liking, protecting your furniture, improving the feeling of security in your home, adding privacy, enhancing kerb appeal, cutting down on energy use, and improving the quality of your sleep.
It's easy to think of window coverings as something entirely for show, only really there to add to your home's interior feel.
In reality, window coverings – often called window treatments – offer many benefits beyond their appearance.
In this guide, we'll walk you through nine window covering benefits you might not have previously considered.
When you've finished reading, you'll have some additional factors to consider, so you can be confident that your window dressing ideas will suit your needs perfectly!
Benefits of finding the right window coverings
In this guide to the benefits of window coverings, we'll cover all these points and more. When you've finished reading, you'll be able to think about which benefits are the most important to you – then choose window coverings that tick all your boxes.
Nine window treatment benefits at a glance
We will look at the nine main benefits of different window coverings. They are:
Controlling the light in your environment
Protecting your furniture
Feeling more secure in your home
Making your space more private without cutting out the light
Maintaining design consistency throughout your home
Window coverings that are suitable for period properties
Cutting down on energy use
Improving your sleep quality
Let's take a more detailed look at each factor.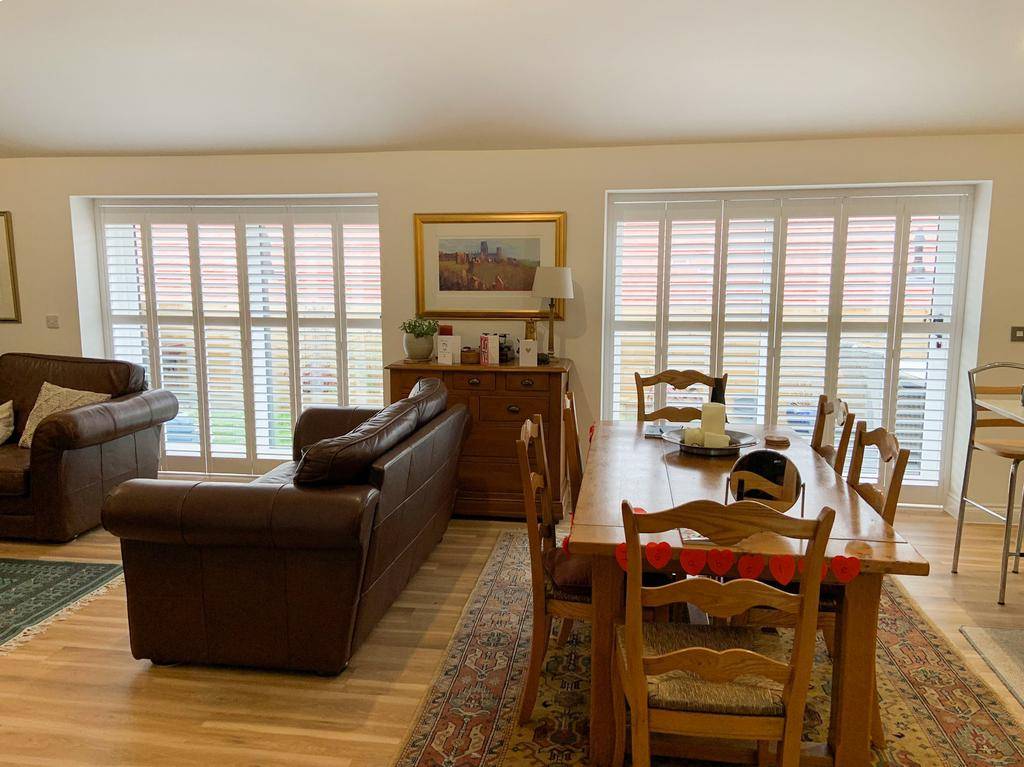 Controlling the light to suit your environment
Aside from the physical location of your home, window coverings significantly impact the amount of light that enters our properties.
We associate so many positive words with natural light. "Bright", "airy", "invigorating", and "fresh" are all words that you might associate with a room that enjoys a lot of sunlight.
That said, when the time's right, there are plenty of positive words we associate with having the lights dimmed – "snug", "cosy", and "intimate", to name just a few.
The amount of light that's "just right" depends on many things, not least the time of day, the company we're with, or how tired we are.
If you want a space that adapts to your mood, you need a window treatment that gives you complete control.
How do you get the perfect amount of light?
If you want window treatments that deliver the right amount of light, you must think carefully about your options.
Curtains offer some light control – but people tend to sway towards shutters or blinds for the ultimate in light control. Why?
The louvres on shutters or Venetian blinds offer much more than the open-or-closed option with curtains or roller blinds.
In rooms that get a lot of light through the day, it's nice to be able to bask in the sunshine when you want to – but also to be able to get some relief from the sun's rays if you need to view a screen or just take a well-earning siesta.
It's not just naturally bright rooms to consider, though – letting the maximum amount of light into otherwise dull rooms is an integral part of enjoying your whole house.
Blinds or shutters are also great options here – they will not obscure your window glass when fully open or retracted.
Protecting your furniture
Window coverings are an essential part of your defence when protecting the furniture in your home.
Leather, wood, veneer, fabrics, and plastics are all susceptible to fading when exposed to the sun's harsh UV rays.
This isn't just a problem for people in hotter parts of the world either. Clouds absorb some UV, but not all of it. Equally, some glass can offer UV protection – but not all. Put simply, your interiors aren't immune to sunlight, no matter what protection you think is already in place.
Protecting your interiors with window treatments
Since you're unlikely to want floor-to-ceiling curtains that block light all day just to protect your sofa, the smart move here is to deflect the worst of the light without blocking it completely.
For many, this means thinking about 'slatted' blinds or plantation shutters. Being able to adjust the angle of slats or louvres carefully means you control how much light comes directly into your room without shutting the light out completely.
If hanging curtains or installing Roman blinds is more in line with your interior design goals, you might look at less common window treatments to protect your furniture.
Some specialist companies can provide and install film that adds a layer of UV protection without making a visual difference to your window glass.
Feeling more secure in your property
Shutters have another significant home security benefit – they can be left open without putting the inside of your property on show. A quick adjustment of the louvres means you can see outside without the world being able to see in. This makes them perfect when you're:
Leaving the house early
Returning home late
Going away on holiday
Spending odd evenings or nights away from home
Leaving children or teens in the house
In your property by yourself
Whether you're putting your feet up after work, sitting down to a nice meal, or just working your way through another season of your latest box set, security is an underlying feeling that can make or break the atmosphere and your mood.
In almost 3 out of 10 burglaries, the homeowner or tenant is in the property at the break-in time. As such, it's prudent to always make our homes as safe as possible – without feeling like you're fortifying yourself inside your property. This is where the right window coverings can make a huge difference.
A lot of the time, perception is everything. If a window looks like an easy entry point, a would-be thief is likelier to try their luck. If a window looks like it will be hard to breach, then the same thief is far less likely to try.
So, which window treatments add the most security – perceived or otherwise? This time, the answer is shutters. It's simple – a heavy-looking hardwood covering will always be harder to get through than a lightweight fabric.
Making your space more private without closing off the light
If you're used to being in a room with curtains, you get used to the idea that staying private means there's no chance to let natural light shine into your room.
This can be frustrating – especially if it means picking out your day's outfit, doing your hair or applying make-up is done under unnatural feeling artificial light.
The same applies to bath or shower rooms – not everyone wants to dry off after a shower hoping that the frosted glass stops your neighbours from being able to see through your bathroom windows.
It's not just getting ready for the day when privacy is nice. A bay window is a beautiful addition to a room – but they can give passers-by a good look at your relaxing on the sofa after a long day if your curtains aren't drawn.
Dressing windows with privacy and light in mind generally requires either shutters or blinds. Louvred shutters or Venetian blinds can be angled for privacy without closing off the natural light in your space.
Maintaining consistency in bathrooms and kitchens
Some window coverings look fantastic in a living room or bedroom – but would look entirely out of place in a bathroom and kitchen window. If your interior design tastes mean, you'd like to see a cohesive look through your home; you might think this means compromises are needed somewhere.
In reality, this isn't the case. Rather than opt for impractical bathroom curtains, you might think about a window treatment style that works just as well in a bathroom window as elsewhere in the house.
Then, choose a water-resistant option for the bathroom – and opt for a traditional hardwood in the other rooms.
This is where shutters or blinds can be a perfect solution. In many cases, a good supplier will have a waterproof range virtually identical to non-water-resistant options that work well elsewhere in the property.
Of course, waterproof window treatments aren't reserved for bathrooms and kitchens; there are plenty of other rooms that can experience moisture, too, including:
Wet rooms
Rooms used to dry washing
Swimming pools
Hot-tub
Home gyms
Utility rooms
Rooms that contain appliances – like tumble driers
Making your house stand out as attractive
Your home could have had the interior designer treatment on the inside – but if the outside looks poorly presented, it will stand out on your street for all the wrong reasons.
One of the simplest ways to improve kerb appeal is to ensure your window coverings match the street-facing side of your home.
This is possible if you hang curtains carefully and spend a little time arranging them each time they're opened – but it's far easier if you choose blinds or shutters.
First, there's colour consistency to think about. Having made-to-measure shutters or blinds in your home means guaranteed uniformity of colour across all your windows. Moreover, both blinds and shutters look stunning in pale colours like white – which is rarely true of curtains.
As well as colour consistency, shutters and blinds make it easy to present your home perfectly.
A quick adjustment of slats or louvres means your windows all look identical – and the same can be said for blinds that are retracted an equal amount in each window.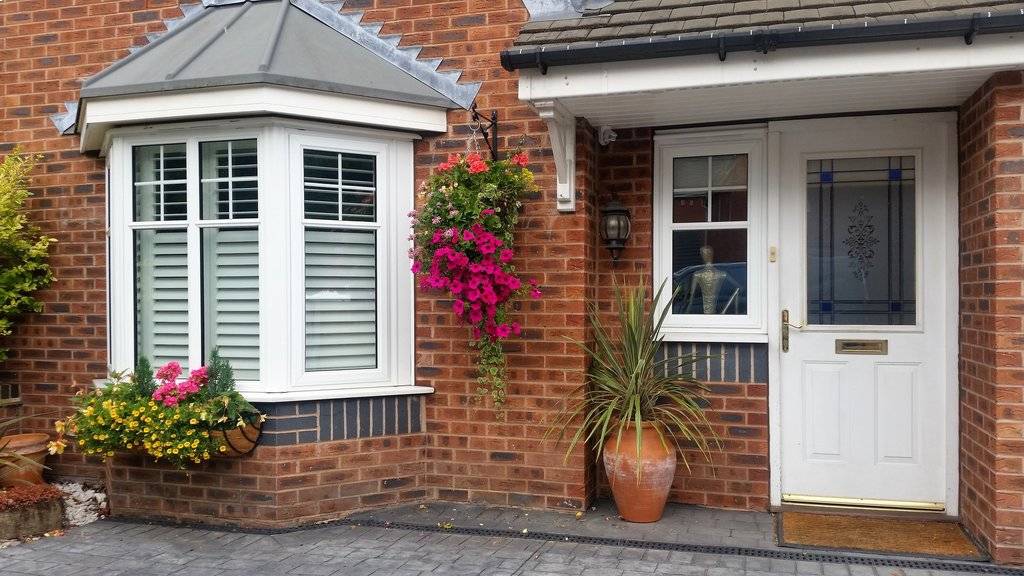 Suitability for a period property
The age of a property isn't going to be a consideration for everyone – but if you've got an old home, you might want to think about sympathetic window coverings.
'Sympathetic' is an interior design term used to describe features that consider original features of the age of your home.
For example, an ultra-modern Venetian blind might look unsympathetic in a 17th-century cottage – whereas patterned curtains or Roman shades might be a more sympathetic approach to the same room.
If you're not sure what will be in keeping with your home, doing a little online exploration is a good idea. Researching architecture in the UK will give you an idea of when your home was built, and then you can explore images and information about specific periods.
Shutters and horizontal blinds are a design that's stood the test of time and tend to look good in a vast range of properties.
Vertical blinds and curtains tend to suit mid-century properties well. There's a period fit for virtually all window coverings – you just have to decide if the period in which your home was built suits your design tastes!
Cutting down on the energy you use
There's never been a better time to look at energy consumption. Neither the cost of energy nor climate change are ever far from the headlines – so it's understandable that energy use is on our minds.
The reality is that no single step a person or household can make will significantly change the amount of energy they use.
That said, a series of minor lifestyle adjustments and product decisions does add up – and the window coverings we choose for our home are an essential part of that puzzle.
The right shutters, curtains and blinds can add a layer of additional insulation to your home. This is important because your windows and doors are responsible for much of your home's heat loss and gain.
If you can block some cold from permeating your home, you'll naturally find that your central heating boiler isn't kicking into life quite so much.
So, which window coverings are suitable if you hope to keep your home warmer in winter and cooler in summer?
Industry studies have shown that a shutter and blind combination is the most effective way of insulating your windows.
However, a thermal blind and thermally lined curtains are not too far behind.
It's unrealistic to expect people shopping for window coverings to put insulation above all other factors – especially not an appealing design.
However, if you can find a design that also reduces energy consumption, it's a solid win-win for your energy bills and the climate.
Improving your sleep quality
You're not alone if you don't get enough sleep. Recent studies by a leading mental health charity suggest that almost 1 in 5 people do not get enough sleep – with light from outside the home listed as one of the main contributing factors.
We've already talked about window coverings and light control – but when light can significantly impact your well-being, it's worth taking a more detailed look at how window treatment ideas can help you and your loved ones get enough rest.
Fortunately, there are many options for bedroom windows – including heavy fabric curtains, blackout curtains (curtains with a blackout lining attached), shutter-blind combinations, and specialist blackout blinds.
When are blackout window coverings helpful?
Sometimes, people simply cannot sleep with a light source in their room. Some people are so sensitive to light that even a tiny crack of sunlight coming through a gap is enough to disturb their sleep.
Of course, it's not just sensitive sleepers who benefit from the right window coverings. Other uses include:
Children's rooms – where little ones struggle to settle when it's light
Shift workers – whose job requires they sleep at irregular times
Blocking light from street lights – where the shine from outside is bright even at night
Blocking light from roads – where passing vehicle lights can shine through light window dressings
Blocking the light from neighbouring properties – where outside lights, illuminated signs, security lights, or lights shining out of windows can enter your property
If sleep quality is high on your list of considerations, you should think practically about how your chosen window coverings will work. Ask yourself:
Will they fully cover the window frame?
Will there be gaps where the window treatments hang slightly proud of the window – i.e. on a curtain pole?
Will the fine detail impact the light in the room – for example, will curtain rings or louvres let in any light?
What do you want from your window coverings?
It's easy to think that window covering is there just to help with privacy and light control – but these are just two of a long list of benefits that the right window treatment can bring to your home.
Think about how these factors line up with your needs. You might create a list and grade the importance of each factor from 1-9 in each of your rooms.
With decades of experience helping customers design and fit window coverings, the Shuttercraft team has a wealth of knowledge you're welcome to call on.
If we can help with any additional information you need about window coverings in your home – you're more than welcome to get in touch.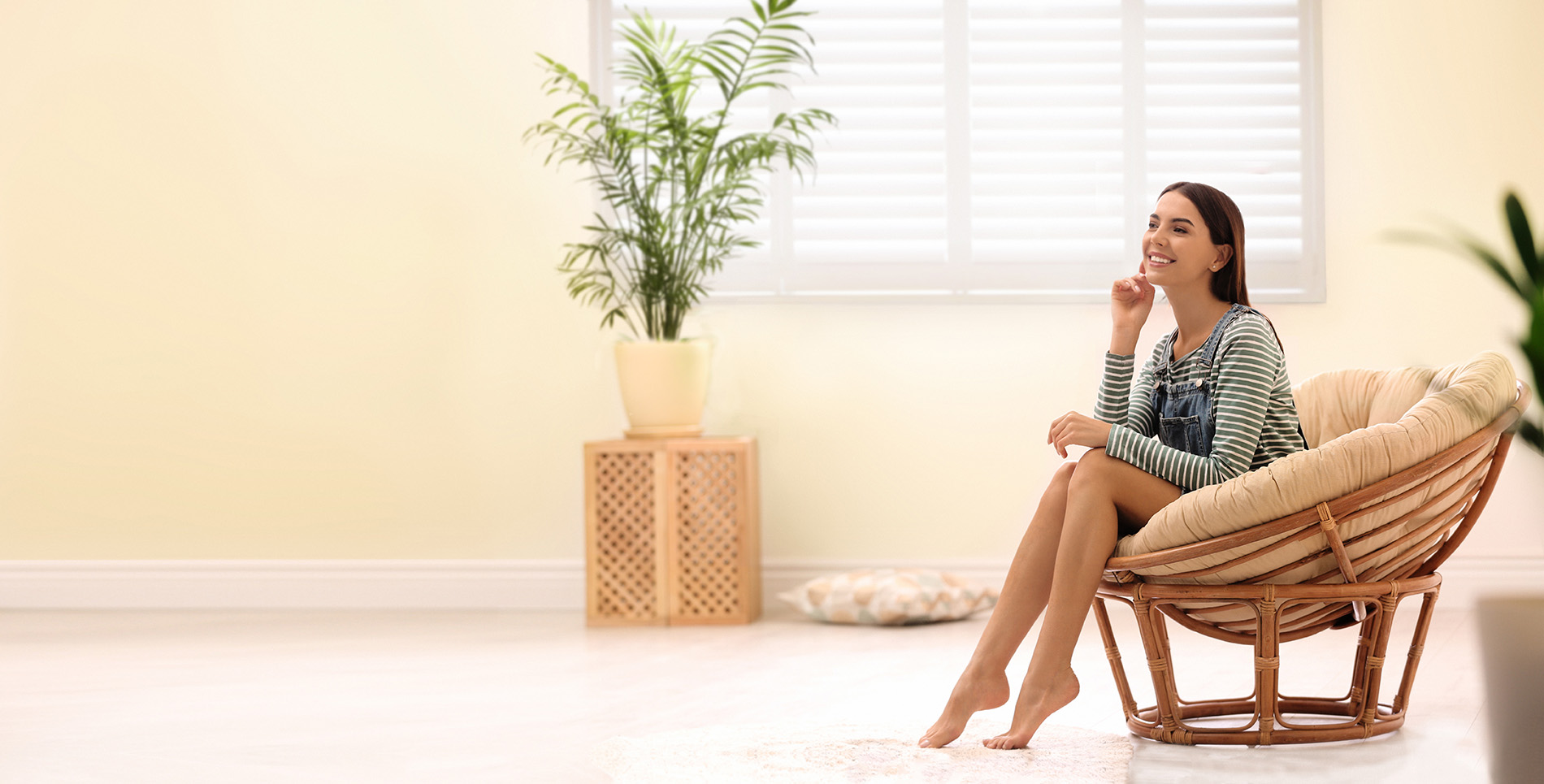 Get in touch today!
Why not contact your local Shuttercraft?