When you explore bespoke shutters online, you'll notice they look as fantastic in ultra-modern homes as in more traditional, homely interior design settings.
Window shutters are almost endlessly versatile – so it's no surprise to see them feature in many different homes. In this guide, we'll look at two opposing interior design looks and see what can be done with plantation shutters to make them a stand-out feature in each.
Quick Answer: In modern homes, white or custom-coloured shutters with large louvres complementing a clean full-height or tier-on-tier design can look stunning. In more homely settings, the privacy offered by solid shutters or small louvres in café-style or tracked shutters works beautifully – especially in natural wood tones.
What are "bespoke shutters"?
Before considering incorporating window shutters in your space, we must understand that not all shutters can be regarded as "bespoke."
A bespoke shutter company will create made-to-measure shutters specific to your requirements. Customers will be able to choose from the following features and factors:
Height and width
Louvre size
A wide choice of colours
The best materials for different rooms
Optional horizontal bars fitted to your requirement
Visible or 'silent' tilt rods
Separate shutter sections based on your window designs
What's more, companies that provide bespoke shutters will be able to create a range of different styles, too, often including:
As you can see, this personal service means your shutters will likely be unique to your specific requirements. While a professional installation service can make off-the-shelf DIY shutters work in many windows, nothing can beat great shutters made-to-measure for your home.
Integrating bespoke shutters into modern interior design styles
Now you know what optional features you can expect from a bespoke shutter company. Knowing how to configure shutters for a modern interior design look is helpful.
Some of this year's on-trend interior design ideas include plain interiors with bright pops of colour, deep 70s-style vintage looks, neutral 'comfortcore' finishes, and subtle sunset-inspired colour schemes.
So, how do shutters work in these modern looks? Contemporary looks like these are almost always clean and uncluttered – so it's a good idea to opt for uncomplicated shutters with clean lines.
This makes full-height wooden shutters a great choice – especially if you can select a silent tilt-rod, hiding away unnecessary hardware.
If you're designing around a theme, it can look incredibly striking to have shutter designs reflected elsewhere.
Since shutters can be used as room dividers and even wardrobe doors, bespoke shutters will do an excellent job reflecting your chosen designs in other parts of your room.
Checklist for shutters in a modern home
Best styles: Full-height, tier-on-tier, track shutters, room dividers
Best louvre options: Wider louvres offer an uncomplicated look
Best added features: Hidden 'silent' tilt rods for a minimal feel
Best colours: Whites, pale tones, or custom colours picked from your room
Bespoke shutters in homes with a cosy, homely atmosphere
Although some of the interior design looks discussed above are very 'now' options for a home, many people opt for a timeless traditional interior design look to create a homely atmosphere that doesn't date.
Rustic looks, farmhouse designs, and even busy maximalist interior design themes can all include plush fabrics and comforting colours that make you want to put your feet up and relax.
The question is, which kinds of shutters look best for this cosy interior design feel?
Knowing you have absolute privacy is a big part of being cosy at home. As such, smaller louvres are a great way of controlling the light without exposing your home to passers-by. You might even decide on solid shutters in the living space or bedroom cosiness.
Of course, privacy doesn't have to mean losing out on light completely – so café-style shutters are a great option, too – giving privacy where it matters but letting light flood in through the top of your windows.
Don't be afraid of elaborate shutter designs in homely interiors either – shaped shutters, wide bay window shutters, and even retractable bi-fold shutters look fantastic too.
Regarding colour, homely interiors work exceptionally well with whites and wood tones. Wood always gives a warm, inviting feel in any space – so you might even decide to match your bespoke shutters to wood tones found elsewhere in your room.
Checklist for shutters in a homely space
Best styles: Solid shutters, café-style shutters, track shutters.
Best louvre options: Smaller louvres offer excellent privacy control
Best added features: Visible tilt rods and remote control add convenience
Best colours: Whites and wood tones
Best colours: Whites, pale styles, or custom colours picked from your room
How to find the right bespoke shutters for your interior design look
When choosing plantation shutters, it can be tempting to go for the most cost-effective option – but this often leaves you with shutters that don't quite suit your interior design tastes.
Spending just a little more unlocks the endless possibilities a bespoke shutter company offers.
In modern homes, this means wider louvres, clean full-height or tier-on-tier designs, and hidden hardware to enhance the clean lines found elsewhere in your space. This can mean rich wood tones or light colours complimenting café-style, track-mounted, or solid shutters for a more homely look.
Shutters almost always look fantastic in any interior design setting – but bespoke shutters can elevate your look to the next level.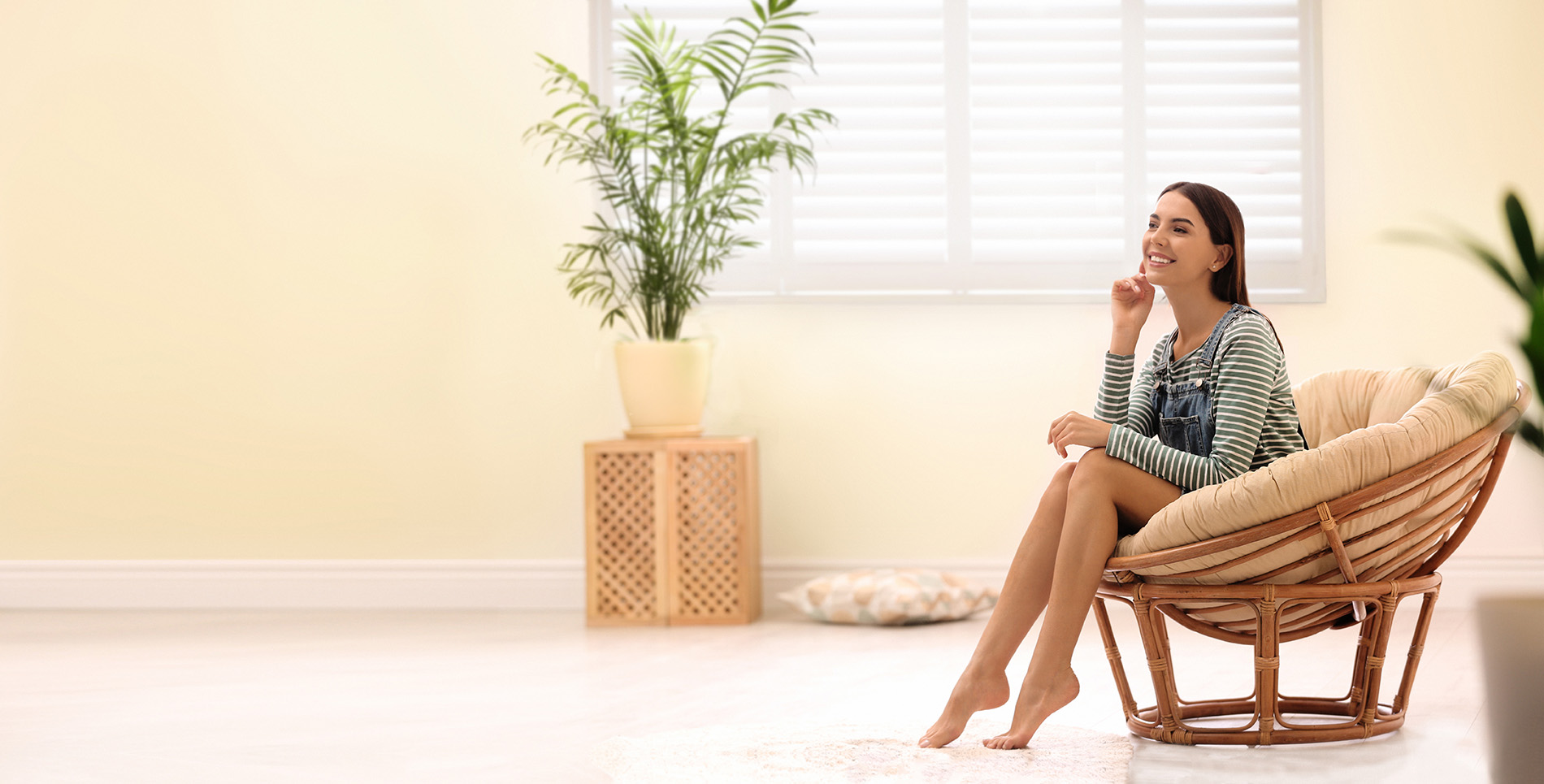 Get in touch today!
Why not contact your local Shuttercraft?