If you've searched for white shutters for windows, you've probably realised there's a huge selection of styles to choose from!
We talk to customers every day about white plantation shutters, so our design team have put together five tips that will help you choose the ones that are exactly right for your home.
1. Made-to-measure shutters will save a lot of hassle!
When you're shopping for wooden shutters, you'll almost certainly come across made-to-measure options and DIY options.
DIY shutters will usually be cheaper to buy initially – but they often don't produce the beautiful result you might be looking for. This is because DIY shutters have to be adapted a suit many different window sizes.
We do things differently. When one of our fitting specialists visits your home to measure your windows or doors, we'll come away with an extensive list of measurements – so we can design shutters that fit perfectly.
Take a look at some of the factors we'll be measuring for and talking to you about: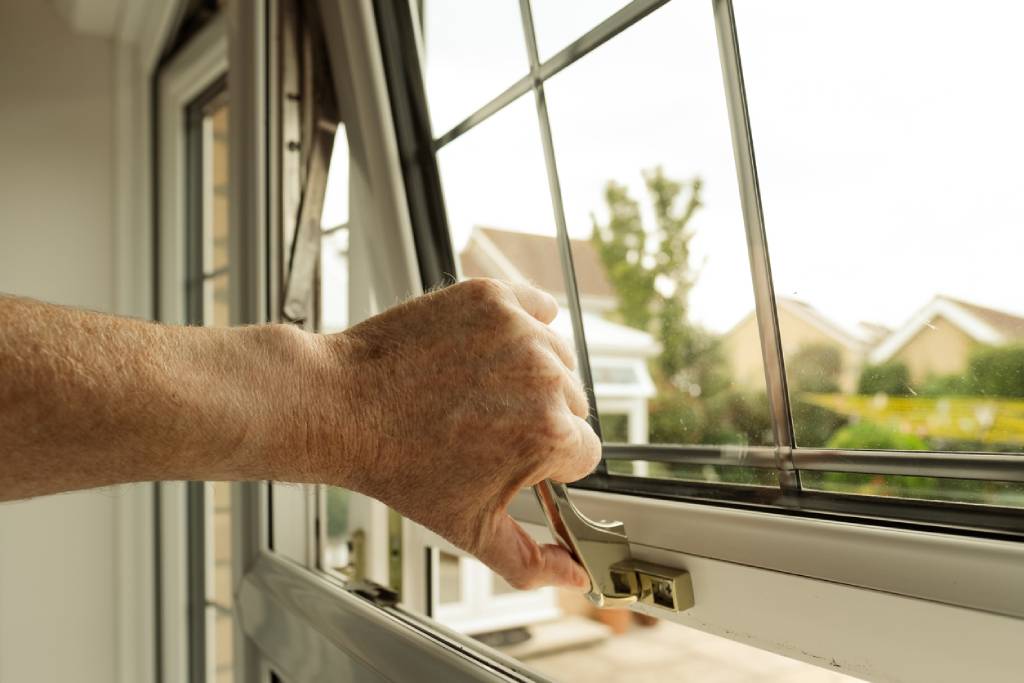 How much clearance is needed to operate your windows
There are dozens of different window styles in UK homes. From tall sash windows and large casement windows to small specially shaped windows.
Each window style operates differently. Some have handles; some don't. Others need unobstructed access to open; others don't. Some open inwards, some open out. Certain types can only be effectively cleaned if you can open shutters fully.
Our installation teams will be able to identify the best kinds of shutters for each window. This expertise often requires years of relevant knowledge and an extensive understanding of how shutters can be mounted. As such, a free survey can save you a lot of headaches further down the line!
Any imperfections in your window shapes
It's reasonable to assume that all windows are perfectly rectangular or square – but in practice, this often isn't the case.
Over time, houses move or 'settle'. This movement will (hopefully!) only be millimetres – but when buying white window shutters to fit perfectly into your window frame, even a couple of millimetres can be the difference between a perfect fit and a fit has untidy gaps.
The clearances needed to open your shutters fully.
The perfect shutter design will account for the layout of your whole room and how you use your living space.
White wooden shutters can be designed to open in several different ways.
You might decide that some rooms will benefit from shutters that fold back in a 'bi-fold' design – to minimise the amount of space they protrude from your windows when open.
Then again, your room layout might allow shutters that open out from their frame on a hinge. The option is yours – but many homes benefit from different styles in different rooms. Our designers will help you find the perfect solution for each unique space.
Fitted shutters are fully guaranteed.
Our products come with our unique 10-Year Shuttercraft Warranty. For you, this is peace of mind that if anything goes wrong with your shutters, we'll do everything we can to put it right.
Of course, you'll only find this kind of protection if you're ordering shutters that include installation – as we can be 100% confident that our products have been designed, manufactured and installed to the highest standard.
2. There's more than one 'white'.
If you've ever shopped for interior paint, you'll know that there are often variations of each colour. Dulux lists 41 different 'white' options. Shutters are similar – so there's no one 'white' colour!
Instead, you'll be able to choose from a range of white shades.
You might decide 'Pure White' will work perfectly in your space. Then again, maybe "Bright White' would be a better match for your furniture or woodwork.
We offer different white tones on many of our products, including:
Extra White
Bright White
Pure White
Decorator's White
Aura White
Silk White
Chalk White
Cotswold White
In addition to these whites, we also offer some colours that are very close to white, including:
Creamy
Crisp Linen
Ivory Lace
Sea Mist
Why so many? Well, the right white for you will depend on your room design and your unique tastes. Don't settle for a 'standard' white – find the perfect white shutters for you!
3. White can match or contrast depending on your window frames
You could be fooled into thinking white hardwood shutters only suit white window frames, but white shutters look fantastic in many frame colours.
Perhaps you have darker frames in your home – tones of grey, deep wood tones, or even black? If this is the case, white shutters offer a stunning contrast.
Not only does this kind of contrast make your new window treatments stand out – it also enhances the crisp, clean lines in your room.
If you do have white window frames, white shutters work to create a striking monotone feel. This look is popular today when matched with rich wall colours, such as deep blues, elemental greens or vibrant reds.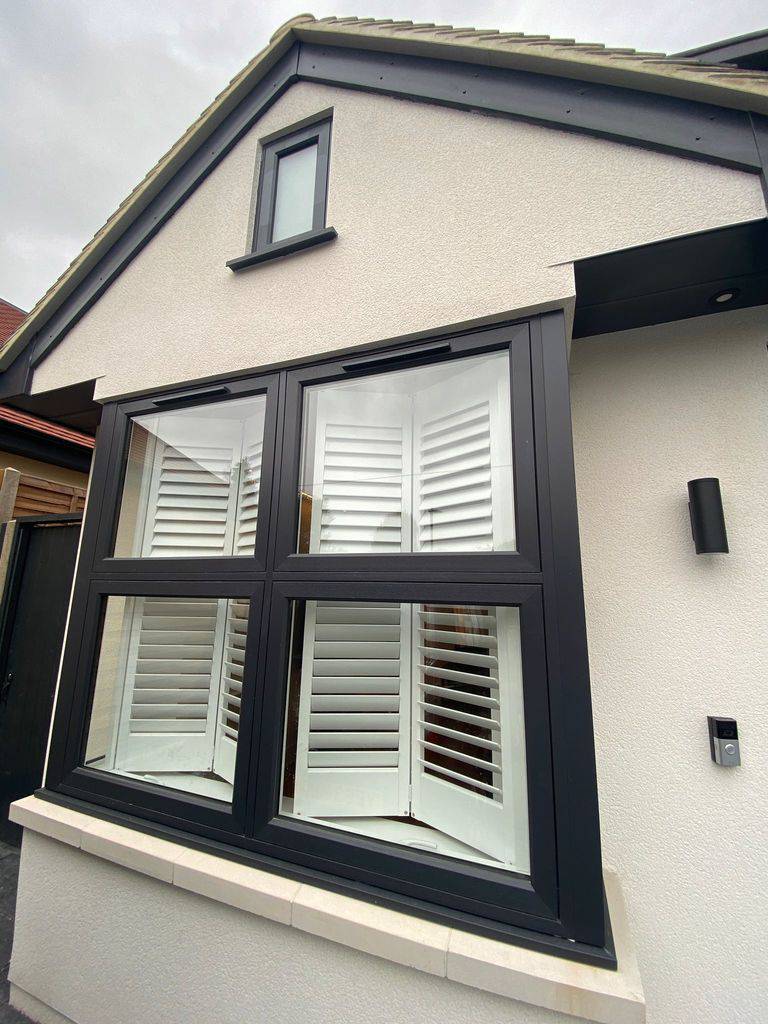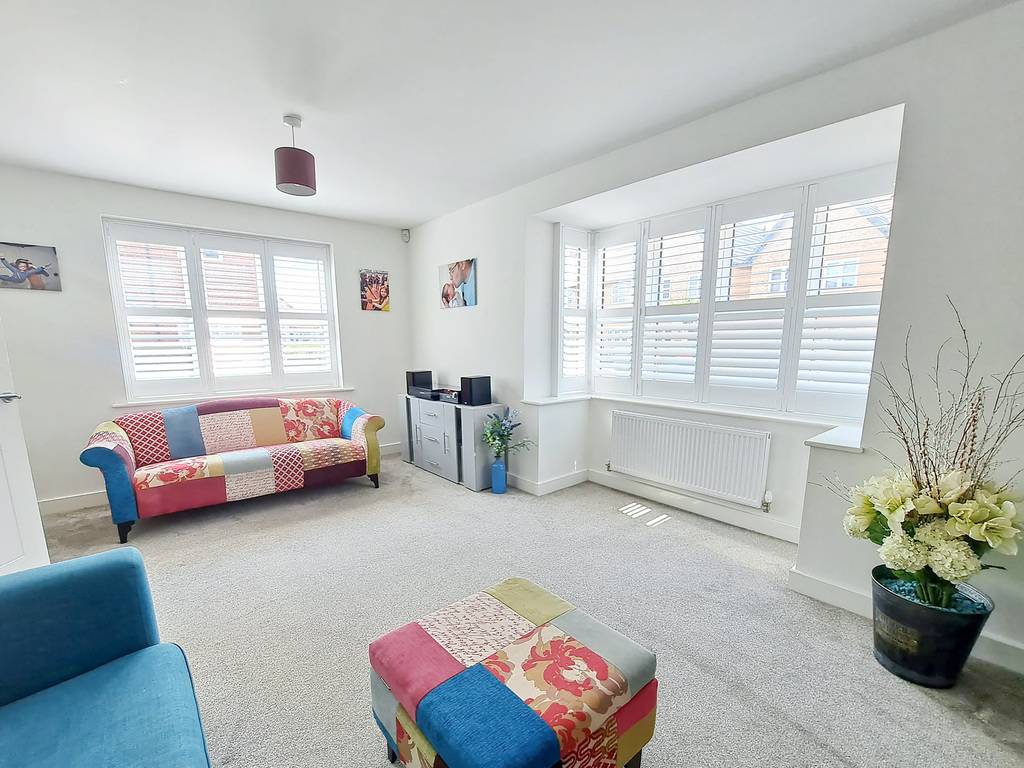 4. Do you need full-height shutters?
Most pictures of shutters show 'full-height shutters' – single panels that cover your windows from top to bottom.
People often don't realise that white shutters are available in various styles.
Tier-on-tier shutters
When closed, a tier-on-tier shutter design looks very similar to a full-height design – but this style is slightly more flexible than single panels.
Tier-on-tier shutters have upper and lower sections. With louvres and opening mechanisms that open independently. This allows the top section to be open – maximising the daylight – while the bottom half can stay closed, protecting your privacy.
Café-style shutters
Café-style shutters take inspiration from the shutters traditionally seen in continental eateries – covering just the lower section of the window.
Café shutters can be made to reflect your window design perfectly. You might decide you'd like them to cover just the lower pane if you have sash windows – or just up to eye height if you have single-pane windows.
This is a great style to choose if you want to make the most of the sunlight – without having your home on display to passers-by.
Full-height shutters
As you can guess from the name, full-height shutters cover your windows from the very bottom to the very top.
As the most simple shutter design, this means very clean lines in your home – making them the perfect addition no matter what your interior design tastes are.
A full-height panel can be made to include a 'mid-rail' too. A mid-rail breaks the louvres up and can be incorporated to reflect the design of your windows.
A mid-rail also gives you the ability to control the upper and lower sections of louvres independently, again giving flexibility when it comes to light and privacy.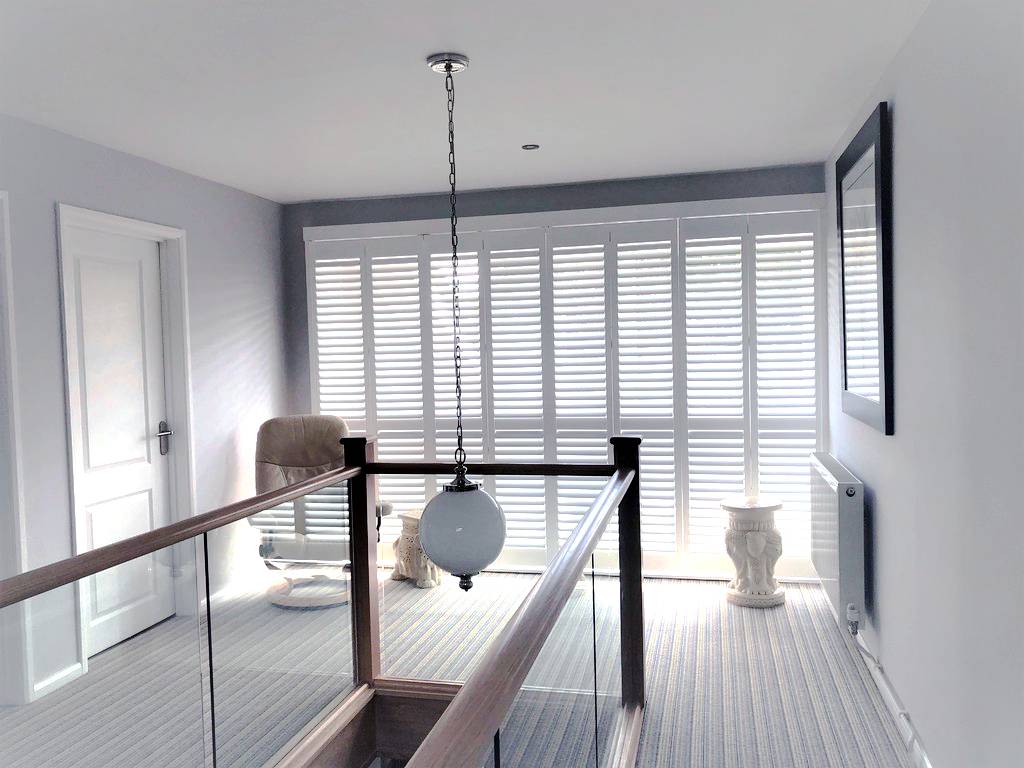 5. White shutters can be used elsewhere in your home
White shutters are not exclusively for windows. They can be used elsewhere in your home – making them perfect if you'd like to extend the style to other functions in your property.
Room dividers
White shutters can be used as room dividers – breaking up larger spaces without the need for building work.
Room dividers are an ideal option if you'd like to create dedicated eating, cooking, working, playing, or changing spaces. Of course, you can easily swing your room dividers back open if you'd like the luxury of space again.
Wardrobes and cupboards
Would you like to continue the look of your white shutters in your room? No problem; white shutters can also create fantastic wardrobe or cupboard doors of any size and shape.
Your louvres are still completely adjustable, too – so you can maximise airflow through your tucked-away spaces, too, keeping everything inside fresh and airy.
Security shutters
White shutters are a great way to give the impression of added security in your home. However, if you'd like to take security to another level, we can create security shutters that look virtually indistinguishable from the other white shutters on your property.
Our Portchester security shutters are powder coated in the same colours found on our wooden shutters. However, with patented locking systems and extruded aluminium panels, they're perfect for windows and doors that may be otherwise vulnerable.
Would you like to hear more about white shutters for windows?
If you'd like to ask us any questions about white shutters for windows – we're more than happy to help.
You can get in touch without any obligation. We're simply here to help you decide if white shutters are going to be right for you and your home.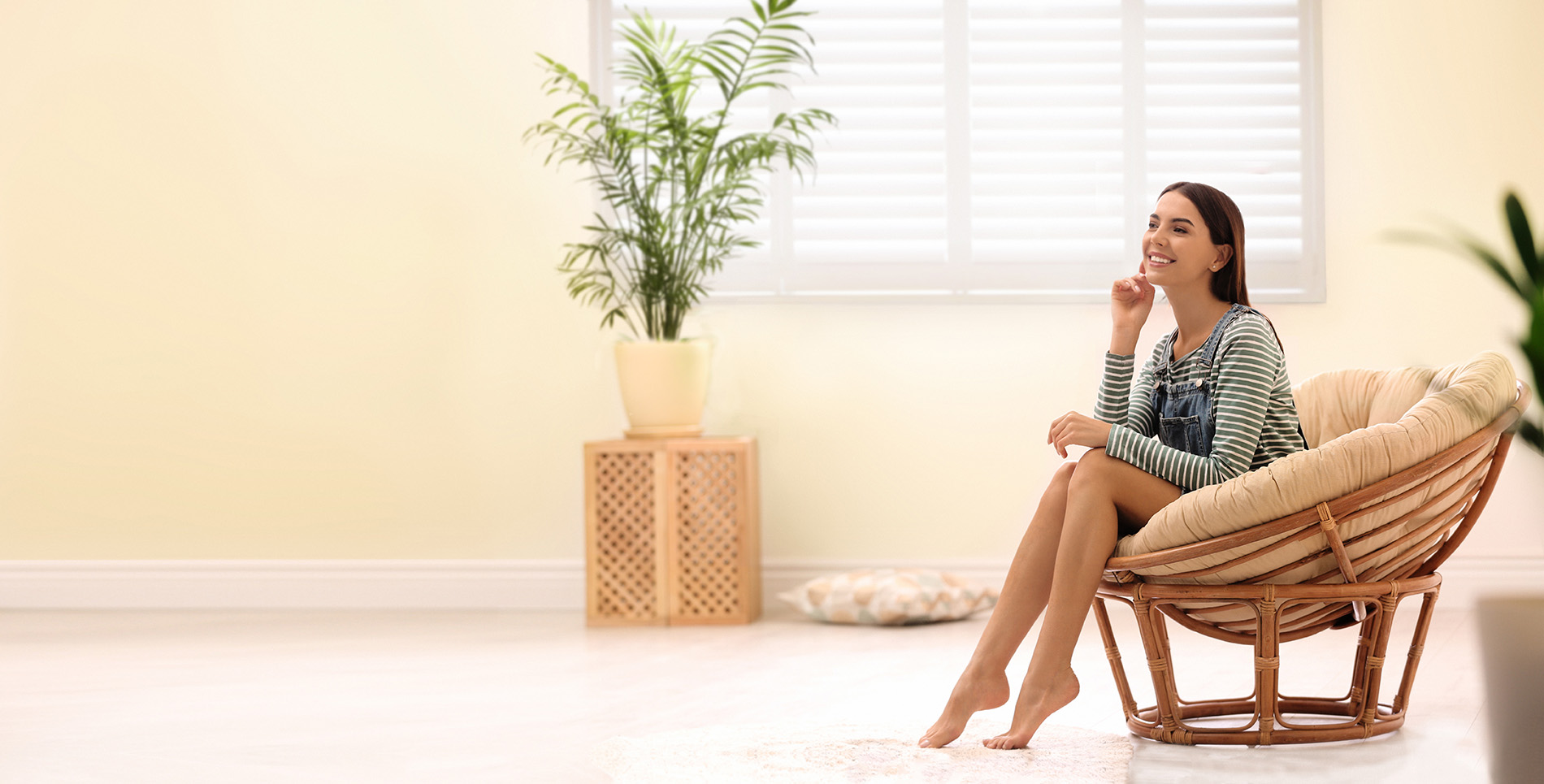 Get in touch today!
Why not contact your local Shuttercraft?