Exciting ideas for blinds in living room areas
Quick answer! There are numerous ways to make blinds work in living rooms, including:
Using light fabrics to protect privacy but still let sunlight in
Matching your blinds to existing fabric colours and patterns in your living room
Opening your new blinds to reflect the style of your window
Adding a layer of perceived security with Venetian blinds
Matching blinds and curtains for a layered look
Choosing roller blinds or vertical blinds for a minimalist look
Using a bold patterned fabric in an otherwise neutral room
Creating a cosy feel with blackout blinds
Choosing wooden blinds to pick up on wood elsewhere in your living room
It's easy to get overwhelmed when exploring ideas for blinds in living room areas. You'll find thousands of beautiful pictures online – but how can you say what will work in your room?
This inspiration guide lists our design team's favourite living room blind ideas. Some ideas help you play with light or existing interior design themes – and some even combine blinds with other window treatments.
Let's take a more detailed look at each of these ideas.
Translucent living room window blinds combine privacy and light
Not everyone wants a window dressing that will completely block natural light. For many people, gently filtering the light is much more appealing.
This is where a lightweight, plain fabric is perfect – especially when you choose a pale colour.
A light Roman blind or roller blind is ideal for this kind of light filtering. Even dropped to cover your window completely, they will let some light into your living space. This can create the perfect feel for a lazy summer evening.
How much light you let into your room depends on your chosen colour and fabric. Pick a light fabric in a darker shade, and you'll reduce the light a little more, making for an airy but snug feel in your room.
Even though a light blind will let some light into your room, it doesn't mean compromising privacy. Even a pale-coloured window blind will make it impossible to see into your living space.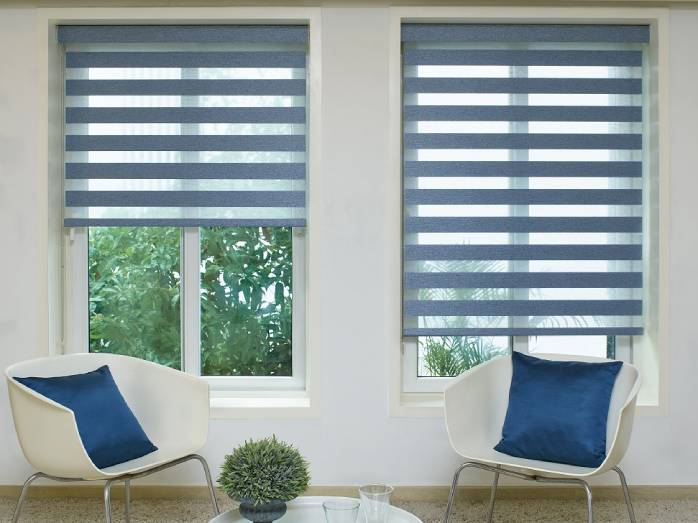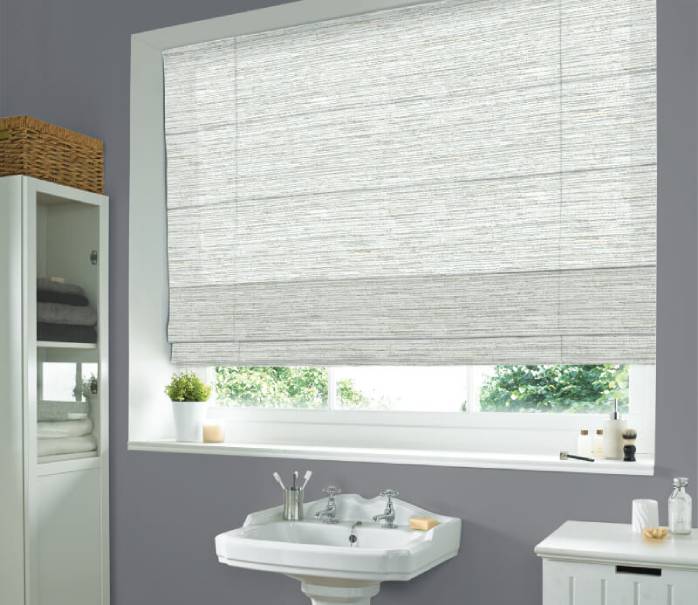 Match a fabric pattern from elsewhere in your living room
It can sometimes be challenging to decide on window treatment ideas when you already have fabrics in your room. Will your chosen colours complement your carpet, sofa, rugs, throws or other soft furnishings?
Why not take a chance out of the equation and match your blinds to an existing fabric colour?
Many of our Roman blinds, roller blinds, and vertical blinds are available with our 'Any Colour & Digital Print' option – meaning we can match a fabric colour or pattern perfectly.
This can add some real wow factor to your room – transforming high-street furniture and patterns into items that form part of a bespoke interior design scheme.
Open your blinds to match your window style
Have you considered using Roman blinds, wooden blinds, or roller blinds to enhance the design of your windows?
Windows often have horizontal bars that separate different panes of glass or casements. These are often referred to as a 'transom', and they add a lot of character to a window.
People often overlook that the way your blinds are opened can make a strong design statement. If you open your chosen blinds to line up with the transom bar in the middle of your window, you create an eye-catching look.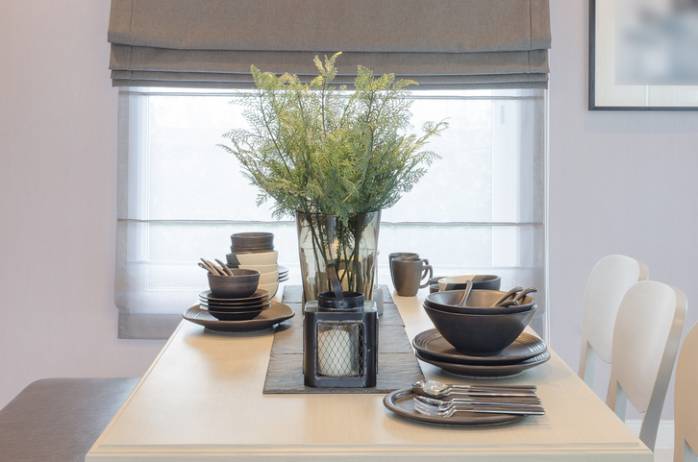 Use Venetian blinds or vertical blinds to add security
Living rooms tend to be at the front of a house. Unfortunately, this means living room windows can draw the eye of people you don't want to snoop into your home.
This isn't a problem when you close your window treatments – but if you're out of the house all day, closed curtains or blinds might tell the world that your home is empty and vulnerable.
Venetian and vertical blinds are a perfect way to combat this problem – even in large bay windows.
Simply adjust your blinds so passers-by can't see directly into your room. Since they're not closed completely, your home will never look like it's standing empty. This is an incredibly effective way of keeping your home safer if you're also away on holiday.
Match blinds and curtains for a unique look
We don't sell curtains – but that doesn't mean we don't understand their appeal! Curtains can make a room look extra comfortable and plush – especially when you choose heavier fabrics and warm colours.
So, what happens if you can't choose between blinds and curtains? Why not choose both?
Layering isn't an idea that's reserved for autumnal fashion! Layering curtains over a made-to-measure matching roller or pleated blinds can transform your windows into a luxurious focal point. What's more, you combine the benefits of curtains and blinds.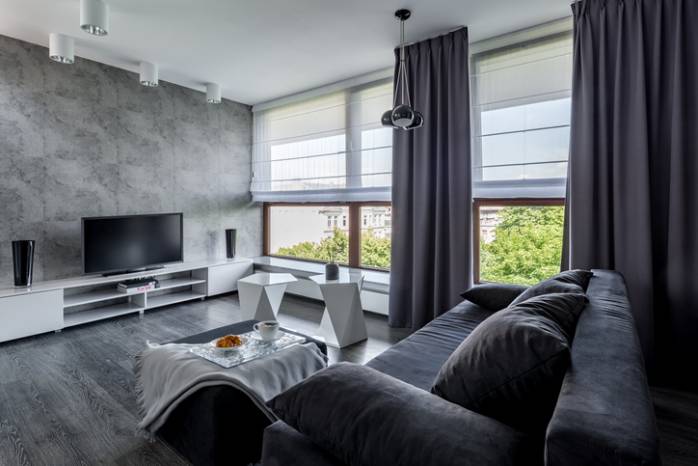 Choose roller blinds or vertical blinds for a minimalist feel
Minimalism can be a fantastic look – especially in a small living room – but it's easy to ruin the look with window treatments that intrude into your space or require complex fittings.
If you're looking for minimal window blind ideas, you should look no further than roller blinds or vertical blinds. They take up virtually no space and have beautiful crisp, clean lines that work perfectly in a minimal room.
Minimal window blinds work exceptionally well in a bay window. Traditional window dressings take up much space in a bay or large window – often even encroaching into your floor space. Blinds in a bay window are a practical solution that does away with this problem – leaving you with additional space in your living room.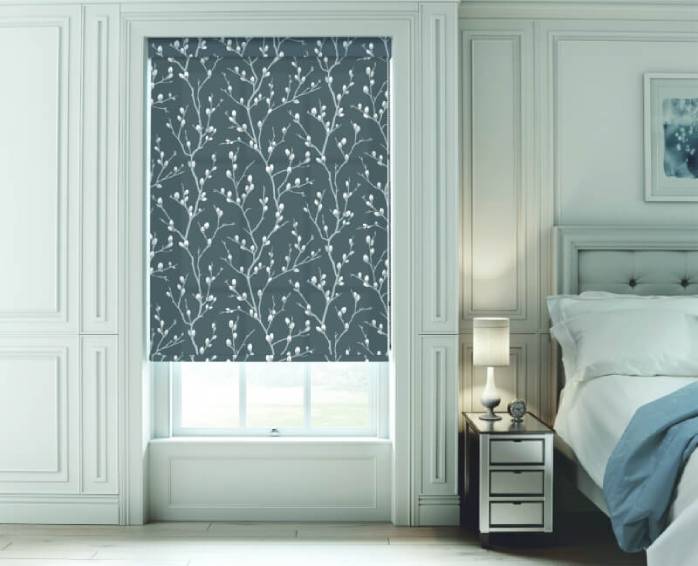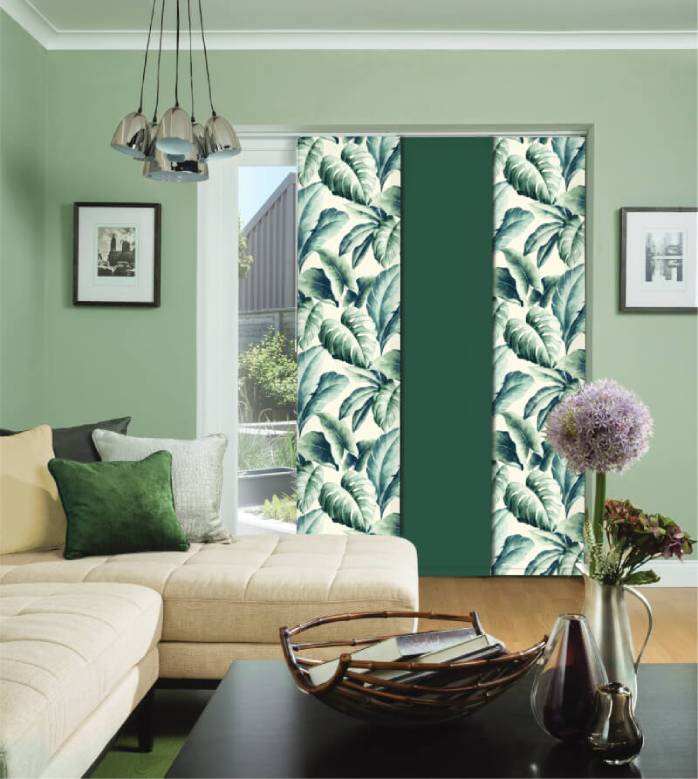 Go for a pattern to make your windows a feature
When people think of 'neutral' colours in a room, they imagine creams, whites, pale greys, and light browns. If you're not careful, choosing exclusively neutral colours can make your space lifeless.
Patterned living room blinds are a perfect way to ensure your neutral scheme doesn't accidentally become boring.
If you love the look of unassuming furniture, why not add a splash of colour and life to your room with bold, patterned blinds? Deep oranges and reds, vibrant greens, bright yellow or mustard, and bold blues can create a fantastic monochrome look without disrupting your room.
Create a cosy atmosphere with blackout blinds
When you think of cosying up in a warm living room, drawing some big heavy curtains might feel like the best option – but blinds can do an even better job of darkening your living room all year round.
Room darkening blinds are installed in a discreet frame that matches your window frame perfectly. This means that when you lower them, there are no gaps for even a little sunlight to shine through.
Moreover, room darkening blinds are created using a unique honeycomb material – so you can reduce the light and create a cosy atmosphere, even when it's sunny outside.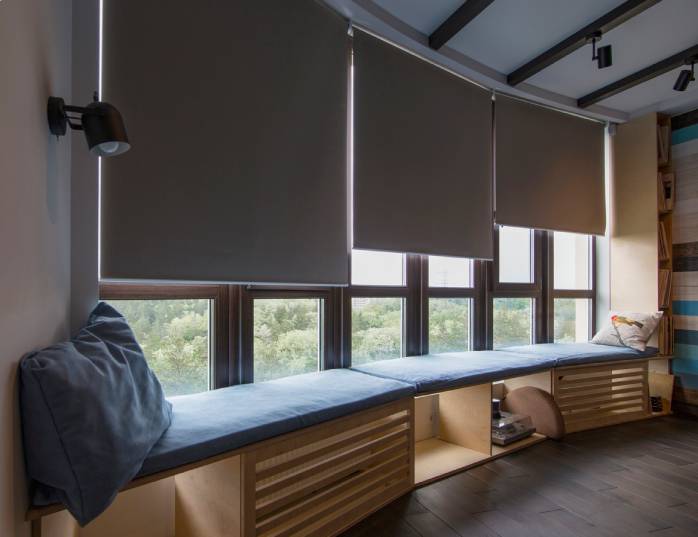 Match wood tones with living room blinds
Wood never goes out of fashion – so it's a fantastic interior design idea to match wooden blinds or faux wood blinds with wooden furniture or fittings in your living room.
If you've opted for white woodwork in your room, you might choose a white Venetian blind. Then again, if you've opted for a rustic, stripped-back wood look, you might decide on a Chestnut, Natural Oak, or Old Teak wood print finish.
Of course, some people decide to make their room's woodwork into a bold feature – perhaps choosing a Walnut stain or a deep grey. If you reflect this colour in your Venetian blinds, you'll get stunning, eye-catching window blinds that become a feature in their own right.
Need any more ideas for blinds in living room spaces?
Still unsure what kind of blinds would look perfect in your living room? Don't worry – we're happy to help.
When you contact us here at Shuttercraft, you can talk to one of our local blind design experts. The combination of styles, designs, and fabrics we have to choose from means we're never short of ideas for blinds in living room areas!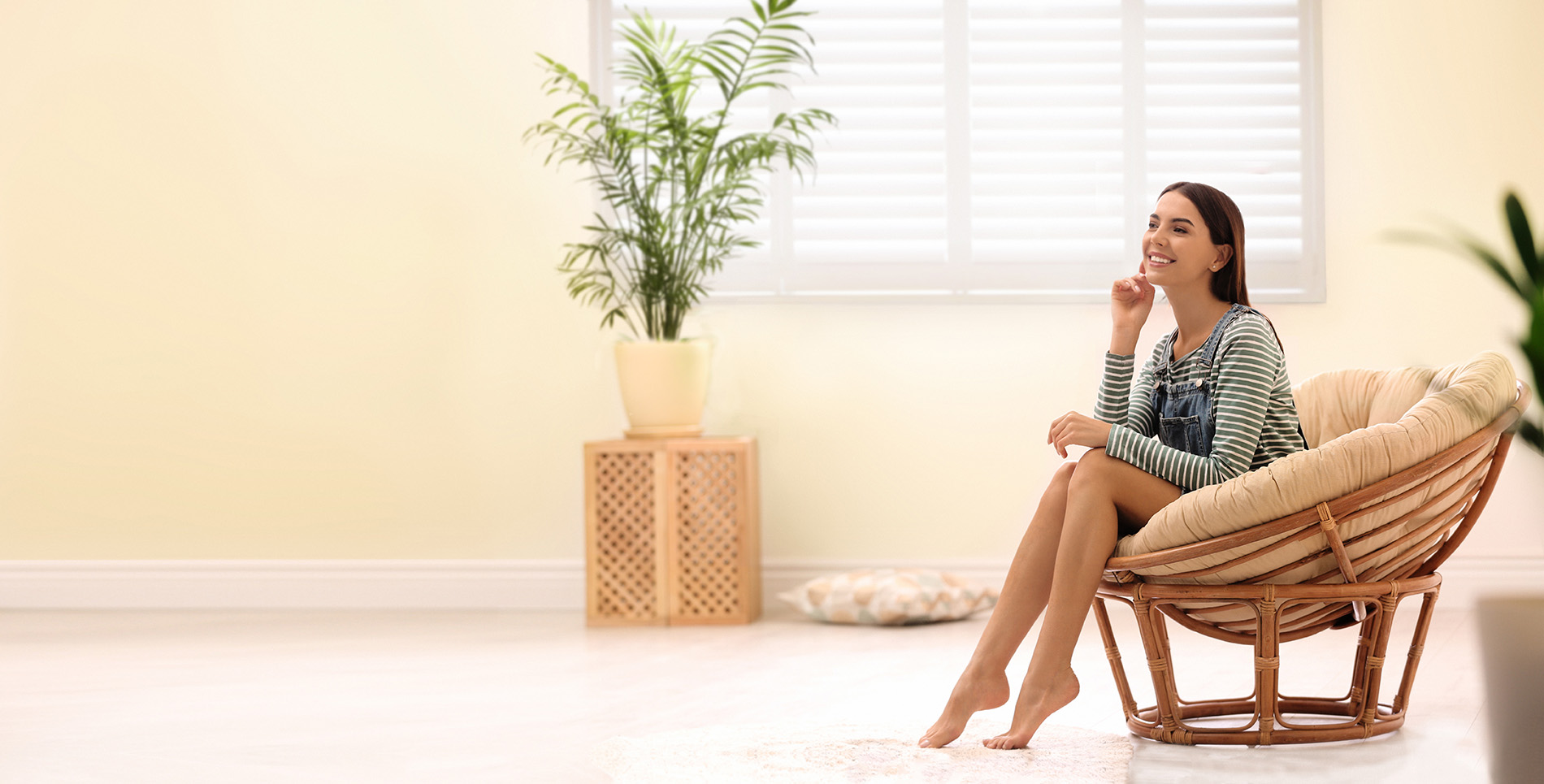 Get in touch today!
Why not contact your local Shuttercraft?